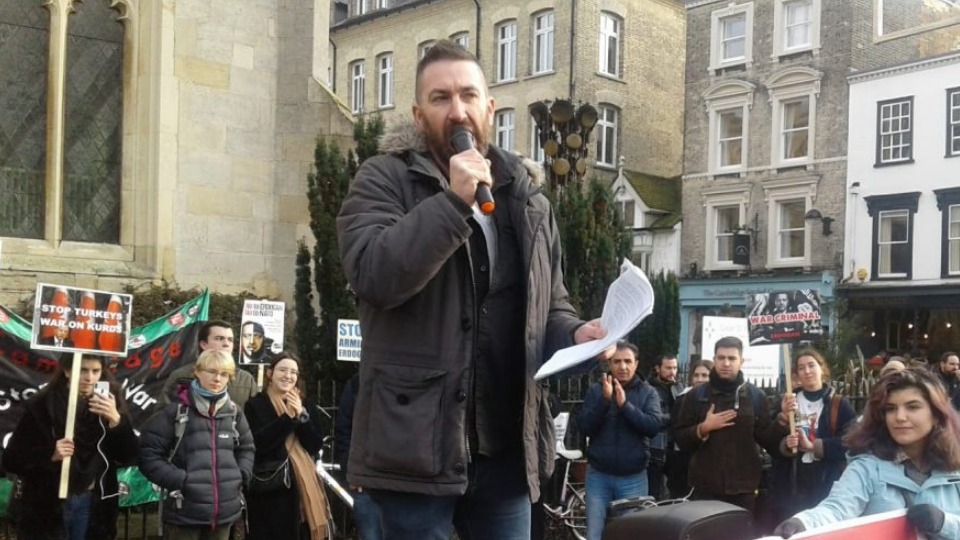 Earlier this week, People's World featured news of the U.S. travel ban placed on Steve Sweeney, correspondent with our sister newspaper in Britain, Morning Star. Sweeney was due to transit through the United States on his way to Nicaragua to cover the country's elections. After being blocked from entering the U.S., Sweeney attempted to make a connecting flight through Mexico, where he was detained for three days. In the interview below, Sweeney shares details of his ordeal and of the political motivations behind his imprisonment.
"They were trying to starve me into submission the same way the U.S. is trying to starve the Nicaraguan people into submission." With these words, journalist Steve Sweeney, who writes for the British socialist daily Morning Star, is unrepentant. He hadn't even been back home in Britain for 48 hours when he agreed to a phone interview to discuss his three-day detention in a holding cell at Mexico City's airport. During that period, he had received basically no food, and for the most part no clarity as to why he was being held.
During our talk, it was clear that he wasn't feeling 100%. His voice would occasionally break, and more than once he mentioned he would have to find the time to go to the doctor that day to get checked out. Yet, far more important for Sweeney was to get the message out, even at the possible cost to his well-being.
For him, that message isn't just about his cruel and degrading detention while en route to cover Nicaragua's Nov. 7 election. It is ultimately about the coordinated campaign to strangle Nicaragua's sovereignty and self-determination by whatever means necessary. As it happened, he was the only journalist from a British newspaper due to cover the elections. That alone made him a marked man by the imperialist powers-that-be, who have been hellbent on creating the impression that the vote was nothing more than a stitch-up to cement the rule of President Daniel Ortega and the Sandinista National Liberation Front (FSLN).
For the revolutionary journalist, who had visited Nicaragua before in 2019 for the 40th anniversary of the Sandinista revolution, that notion is ridiculous.
"We need to remember that prior to the Sandinista Revolution of 1979, there were no elections in Nicaragua under the pro-U.S. Somoza dictatorship. It is the height of hypocrisy for the U.S. to decry what it calls unfree elections in Nicaragua when it supports dictatorships like Saudi Arabia that don't even hold elections."
Sweeney's story of being barred from being given passage to reach Nicaragua—where he was invited as an observer by the government—doesn't begin during his inhumane treatment in Mexico City. It began weeks before when he had booked a flight to Managua in which he would have to transit through the United States. As a British citizen, he was entitled to simply fill out the customary U.S. visa waiver known as the Electronic System for Travel Authorization (ESTA). This is generally a simple, 15-minute process that can be done online.
However, the application being made by a Communist journalist seemed to raise a red flag for the U.S. authorities. Asked if he had previously visited Iraq, Sweeney—who has spent months there over the past year documenting U.S.-backed war crimes committed by Turkey against the Kurdish population—had to check the "yes" box. Furthermore, the draconian changes made to the ESTA under the Trump administration that inquire about an applicant's social media profiles forced Sweeney to disclose his profiles. These requirements haven't been undone under the Biden administration. In short, Sweeney was rejected, banning him from even transiting through the U.S., a country he had no intention of setting foot in.
"As I then obviously couldn't go through the United States, I was looking at alternative options, and I wasn't going to be kept away from Nicaragua. The only alternative was to fly by Lufthansa to Mexico City via Frankfurt, and then on from Mexico City to get an Aeromexico plane to Managua. Now, I didn't foresee any particular problems arising from this; I thought this is a safe route."
Trouble began to brew as soon as he touched down in Mexico City, however. What is usually a rather smooth transit process—though albeit sometimes long, given the numbers of passengers that use the airport as a connection hub—turned into what he calls a "Kafkaesque nightmare."
"I was at a desk and then suddenly I was forced to relinquish my phone, sign some paper that they gave to me, and asked to fill out a form. I went into a room that had at least 60 plus people—this in a very tiny, tiny room where people were on the floor, people spilling out into the corridors. There was no ventilation. I was very concerned over COVID safety because we're in the middle of a pandemic."
At this point, he still saw the events unfolding as a minor inconvenience. Assuming there was some kind of mistake that led him to this holding room, he was optimistic he would make his flight to Managua, which he had a seven-hour window to board. Things soon began to appear to be more politically motivated, however.
"The Mexican immigration authorities said that I didn't have permission to enter Nicaragua, which was laughable because I was invited as a guest of the Nicaraguan government. I mean, it was a really bizarre thing."
After calling Nicaragua's Foreign Ministry, it had all been sorted—or so he thought.
"Instead of me being allowed to go to check-in, the immigration people took me back to the holding cell. I was locked in again! They said it's fine, and they told me, 'Yes, we have all your papers, all your documents have been approved. Everything's fine. We'll come and get you before your flight.' Then they never came."
By the time he was seen again by an immigration agent, that Aeromexico connecting flight had long since departed.
"I said what's going to happen next, and they said, 'Don't worry, sir. Don't worry, we're going to get you on the next plane, sometime before lunchtime.' Okay, I can accept that. But then they just didn't show up. They didn't show up in the morning. They didn't show up at mid-day. I lost the timing a little bit because you have to remember that in that room the lights are on constantly. There was no clock. It's really, really disorientating."
Compounding an already aggravating situation was the fact that Sweeney—a diabetic—was being refused anything to eat. He witnessed other passengers in the holding area being given food every few hours. Their respective airlines would come to give them meals, as he says, "four or five times a day." Yet, when he asked for some food, he was flatly told no.
After having missed his scheduled transfer to Managua, as well as at least one other flight he had been guaranteed he could board, he was presented with an ultimatum—one so remarkably sketchy that there was no way he could accept the only option that would have theoretically allowed him to arrive in Nicaragua.
"An agent came to me and said, 'You can either go back to Birmingham, and we'll put you on a plane this evening. Or, alternatively, we can fly you to Panama, and then to Managua.' I asked for an explanation. He said, 'The flight to Panama won't leave until later on Monday!' Bear in mind, it was Saturday, so this meant two more days in this cell. The election I was due to cover was on Sunday." Sweeney asked what would happen when he got to Panama. The response he got: "You have to stay in a detention center in Panama for two days.'"
The absurdity of the proposal left Sweeney baffled. For him, it was not only completely unacceptable, but it was also a highly dangerous offer. It would have meant going for days on end with little or no food.
"Five days without food would have absolutely have killed me. I have no doubt about it. Even as it was, looking back at my ordeal, the Mexican authorities could have killed me. I'm very clear about that."
At this point, his hopes of reaching Nicaragua began to dwindle, and it certainly looked as if he was going to miss any part of election day. Finally, after what seemed like an eternity of trying to gain clarity into what motivated his detention and treatment, it all came spilling out courtesy of one of the immigration agents.
"Someone came and told me very clearly that 'the Mexican authorities have said they do not want you to enter Nicaragua from Mexico, that they are not prepared to allow you to fly there.' I asked him to repeat it because this now becomes a political decision taken by the Mexican authorities. He said he was certain of it, and this is why that Panama route has come onto the table."
With Sweeney's health beginning to deteriorate, and after having asked for food on "five or six occasions," desperation began to kick in. He started looking through rubbish bins for any spare food, eventually stumbling across half a sandwich that he would need to "pick at a bit, but found it to be edible." At a later point, a family from India that had found themselves in detention was generous enough to offer a few items from their meals, being shocked that this man was having to dig through garbage in order to find a few scraps of food.
Eventually, the ordeal would be over. Sweeney would find himself on a flight at last, but not to Managua, not to Panama, but back to Europe. Although infuriated with the Mexican authorities for their cruel treatment that certainly amounted to torture, his thoughts even at this point were mostly on the bigger picture, of which his detention was a mere microcosm.
"Me not setting foot in Nicaragua allowed the British press to report on the Nicaraguan election as they saw fit. Their narrative is not the narrative of the Nicaraguan people, and they know it."
Back in Britain, Sweeney is forging ahead with his work—reporting on his detention, reporting an alternative narrative (from afar) about Nicaragua, and calling out the hypocrisy around those who have sought to incorrectly frame his not being allowed to enter the country as the fault of the Nicaraguan government.
"Many of these press freedom advocates have effectively said, 'Journalists need to be free to report on Nicaragua,' to which I said that it isn't Nicaragua that prevented me from doing this. It was Mexico, and it was the United States. This was just a continuation of Washington's long war against the Nicaraguan people."
As a credit to Sweeney as a revolutionary journalist, this wasn't his first detention nor the first time he has been banned from entering a country. In 2019, he was due to report on the Turkish elections, covering the campaign of the pro-Kurdish Peoples' Democratic Party (HDP). The HDP is the victim of what Sweeney calls "the largely political genocide operation in the world," with over 20,000 members in jail.
Upon his arrival in Turkey, he was quizzed about his views on the Kurdish people, asked to give his views on Kurdistan Workers' Party (PKK) leader Abdullah Ocalan, and then deported. Being banned from Turkey has clearly made Sweeney heartbroken, who recounts the story with a great deal of sorrow. It's the same kind of sorrow that is felt when he speaks about not being able to see comrades and friends in Nicaragua.
"There are similarities between my ban from the U.S. and my ban from Turkey. The U.S. is tightening the screws against the Nicaraguan people, on the one hand. On the other, the government of Recep Tayyip Erdogan in Turkey is an outpost of U.S. imperialism and NATO in the region. Both the Sandinistas and the HDP get in the way of this dominance. It's really no coincidence that on both occasions I was barred from covering these elections."
If Turkish and U.S. authorities have seen Sweeney's work as disruptive of the narrative they feel they are free to peddle, it is a tribute to the tenacity of journalism that represents the people. It's that work, despite all of the obstacles and bans, that he pledges to continue.