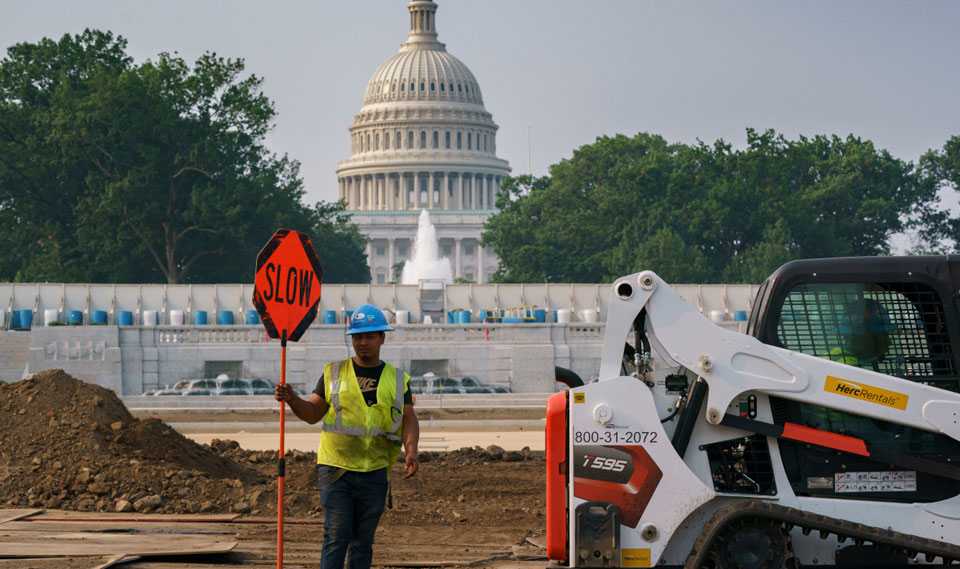 WASHINGTON—Once again—or maybe as usual—the right-wing Republicans are putting party before progress, blocking two needed infrastructure bills. One would repair and upgrade "hard" infrastructure such as bridges and subways. The other would upgrade human infrastructure such as expanding child care, extending paid family and medical leave, and battling global warming.
The latest GOP roadblock was a 49-51 Senate vote on July 21 against the "motion to proceed" to debate on the Senate version of the hard infrastructure bill. All 50 Republicans, even those who agreed several weeks ago with Democratic President Joe Biden on an outline of the measure, voted "no."
So did Majority Leader Charles Schumer, D-N.Y., in a parliamentary move. He had to switch his vote to "no," the "winning" side, so he can try, try again to get debate going during the week of July 26, before Congress quits for yet another recess.
"This vote is only the first step in the legislative process on the Senate floor. It is merely a vote about whether the Senate is ready to begin debating a bipartisan infrastructure bill," Schumer told his colleagues. The Republicans didn't listen.
The right-wingers, marshaled by GOP leader Mitch McConnell, R-Ky., don't even want to debate infrastructure. They, the corporate class, or both, are erecting other roadblocks:
The Republicans agreed with Biden on the outlines of the $1.2 trillion "hard" infrastructure bill. But more than half of the money will come from unspent coronavirus relief funds. That's another giveaway to the GOP, since coronavirus cases, notably among unvaccinated Republicans, are increasing again from coast to coast. Unvaccinated people account for 99.5% of hospitalizations.
Congressional Republicans absolutely refuse to aid people via the "human" infrastructure bill. That "reconciliation" measure, with a $3.5 trillion price tag, already suffered one loss to the GOP. Biden's plan to partially pay for it by increasing IRS tax enforcement, bringing in at least $100 billion more yearly by going after corporate crooks, was dropped.
The corporate class is also lobbying hard against another Biden plan to pay for the human infrastructure bill: Raising the federal corporate income tax rate from 21%–the rate in the 2017 Trump-GOP tax cut for corporations and the rich—to 28%. Their lobbying coalition against the tax hike includes at least a dozen of the huge firms which paid zero income taxes last year as a result of the tax cut, the Washington Post
Want to benefit but not pay
In other words, the corporate class wants the benefits of infrastructure, paid for by other taxpayers, not by them.
Sherrod Brown, D-Ohio, who chairs the Senate Banking, Housing and Urban Affairs Committee, agrees with Biden about putting more money into mass transit. That's part of the "hard" infrastructure bill. But the Senate is split 50-50, and so are its committees. And the top panel Republican, Pat Toomey, R-Pa., hates more mass transit money.
"The administration wants $85 billion for transit," Toomey said at a June 15 hearing. "Amazingly, that number exceeds both the annual operating and capital costs of all the transit agencies in the U.S combined…Bus and rail stations built in San Francisco don't do a lot for people in Pittsburgh." In another concession, the hard infrastructure bill's transit spending is $65 billion.
The GOP is still in denial about environmental deterioration, even though its impact is right before their eyes, literally.
The excessive heat trapped in the atmosphere from increasing greenhouse gases has dried out the western U.S. and led to the enormous fires that have consumed millions of acres and driven thousands of people from their homes in the Pacific and Mountain States. Other environmental degradation includes melting tundra in Alaska and increasingly violent hurricanes and tornadoes, compared to prior years.
Smoke from the fires has wafted across the continent, with its haze endangering anyone with asthma or other breathing problems not just in San Francisco and Seattle but in New York, Chicago, Boston, and Washington. The visible haze even dimmed the lights during a night baseball game in D.C. on June 20.
The Republican opposition means the "human" infrastructure bill must go through the Senate's "reconciliation" process. Reconciliation needs only a simple majority of 51 votes—all 48 Democrats, both independents, plus Vice President Kamala Harris–to pass, not the 60 votes the "hard" infrastructure bill will need to negate a deadly Senate Republican filibuster.
But since reconciliation bills deal only with taxes or budget cuts, the Senate version is hung up, despite the efforts of Budget Committee Chairman Bernie Sanders, Ind-Vt., to move it. That upsets progressives on and off Capitol Hill.
"My hope is that by early August we will have a budget proposal to bring to the floor for a vote," said Sanders.
The progressives worry the GOP will put their party and their corporate campaign contributors before the country, by voting for the "hard" infrastructure bill and then abandoning everything else.
"House progressives are standing up," Rep. Alexandria Ocasio-Cortez, D-N.Y., tweeted. "If Sen. (Joe) Manchin," the most-conservative Democrat, "and the rest of the Senate approve the 'reconciliation bill' then we will approve their bipartisan [hard] bill. But if they try to strip immigration reform, childcare, climate action, etc., then we're at an impasse. It's a no-go."
The uncertainty prompted Teachers (AFT) President Randi Weingarten to urge her members to lobby their senators for the reconciliation bill as well as the hard infrastructure bill, named the American Jobs Act. Reconciliation's tax hikes—including higher fines against corporate labor law-breakers–would, among other things, help pay for upgrading and retrofitting the nation's crumbling schools.
Schools where windows don't open
"I've been to schools in places like Philadelphia where the windows don't open. I've been to schools without proper ventilation, which the pandemic reminded us is unacceptable," Weingarten wrote. "I've also been to schools that have been retrofitted and used innovative green techniques to make them not just clean and safe for students but also environmentally conscious.
"Our nation's children have been in dilapidated school buildings for too long. If our lawmakers fail to invest now in school infrastructure, they're saying the buildings our students learn in don't matter. They're saying it's OK for some schools to have mold or crumbling walls and ceilings.
"Investing in school infrastructure right now will create jobs. It will help our students. It will help our planet. It will help our economy. And it will help upgrade our facilities at the very moment our kids, teachers, and school staff are starting the hard work of post-pandemic recovery. Nothing says safe and welcoming to our kids more than facilities that are, in fact, both safe and welcoming."
"We will not tolerate a compromise that undermines our basic goals," added Deborah Weinstein, executive director of the Coalition for Human Needs. "Failure to include strong environmental provisions, for example, will once again leave people with low incomes and communities of color to bear the brunt of climate change. Without strong clean energy provisions, we will see more life-threatening heat, more fires, and more extreme storms and flooding. Those can affect everyone, but their impact on people with the lowest incomes and communities of color is far more harsh."