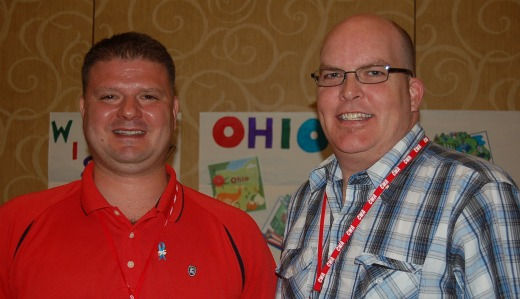 LAS VEGAS – On the eve of the Communications Workers Of America convention here, CWA District 4, which covers Ohio, Wisconsin, Michigan, Indiana and Illinois, reported July 10 on its victories and defeats in organizing and political action. Given the anti-union atmosphere coming out of those statehouses after the 2010 elections, and the economic/job crisis, the challenges are great.
CWA lost 10 percent of its membership due to job loss and lousy economic conditions, and now finds itself battling for basic collective bargaining rights.
But battling they are. CWA in Ohio helped to collect the 1.3 million signatures filed last month to repeal the widely unpopular SB 5, a union-busting law that strips collective bargaining rights from 360,000 public workers in Ohio. Snapshots of CWA members in their red shirts at anti-SB 5 rallies and other states' rallies were on display here during the meeting.
"The massive attacks on the working class didn't start in the Midwest, but the fightback did, when students and workers occupied the Wisconsin Statehouse, and 14 Democratic state senators courageously took a trip to Illinois and stayed a while," said Seth Rosen, District 4 vice president.
In Indiana, CWA members helped beat back "right-to-work [for less]," Rosen said. "In Wisconsin, we are working on recalls, and confident we can pick up some seats in the Senate," he said, adding that CWA is part of building a labor-community alliance in Michigan against the Republican attacks there.
CWA places a good deal of stress on "movement building" and not just working on union-only issues.
"The reason why we're in this mess is we lost big time in the Midwest," Rosen said, referring to the November 2010 midterm elections. "Got our butts kicked on an election that was about jobs and the economy. Our issues! Why? Because we are thinking too small, too narrow and too careful. We have to build a movement that unites union and nonunion."
The union points to the April 4 We Are One rallies as an example of building labor, civil rights and community coalitions around mutual interests, especially jobs. CWA is a part of the new MoveOn-initiated Rebuild the Dream movement, and 23 District 4 locals are hosting house parties July 16. On Aug. 20, CWA will be part of the Stand Up Ohio Rally – a "workers' state fair" — that will take place on the Ohio state fair grounds with music that includes the Ohio Players, and award-winning poet Nikki Giovanni.
In order to build a strong movement, unions have to build membership. Yet, "organizing the unorganized is tougher than ever," notes the District 4 organizing report. CWA lost a "heart-breaking" election among 20,000 Delta flight attendants by a mere 328 votes. CWA and the Association of Flight Attendants merged several years ago and they say it is the largest flight attendant union in the world.
But District 4 celebrated the victory of AFA-CWA in a representation election at New United, a merger between United Airlines and Continental. The Continental flight attendants were represented by the International Association of Machinists and the 16,000 United flight attendants were AFA-CWA members. AFA-CWA won the election with 55 percent of the vote and now represents all 23,000 flight attendants.
Two flight attendants who were active in the campaign, David Hammonds and Thomas Sesko, received a standing ovation for the victory from the 200 delegates at the meeting. Sesko said the union emphasized that AFA is made up of flight attendants and understands their issues. Workplace issues like breaks, 14-hour maximum days and five-hour minimum pay outweighed other issues.
"Because United went into bankruptcy, we took concessions in pay," Sesko said. Continental workers didn't have to do that, he said, but in the end, "quality of life" and job standards won out. Sesko is the president of AFA-CWA United Airllines Council 8 based in Chicago.
Hammonds said 2,000 grassroots mobilizers talked with their co-workers at the airports daily to keep them informed of the issues and what AFA-CWA has done and can do for flight attendants.
"It was tense at times," he said, referring to the inter-union rivalry.
The AFA-CWA activists campaigned hard, utilizing one-on-one meetings, house parties and social networks, he said.
"Volunteers made up a Facebook page and people discussed the pros and cons of voting for AFA-CWA," Hammonds said.
Photo: Thomas Sesko, right, and David Hammonds. (Teresa Albano/PW)