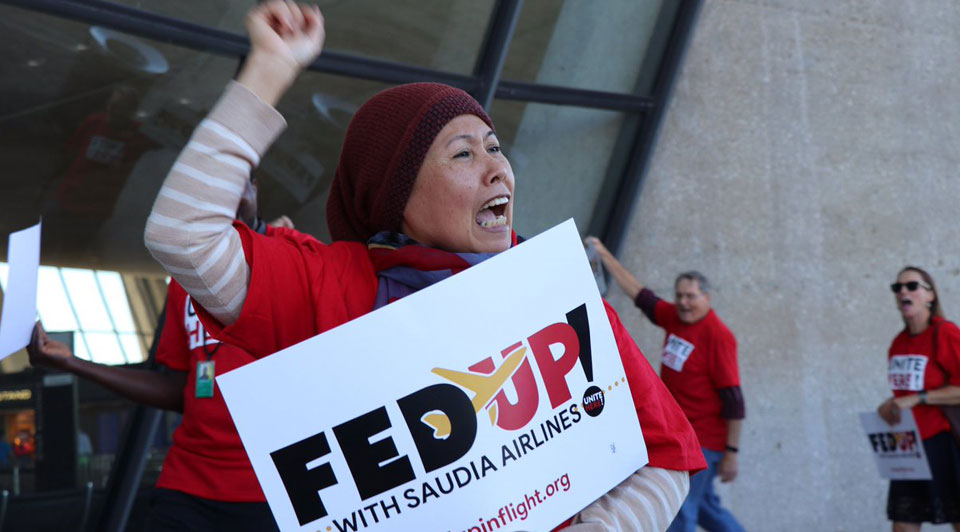 Tenae Silver earned so little she couldn't pay the rent. She got evicted.
Sonia Toledo has worked in food service for airlines and at airports for 28 years. She's 55 and earns so little she had to give up American Airlines's health insurance.
And Dharen Golden, a driver of trucks laden with airline meals, "can't afford to get sick."
Silver, of Unite Here Local 23 D.C., Toledo of Local 355 in Miami and Golden of Local 1 in Chicago are just three of 21,000 workers for companies that provide millions of pre-cooked meals which Delta, United and American Airlines feed to their passengers every day.
And the workers are getting paid peanuts for doing so – so much so that in airport hubs coast to coast, the workers, all members of Unite Here locals, are ready to walk. At the D.C. hub for American, 100% of the 156 voters endorsed the strike. At American's headquarters hub in Dallas it was 99.3% of 900.  Voting at the other hubs runs through June 20.
They have good reason. Toledo makes only $12.45 an hour, while Silver says "we want $15 an hour, better health care, and a pension." American, through its food subcontractor, SkyChef – the workers' actual employer – is offering them 30-cents-an-hour raises for each of the next two years, to bring their pay to just over $13. No pension, no health care, either.
The airline food service workers toil for the Flying Food Group, Gate Gourmet, LSG Sky Chefs, which serve American and Delta, and United's own catering firm. But the caterers take their cues from the carriers. And the carriers refuse to pay the workers a living wage.
In that way, the airline food service workers are the latest group of lowest-paid workers from coast to coast who have become fed up, sometimes literally, and become part of the nationwide "$15 and a union" campaign. Others include fast food workers – who started it – warehouse workers, port truckers, adjunct professors and retail workers.
Those workers also toil from coast to coast, a point that also comes home in Unite Here's talks with the three big U.S. carriers.
Besides the strike authorization votes in D.C. and Dallas, bargaining – with federal mediation — is occurring in New York, Philadelphia, Boston, Los Angeles, Phoenix Miami, Seattle-Tacoma, Los Angeles, the Twin Cities, Detroit, Atlanta, San Francisco and Denver.
If there's no pact, the D.C. workers will conduct informational picketing at 4 pm June 19 at the American Airlines terminal at National Airport, while the others will do so elsewhere on July 3.
But the talks are with the food firms, who get every penny of their payment from the three carriers. The airlines should be at the bargaining table, Local 23 spokesman Adam Yalowitz said.
The AFL-CIO thinks so, too. When the Local 23 workers took their strike authorization vote on June 11, federation Secretary-Treasurer Liz Shuler came by to pledge labor's unanimous support. Labor, Shuler said, "will be completely behind you."
The airline food workers are also part of Unite Here's long "One Job Should Be Enough" campaign among low-wage hotel, restaurant and, now, airline catering workers nationwide.  "We want to send that message" to the three big airlines, Silver said.
The average airline catering worker makes under $15 an hour, and so do most of her colleagues, she adds. Combined, United, Delta and American earned $7.8 billion in profits last year and $50 billion in the last five years. The carriers can afford to give their workers raises.
"The airline industry is making record profits, on the backs of deeply exploited kitchen workers who are forced to choose between paying their bills, relying on government assistance or even forfeiting medical care even while working overtime. We refuse to allow that to continue," says Unite Here President D Taylor.
But the airline food service workers are in an unusual position. Like other airline and railroad workers, they toil in an industry where the National Mediation Board, not the National Labor Relations Board runs labor-boss relations. NMB has different rules.
The top one in this case: NMB must "release" the two sides from bargaining, if they reach a deadlock, before workers and bosses can engage in "self-help": A lockout by the bosses and a strike by the workers. As of June 7, it had made no decision in this struggle.
The struggle is more personal for workers like Silver, Toledo and Golden, a 4-year driver for 60 hours-80 hours a week between the airlines' food service firms and American Airlines planes flying out of Chicago's O'Hare Airport, one of the nation's two busiest.
"The work I do benefits American Airlines — a huge, profitable airline — but I'm scared that I won't be able to afford to pay for a doctor if either my husband or I need medical treatment. My co-workers in this industry and I have fighting for years, and we will not quit until we win what we deserve from the airline industry," Toledo told Unite Here.
"The health coverage my job provides is frightening," Golden said before his son was born. "I can't afford to get sick. I can't afford my 3-year-old daughter to get sick. When she was born, I knew that I was going to have to sacrifice either providing for her or missing her first steps, or first words. The company needs to understand our living conditions, and our struggle to survive."