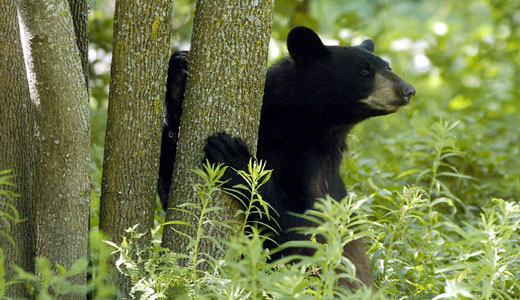 Black bears are frequently wandering into the oil sands of Alberta, Canada in search of food. And they are being shot on site, by the hundreds, by conservation officers. As the dirty fuel known as 'tar sands' is being mined, the local wildlife is being subjected to the consequences.
The National Wildlife Federation has stated that the senseless killing of these bears (and other animals, including wolves and caribou) can be avoided, but the Canadian oil industry and government are putting profits before responsible environmental welfare and management.
Alberta Sustainable Resource Development noted that Fish and Wildlife conservation officers slaughtered 145 black bears in 2011, after the animals were drawn to garbage in the oil sands region. That was nearly three times the number of bears killed the year before, and the highest in recent history, said spokesman Darcy Whiteside.
NWF scientist Doug Inkley commented, "The [oil industry's] approach seems to be 'if it becomes a problem, kill it,' rather than prevent the problem in the first place. Humans are destroying bear habitat and not disposing of garbage properly. So, we kill the bears.
"This is 'death by a thousand cuts.' It may seem like there are plenty of black bears now, but look at what's happening: the tar sands area that could be developed is the size of Florida, and this is going to be repeated over and over and over if we keep encroaching on their habitat."
David Mizejewski, also with the NWF, added, "We make the choice about whether these bears are a problem or not. We've chosen to destroy their habitat and turn it into a garbage dump. We can make smarter choices and avoid conflicts with bears."
He explained that a short-term precautionary measure might be to have bear-proof trashcans, as the animals can quickly become urban scavengers when given an incentive. The only long-term answer, however, that would really solve the problem would be to cease oil sands development altogether, to prevent outright decimation of the bears' environment.
"These animals don't have to die," Mizejewski concluded. "They're being slaughtered in part due to America's addiction to dirty oil."
That growing addiction – demonstrated recently by Republicans pushing strongly for the Keystone XL pipeline (and attacking President Obama for turning down the project) – is posing a threat not only to animals and the environment, but Native Americans as well:
On Mar. 5, five Lakotas on Pine Ridge Indian land in South Dakota were arrested after blocking two tar sands pipeline trucks from entering their territory, in what played out as a six-hour standoff. The trucks, emblazoned with the words, 'Calgary, Alberta, Canada,' refused to turn around, the drivers claiming they "had corporate rights that supersede any other law."
Debra White Plume, one of the activists arrested, remarked, "We formed a blockade to stop tar sands oil mine equipment from entering our lands. We oppose the tar sands oil mine in solidarity with Mother Earth and our First Nation allies."
Photo: Clifford Skarstedt/ Peterborough Examiner/AP