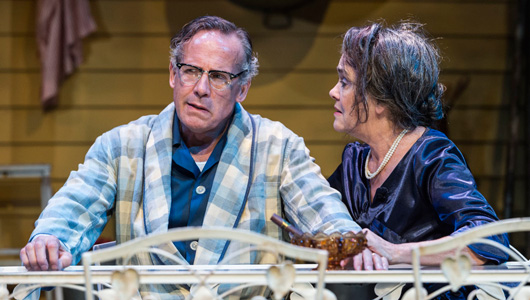 PASADENA, Calif. – A Noise Within's production of Arthur Miller's "All My Sons"is simply the best drama I've seen performed live onstage for I don't know how long. It excels in every way possible, reinforced with naturalistic details epitomizing the power of realism. Right down to props master Erin Walley's leaves strewn across the Kellers' lawn, Leah Piehl's spot-on period costumes and Frederica Nascimento's superb set, director Geoff Elliott's "Sons" flawlessly conjures up the fictional world Miller imagined, brought vividly alive by a gifted cast that doesn't miss a beat.
Along with the Pulitzer Prize-winning Miller's brilliant script, all of these expressive elements combine to draw the viewer in, beyond the fourth wall, to experience the characters' collision course as they collide with the vicious vicissitudes of capitalism. It seemed that the dramatis personae were all too real, believable flesh-and-blood human beings, trapped by and grappling with the cold cruel calculus of the American Way of doing business and making war.
It is Miller's genius to get into the heads of his protagonists and antagonists as insightfully and truthfully as, say, the Greek playwrights or the Bard himself. Miller depicts humans with all their intricate contradictions and how people can have love/hate relationships with those they are close to. There is much about family, and in particular the father-son relationship here. However, Miller transcends the individual by linking personal dramas up with the big picture, revealing how the capitalist system affects his characters and their choices – or lack of. The playwright, whose centennial it is this year, unites the macro and the micro. His dramas are like Eugene O'Neill or Tennessee Williams squared, as he dramatizes and gives form to a philosophical concept of man (and woman!).
If you are a fan of drama you just owe it to yourself to see this play. The premise of Miller's post-World War II tragedy is war profiteering, and how the unquenchable bloodthirsty quest for profit ensnares, infects and ruins the guilty and innocent alike with blood money. Miller demonstrates how the military industrial complex causes people to have psychological complexes.
Director Geoff Elliott pulls double duty, also playing the lead character, stogie smoking Joe Keller, a small-time, small-town manufacturer who hits the big time when his plant joins the war effort. Elliott alternates between subtlety and sputtering bombast with a performance that will knock your socks off (even if you're barefoot). Miller cleverly introduces Joe as a man pretending to be a policeman to children – but who turns out to be anything but a man upholding justice. Right from the bat, Miller pegs this man who profits off of combat as a poseur.
As his wife Kate Keller, Deborah Strang struggles with illusions of existence and death as she strives to confront life's ultimate, unthinkable horrors. The skillful Strang's Kate is inconsolable, fragile, unreasonable and, when one of the boys who grew up with her sons returns home, is seductive with George Deever (Aaron Blakely). He, in turn, is torn in pieces by divided loyalties and beside himself with oedipal rage as his sister Ann Deever (Maegan McConnell) plans to marry Chris Keller (Rafael Goldstein).
Chris is a WWII veteran desperate to, in the immortal words of Spike Lee, do the right thing, while his intended, sweet (if scheming) Ann (who has something up her sensual sleeve), just wants to move on with her life so disrupted by war. But in the face of the implacable capitalist system, where money in America doesn't just talk, it screams (and screams bloody murder, at that), well-wishing just isn't enough to lead a happy, ethical life.
The nontraditional multi-culti casting of roles, with nonwhites wed to and romancing whites, plus multi-racial siblings, would almost certainly be unusual in postwar USA. But it goes uncommented upon in this production and after the initial surprise of recognition goes unnoticed and works well. Good on A Noise Within for expanding the roles open for nonwhites to play in the dramatic canon – which also helps expand the audience beyond Caucasian-only theatergoers, as ticket buyers often like to see cast members who look like them up on the stage.
Miller's choice of names for his characters seems portentous – Chris and Joe are suggestive of Christ and his human father Joseph. And the last name "Keller" is redolent of Helen Keller, implying that Miller's Kellers are deafand/or blind, maimed by war and profiteering. No wonder Miller was subpoenaed to appear before the House Un-American Activities Committee about a decade after "Sons"premiered. (Fortunately, Marilyn Monroe spared her then-husband the worst slings and arrows of the blacklist.Incidentally, Joyce Carol Oates' sprawling bio-novel about Marilyn, "Blonde," has a compelling depiction of their marriage.)
One notable thing about actor/director Elliott is that when in character, he resembles Arthur Miller when I met him backstage at Carnegie Hall in the 1980s. (After bumping into the American Shakespeare I blurted out: "God bless you, Mr. Miller!" He smiled and we had a lovely conversation about nuclear-free Palau, where I was then living.)
Recently, International City Theatre presented a play titled "Abigail 1702″by another dramatist that was intended to be a sort of sequel to Miller's 1953 "The Crucible," his parable about the Hollywood Blacklist/ McCarthy era. After "Sons"' shattering denouement and the proverbial curtain came down, I couldn't help but wonder what happened to the characters next? Could they pick up the pieces and lead happy, full lives? I guess that's a sign of a great playwright – he/she leaves you wanting more.
"All My Sons"opened in 1947 (a 1948 film version starred Edward G. Robinson as Joe and Burt Lancaster as Chris). What is widely regarded as Miller's masterpiece, "Death of a Salesman," premiered in 1949, and the two plays are of a pair. But for what it's worth, attention must be paid to "Sons,"which for this critic's money is actually the better drama. For while "Salesman"deals with capitalism, "Sons"is about both capitalism and war. Let's hope that all of today's war criminals who profiteer off of America's endless combat end up like Joe Keller.
If you love great acting, writing and drama, don't miss this bravura version of Arthur Miller's "All My Sons." Happy 100th birthday, Mr. Miller. Author! Author! Bravo!
A Noise Within's production of "All My Sons"plays through Nov. 21 in repertory with Jean Anouilh's "Antigone"and Georges Feydeau's "A Flea in Her Ear" at A Noise Within, 3352 East Foothill Blvd., Pasadena, CA 91107. For exact times, dates and more info: (636)356-3100, ext. 1; www.anoisewithin.org.
Photo: Craig Schwartz. | A Noise Within