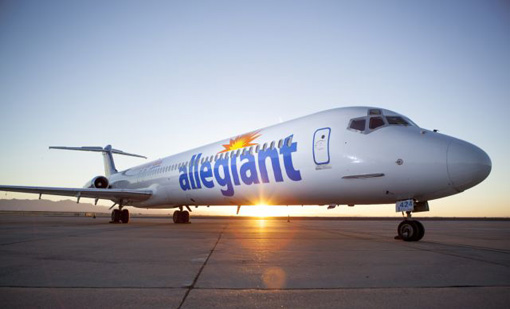 LAS VEGAS – Allegiant Air (NASDAQ: ALGT) illegally fired a pilot for evacuating passengers and crew from his aircraft when smoke emanating from one of the plane's engines into the cabin was reported by the flight crew and confirmed by ground personnel, according to a lawsuit filed today against discount carrier Allegiant Air. The lawsuit accuses Allegiant of prioritizing the company's financial well-being over the safety of its passengers and flight crew.
On June 8, 2015, Allegiant Air Captain Jason Kinzer was piloting Flight 864 from St. Petersburg, FL to Hagerstown, MD. Shortly after takeoff, the lead flight attendant informed Capt. Kinzer that acrid smoke was emanating from the rear of the plane into the main cabin. As required by Allegiant's FAA-sanctioned operating procedures, Capt. Kinzer declared an emergency and safely returned the aircraft to St. Petersburg.
Upon the plane's landing, emergency ground personnel conducted a visual inspection of the aircraft and, as heard on the ATC dispatch tapes from the incident, informed Captain Kinzer that the plane was "showing some smoke on your Number 1 engine." Capt. Kinzer immediately ordered the built-in fire extinguisher system deployed on the first engine but the fume smell remained. At that point and in consultation with air traffic ground controllers, Capt. Kinzer made the decision to evacuate the passengers and crew.
Before departing his aircraft, Capt. Kinzer made a final check to ensure that all occupants had left the aircraft. During this check, a paraplegic passenger asked Kinzer for help evacuating; Capt. Kinzer lifted the man out of his seat and, with the assistance of a flight attendant, carried him to an emergency exit for safe evacuation.
Six weeks after this incident, Captain Jason Kinzer was inexplicably fired by Allegiant Air specifically and solely because of his conduct during the June 8 incident. Prior to the June 8 incident, Kinzer had an exemplary safety record with no violations, sanctions, warnings or reprimands of any kind.
"Smoke in the cabin is obviously a major safety concern and there is no responsibility I take more seriously than protecting my passengers and crew," said Captain Jason Kinzer. "All I'm asking for is a recognition that evacuating the plane was the only safe course of action and a commitment from Allegiant to put safety first so my colleagues never have to worry that doing the right – and safe – thing could cost them their jobs."
"The single most important responsibility a pilot has is to protect the safety of his passengers and flight crew," said Jason Kinzer's attorney, Michael Pangia. "This is the most egregious employment action I've encountered in several decades of aviation law. Allegiant Air is retaliating against a pilot for protecting his passengers."
The June 8 incident was one of several recent flight safety issues that have plagued Allegiant Air recently. A report released earlier this year by the Aviation Mechanics Coalition (TAMC) shows Allegiant experiences a high rate of air returns and diversions due to avoidable mechanical issues. Between January and March of 2015 alone, there were 38 new instances of fixable mechanical issues such as engines failing, pressurization problems, smoke in the cockpit, radars being inoperable and anti-ice devices on windshields failing.
Bloomberg News recently reported that the FAA is looking into a dangerous "mechanical failure that caused the nose of an Allegiant Airlines jet to rise off the ground prematurely before takeoff, defying the crew's attempts to push it down." In another recent instance, a plane being piloted by Allegiant executives flew into a closed airport in Fargo, N.D. and was forced to declare an emergency landing due to low fuel. And in June, Allegiant passengers coming from Los Angeles to Boise were forced to evacuate onto the wing of their plane after it landed at the Boise Airport.
Photo: AP