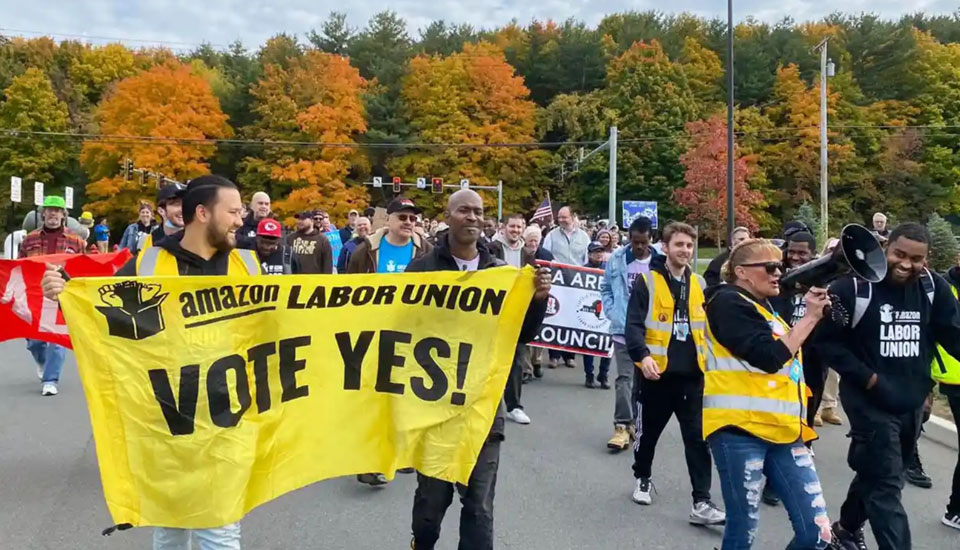 ALBANY, N,Y.—The independent grass-roots Amazon Labor Union, which gained world attention for breaking through the warehousing giant's anti-worker anti-union lawbreaking at a large Staten Island, N.Y.,  plant, vows to continue its fight after similar rampant company labor law violations cost it the election at the firm's Albany, N.Y., warehouse.
And Amazon not only skewed the vote to force a union loss on October 18, but just days before, issued a "final warning" to Albany worker Heather Goodall for photographing safety hazards on the warehouse floor, reporting them to supervisors, then calling for—and prompting—a federal job safety inspection.
"Everyone involved with ALU is filled with mixed emotions," said ALU President Chris Smalls after the 206-406 loss in the closely watched election. "We're proud of the brave workers in Upstate New York who stood up in the face of a vicious anti-union campaign to challenge a trillion-dollar corporation. This won't be the end of ALU at ALB1.
"Most of all, we are filled with resolve to continue and expand our campaign for fair treatment for all Amazon workers. You miss 100% of the shots you don't take."
Smalls said the voting process at the warehouse, located nine miles south of Albany itself, "wasn't free and fair," producing "both anger and disappointment' at ALU.
"It was a sham election where workers were subjected to intimidation and retaliation on a daily basis and even the workers who volunteered to be election observers were faced with threats of termination.
"The suits at Amazon corporate know they can't win without putting their thumb on the scale. This is why Amazon and its little army of outside union busters repeatedly violated the nation's labor law."
Amazon Albany warehouse worker Goodall's hazard complaint to the Occupational Safety and Health Administration (OSHA) and its retaliation against her, rather than fixing the problem, illustrates another common conflict between bosses and workers: Employers who routinely violate the National Labor Relations Act also routinely break job safety and other laws.
There, Goodall used her cell phone to photograph hazardous conditions on July 2, with wire giving way and bins collapsing in the aisles. She showed the photos and videos and complained to supervisors repeatedly. But they did nothing and after she returned from a medical leave, she was "issued a final warning for utilizing her cell phone in the workplace" and for contacting OSHA. That's illegal retaliation, Goodall said, and OSHA sent an inspector.
Amazon's retaliation against Smalls went even further. It fired him.
That firing of Smalls in March 2020 after he led a lunchtime walkout from the JFK5 warehouse in Staten Island over the firm's failure to protect workers against the rampant coronavirus led to formation of the Amazon Labor Union in the first place.
Amazon's anti-union tactics at Albany mimic those it used at the JFK5—where ALU won—and against unionization drives at other warehouses, including two elections at its giant warehouse in Bessemer, Ala., and another at a smaller warehouse on Staten Island.
ALU lost that one, but is challenging the decision before the National Labor Relations Board, again citing rampant company labor law-breaking.
The Retail, Wholesale and Department Store Union, an UFCW sector, lost the first Bessemer vote, in 2021. But company labor law-breaking was so rampant then the NLRB threw the results out and ordered a rerun earlier this year. RWDSU is trailing in that tally, too—again due to Amazon labor law-breaking—but results are still too close to call.
And the votes in New York and Bessemer were skewed by just a few of the frequent instances of Amazon labor law-breaking, an NLRB-compiled list shows. Company founder and majority stockholder Jeff Bezos, one of the nation's three richest men, threw millions of dollars into each anti-union campaign, hiring union-busters all the way.
That doesn't stop ALU. "When workers are empowered to take on a greedy uncaring company with a poor safety track record and a high churn rate of workers, it isn't a loss, it's an ongoing battle," Smalls concluded. ALU has five business days to challenge the results.