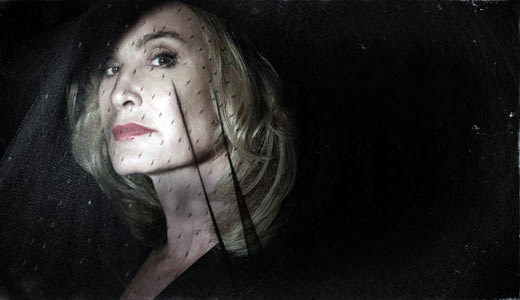 Now in its third season, American Horror Story is a horror anthology series with a rotating/recurring cast, always led by the talented Jessica Lange. In 2011, the show turned the "haunted house" trope on its head; 2012 gave us something akin to One Flew Over the Cuckoo's Nest-meets-The Exorcist. This time, it's American Horror Story: Coven, and the subject matter is witches.
A school has opened in New Orleans to protect young witches and keep their 300 year-old secrets (dating back to the Salem Witch Trials) safe. Before you start drawing Harry Potter comparisons, you should know that the showrunners are hip to that joke – and many others. "Don't make me drop a house on you," says one witch, played by Lange, to another. And it gets increasingly self-deprecating from there.
The biggest thing the series has going for it this season is introducing A-lister Kathy Bates as a main character. She plays racist socialite Madame Delphine LaLaurie (a real historical figure), who is brought back from 1834. Other newcomers include Angela Bassett, Emma Roberts, and Gabourey Sidibe. Returning actors include Evan Peters, Taissa Farmiga, and Sarah Paulson. Seeing the ensemble interact and play off one another in the Big Easy, with, at times, some weighty dialogue that reflects on the tragedies the city has endured, is really something.
The cast, in fact, is the biggest thing this installment in the series has going for it: it's almost entirely female. That's especially significant, given the fact that this is unfortunately still a world where TV insists on putting actresses into overtly sexualized or unrealistically glamorized roles, i.e. reality shows and vampire dramas. Even there, it's all about the male characters. AHS: Coven blatantly ignores that formula and gladly hands the reins to Lange, Bates, and the young witches. And it works.
Coven is also not afraid to tackle real-world horrors. If you have not read up on history and the struggles of African Americans enough to truly despise slavery, this show will really make you hate it, as well as Bates' LaLaurie, who is somehow more evil than her character in the film Misery.
Coven also tackles how young women are too often degraded and abused by young males (in this case frat brothers) in a to-the-point, though not exploitative, scene that may nonetheless have some viewers reaching for their remotes. (Don't worry, the perpetrators get what's coming to them.)
But Coven is too wacky to be taken as a social lesson wrapped inside a layer of horror, and the series revs up the camp to remind us of this – and to perhaps keep things from getting too dark. The writers for the show are obviously well aware that AHS is meant to be a gory, splattery melodrama where incomprehensibly lunatic scenes splash onto the screen, one after another. After two seasons of such, the audience is surely prepared for this.
Because of the chaotic ingredients that make the show what it is, it's okay that the first episode was a bit vague in telling viewers what to expect, story-wise, for the whole season. When a series is this ridiculous, the form seemingly creates the content on a whim as it goes along.
Too gruesome for some, too campy for others, American Horror Story is one of those shows that finds and snags a niche audience, though that viewership increases with each season. It will undoubtedly expand threefold this time around, as viewers are put under the spell of some great acting, side-by-side with some creepy witchcraft and voodoo down in New Orleans.
Photo: American Horror Story: Coven official site