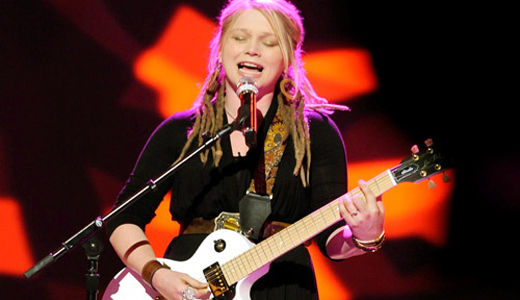 I have to admit there is truly something missing on American Idol this year. Maybe Paula Abdul, who left after last season, really made the difference. I was never really a big fan of Abdul on the show, but the spirit, flavor and energy of Idol this year is lower than usual for me.
Adding comedian and talk show host Ellen DeGeneres as a judge was not a bad move for the show. But sometimes I'm not sure she really knows how to be constructive. DeGeneres is definitely funny, and is usually positive in her remarks. But she has little going for her when it comes to giving good advice. I'm just saying.
Despite that missing element, and although Idol, in my opinion, is not as good as in the past, the show must go on, right?
Now, about those talented hopefuls this season. Well honestly, I'm disappointed in what they have to offer too. Don't get me wrong there definitely is some potential this year and there are some really talented singers in the running, but I kind of hope they pick up their game.
Here's a recap for this week.
The final 12 sang hit songs from the legendary rock group The Rolling Stones and unfortunately someone had to go.
Singers Tim Urban, Paige Miles and Lacey Brown were the bottom three this week.
Brown, who has a great look, unfortunately was voted off.
But I can't believe Tim Urban is still in the mix. He seems like a nice kid, but his singing abilities are extremely weak. He has little going for him vocally compared to the others. I don't see him lasting much longer unless he wows the audience big time, which doesn't seem likely.
I do have my favorites though.
Crystal Bowersox sang "You Can't Always Get What You Want" this week. It wasn't her strongest performance but it was still great vocally. Bowersox's bluesy vocals remind me of Janis Joplin. She has a soulful and earthy tone. She knows how to consistently nail each song she has chosen to perform. I can totally see her making it far. If she keeps up the good work she may even win it all.
Another fave of mine is Michael "Giant Mike" Lynche. This guy is a big man with incredible showmanship and really knows how to connect with his songs. He sang the Stone's hit track "Miss You" this week and pulled it off, using the stage and hitting every note. Last week, he made judge Kara DioGuardi cry when he sang Maxwell's "This Woman's Worth." Lynche has great potential and his story is very appealing. He missed the birth of his daughter while on Idol and says he knows his mother, who died from cancer when he was younger, would be very proud of him.
I'm also rooting for Andrew Garcia and Didi Benami. Garcia made a big impression during Hollywood week when he sang an awesome rendition of Paula Abdul's "Straight Up Now Tell Me." He killed it and stole the show. He did kind of peak early in the season and now he just can't seem to meet the high expectations since then.
Benami, too, is talented but needs to not let her nerves and emotions get the best of her. She shows her talent when she controls the moment while performing, but she is shy and sometimes over controls.
Lee DeWyze and Sioban Magnus also show potential. DeWyze has a raspy but pop voice and could really make it in the business as a rock artist. Magnus, well she's a bit odd and strange at times, but has a great voice. She owns the stage when she performs. She's a natural.
At the end of the day I expect more from the show this season. I hope the remaining 11 really make Idol their arena to shine, and blow us away. There is just something about live singing competitions on national television that continues to draw huge audiences. Given the hard economic times these days many of us just want to escape the reality of bills and financial stress, and see talented young people give it their all and make it big. In a way their success mirrors a piece of our dreams too.
Photo: Crystal Bowersox. americanidol.com