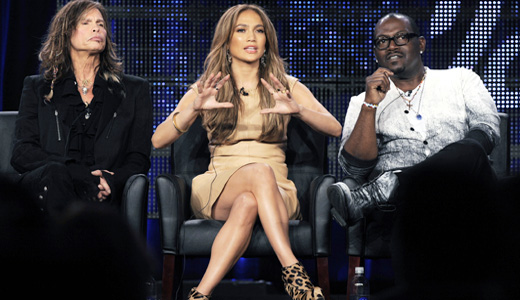 After an unimpressive season last year "American Idol" is making a comeback in 2011 and many of the performances so far have been nothing short of stellar.
Now in its 10th year, "Idol" has two new faces on the judge's panel this season, Steven Tyler and Jennifer Lopez, alongside veteran Randy Jackson.
"Idol" fans said goodbye to Simon Cowell last year. Cowell reigned as the supreme judge on "Idol" for years since its inception with his brute honesty and famed criticism.
Kia DioGuardi and Ellen Degeneres are also gone from the judge's panel.
Nonetheless the show must go on and Tyler and Lopez bring new life to it in a very positive way.
Tyler, to say the least, has been a hoot! His rock-and-roll experience as lead singer with band Aerosmith could be just what "Idol" needed. His unpredictable demeanor and unexpected singing outbursts, not to mention his flirtatious advice at times, highlight a new and amusing element to the show. Overall Tyler definitely brings a whole new level of entertainment to the millions of viewers tuned in every week at home.
And J-Lo, well, what can you say? Although many criticize her credentials as a singer and not so amazing acting career, Lopez nevertheless is incredibly successful in the entertainment industry. She's not just eye candy, J-Lo also brings a hard working attitude and a respectful point of view. She gets it, and understands what genuine star appeal looks and sounds like in the business. And as an iconic pop star, millions adore Lopez' community roots and assets.
But the real hype this year is the top-notch and raw unpolished talent by "Idol" contestants thus far.
Here are just a few of this week's highlights.
This week Jacob Lusk gave a rousing performance of "God Bless the Child," sampling a vocal range beyond words. His highs and lows were amazing and his vocal abilities, at least in this particular rendition, were right on the mark.
Others gave equal stellar performances in renditions of Ray Charles' "Georgia on My Mind," which is not an easy tune to pull off.
Casey Abrams sang "Georgia" while playing a standup bass as an accompaniment. He really knocked it out of the park. His bluesy-jazzy vocals, not to mention musical originality were all well executed.
Carson Higgins livened up the audience with his animated and theatrical performance of Bobby Brown's "My Prerogative." This guy has funk and knows how to work the stage.
Another exceptional performance was 16-year-old Lauren Alaina who sang Tyler's "I Don't Wanna Miss a Thing." She nailed it, and being one of the youngest contestants she made a big impression on the judges. And she's cute as a button.
Country voice John Wayne Shultz – yes, he's named after John Wayne – wowed audiences with his gentle and crisp vocals, singing "Landslide." He's a real cowboy from Texas, with guitar, the hat, boots and all.
"Idol" contestants are bringing their A-game this year and many of them are already showcasing noteworthy talent. Many expect the competition to heat up. Fans can look forward to good old-fashioned live entertainment as their favorites continue to charm audiences and gain momentum in the coming weeks.
Photo: "American Idol" judges Steven Tyler, left, Jennifer Lopez, center, and Randy Jackson. (AP Photo/Chris Pizzello)