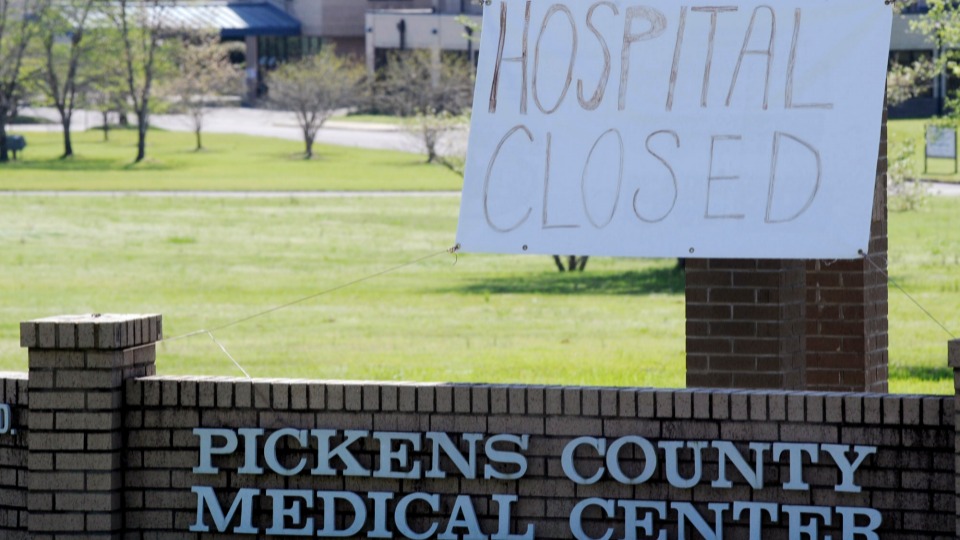 In July, the Center for Health Quality and Payment Reform (CHQPR) released a study revealing just how far the decline of hundreds of rural hospitals has gone, many of which could soon be forced to close their doors for good. The study received some media attention in the months since its release, however, most of it has been related to how the study presents local health care issues without acknowledging national-level concerns.
In my home state of Alabama, more than 20% of our rural hospitals were designated in the study as being at risk of "immediate" closure. Hospitals marked with the "immediate risk" category in the study were those with cumulative negative financial margins for the last three years and no financial reserves to cover their liabilities.
Another 50% of rural hospitals in Alabama are classified as being at "high risk"; they make enough money or get enough subsidies to struggle along, but just barely. A few bad years would knock them out. In total, 30 out of Alabama's 46 remaining rural hospitals could shut down in the near future. They would be added to the 13 hospitals the state already lost since 2010.
In other states, the situations is even worse. Connecticut has only three rural hospitals, but two could disappear. Hawaii could lose two-thirds of its rural hospitals, while 73% rural hospitals in Kansas might go. With a few exceptions in states which are largely already mostly urban, every state has rural hospitals at a high or immediate risk of closure.
In total, nearly 900, or 40%, of America's rural hospitals are at immediate or high risk of closure. According to the CHQPR's study, that means they could have 2 to 5 years at most before running out of money.
It costs more for a hospital to operate in a rural area. In part, this is due to the costs of supplying these facilities, given their distance from major population centers. But this is also a poverty and inequality issue. Many people living in rural areas just don't have the money to pay for care or are ineligible for quality insurance without high premiums and co-pays. This means they are less likely to go to hospitals, and fewer patients means less revenue—whether a hospital is non-profit or for-profit.
When you consider that, it is hardly any wonder why the healthcare system in America was absolutely unprepared for a crisis of the magnitude of the COVID-19.
If the pandemic continues to subside, some of these at-risk hospitals might be able to buy themselves some time, but the issue of underfunded rural health care won't go away. Much of the United States was already facing a crisis regarding rapid loss of hospitals even before the pandemic; coronavirus only exacerbated it. Alabama, as mentioned earlier, had already faced consistent loss of hospitals over an extensive period before the pandemic. Further, some hospitals fear they will not really see the full damage COVID-19 has caused until the start of next year.
These rural hospitals are pillars of health for isolated communities. Without them, the people living there will have to travel extremely long distances to see a doctor. If their hospitals close, rural Americans lose all access to ambulatory, inpatient, and emergency health care services. It's a prospect that is even more terrifying when paired with a reminder that rural communities generally already have a higher child mortality rate than denser communities. The loss of these hospitals will destroy the health of any community they are located in as well as any surrounding communities which already lack any health care institutions.
Many solutions have been floated, including increased funding of hospitals, expanding Medicaid to get more people consistent access to these hospitals, creating a rural hospital differential in Medicare rates, and an entire overhaul of our health care system, replacing it with a universal or single-payer system.
In any case, it is plain to see that the U.S. must change how it handles public health in a radical way to solve this crisis. The impact COVID-19 has had on American hospitals will be irreparable without massive and comprehensive action. It is difficult to see a reality where this country does not lose dozens, maybe hundreds, of hospitals—a prospect which will send us spiraling into another, and bigger, mass health crisis.