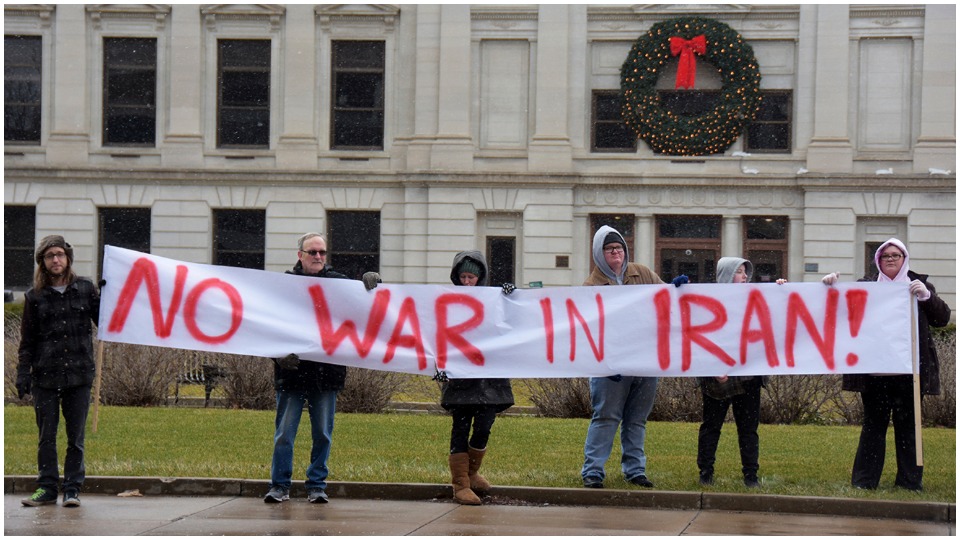 WASHINGTON—Amid rising protests in the streets and online against President Donald Trump's looming war on Iran, the Democratic-run U.S. House plans to vote on a measure banning that war without congressional approval.
The resolution, House Speaker Nancy Pelosi told her colleagues, will invoke the 1973 War Powers Act and order Trump not to go to war after the initial 30-day period the law allows.
Trump is not expected to listen to Congress. He didn't even bother to notify lawmakers before his war forces killed top Iranian Major Gen. Qasem Soleimani and nine others in a bombing in downtown Baghdad, Iraq, on Jan. 3.
And he certainly wasn't listening when tens of thousands of people took to the streets in 82 cities nationwide in the following two days against his militaristic march in the Middle East. That included a protest hosted by CodePink other several other organizations in front of the White House this weekend. Thousands more signed anti-war petitions at MoveOn and Change.org.
Trump's murder of Soleimani, which he claimed was based on the general's record of aiding and funding prior Iranian-sponsored attacks on U.S. troops and installations, angered both Iran and Iraq.
Hundreds of thousands of Iranians poured into the streets of Tehran for the general's funeral, and the Iraqi parliament passed a non-binding resolution ordering withdrawal of all foreign troops—most of whom are from the U.S.—from the country.
Meanwhile, Iran war foes marched in the U.S.
"The U.S. government lied about the war in Afghanistan; it's not a stretch to suspect that it would lie about a war in Iran," Win Without War tweeted.
Democracy For America chair Charles Chamberlain said thousands of his group's members joined the protests, which DFA also co-sponsored, "to demand Congress act immediately to stop a catastrophic war with Iran."
"DFA-endorsed progressive leaders, including all four members of the Squad"—Democratic Reps. Ilhan Omar of Minneapolis, Alexandria Ocasio-Cortez of New York, Ayanna Presley of Boston, and Rashida Tlaib of Detroit—"and progressive candidates for president, including Bernie Sanders and Elizabeth Warren, are leading the fight against the rush to war with Iran."
Ocasio-Cortez added her own blunt tweet: "War is a class conflict, too. The rich and powerful who open war escape the consequences of their decisions. It's not their children sent into the jaws of violence.…"
"This week will be critical…We can show the world America doesn't want war in the Middle East," Chamberlain added. "We can stop Donald Trump and hold those who support his reckless war accountable."
Michael Galant of Win Without War was caustic about Trump's march to war, but he also faulted Congress, particularly pro-Trump Republicans, for forcing the anti-war language out of the $738 billion war budget Congress passed and Trump signed late last year.
"Donald Trump has driven us to the brink of war with Iran—and possibly further. Make no mistake: Donald Trump is responsible for this crisis," Galant said.
After repudiating Democratic President Barack Obama's moves towards peace, notably halting Iran's nuclear program, Trump placed the U.S. and Iran "on a collision course to conflict" culminating in the assassination.
"War with Iran would be disastrous and wholly unnecessary. Military and diplomatic leaders have warned it could bring costs, in both blood and treasure, greater than the wars with Iraq and Afghanistan combined. We now face a stark choice: Continue down the current path, with its catastrophic consequences, or immediately de-escalate. Walk back aggressive rhetoric, end the cycle of military retaliation, and engage meaningfully in a diplomatic process for peace."
"Only Congress has the power to decide whether U.S. forces should be put into harm's way," Galant said, before faulting the GOP for forcing the anti-war language out of the military money bill. "Sadly, we're now seeing the results of that dereliction of duty." Galant demanded "a massive, immediate diplomatic intervention, backed by overwhelming people-power to help prevent the worst."
Meanwhile, Pelosi told her colleagues to expect a vote this week on another anti-war resolution, specifically aimed at Trump's looming war on Iran. Congress returns from its holiday recess on Jan. 7.
Trump "conducted a provocative and disproportionate military airstrike targeting high-level Iranian military officials. This action endangered our servicemembers, diplomats, and others by risking a serious escalation of tensions with Iran," she wrote all lawmakers on Jan. 5.
"The House will introduce and vote on a War Powers Resolution to limit the president's military actions regarding Iran. This resolution is similar to the resolution introduced by Sen. Tim Kaine," in the Senate. "It reasserts Congress's long-established oversight responsibilities by mandating if no further congressional action is taken, the administration's military hostilities with regard to Iran cease within 30 days."
War with Iran may not be the only manifestation of Trump's policy. Negar Mortazavi, a journalist for The Independent, quoted an unnamed attorney in the Pacific Northwest who follows such cases as reporting that U.S. border agents are detaining Iranian-Americans and other people of Iranian descent at the U.S.-Canadian border post north of Vancouver, Wash., for at least 15 hours.
"The only reason they are being held is their Iranian descent," the attorney reported to Mortazavi. "A new directive to the Customs and Border Patrol was confirmed by the Department of Homeland Security, and we expect to see increased detentions in the coming days across ports of entry to the U.S."