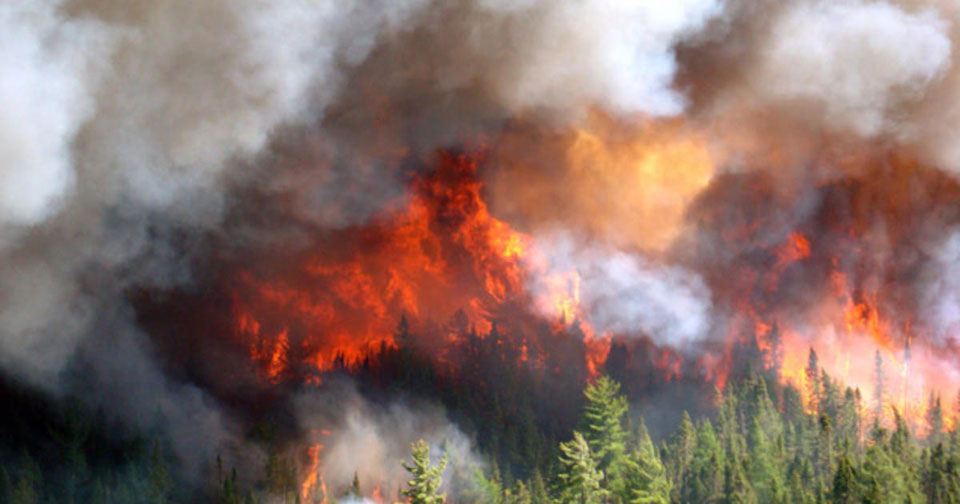 The months of April and May have given rise to some incremental but significant environmental victories, yet these must be tempered by the fact that climate change – and the man-made destruction that exacerbates it – continues to ravage the planet. While the U.S. has just taken a few political and legislative steps in the right direction, other parts of the country and the world were struck with events that serve as sobering reminders of what we're up against.
White House announces new Director of Environmental Justice
During a time when environmentalists may be optimistic yet frustrated with the Biden administration's climate policies, the appointment of one of the newest environmental justice officials may prove to be a silver lining on the horizon. The White House announced May 5 that Jalonne White-Newsome would become the new Director of Environmental Justice. Succeeding her predecessor Cecilia Martinez, White-Newsome will be the second person to ever hold this position.
A strong sign of Biden's prioritization of the fight against climate change, White-Newsome will help strengthen and continue the administration's commitment to expediting the federal government's abilities to pursue environmental justice. The emphasis on justice is an apt one, as White-Newsome's background includes her work with Empowering a Green Environment and Economy, a consulting firm she founded to combat global warming while preserving racial equity.
White-Newsome remarked, "I witnessed early in my personal life and professional career the consequences of valuing profits over people, which has unfortunately resulted in a legacy of environmental injustices across our country. However, we have an opportunity to create a new legacy. It will not be easy, but the critical and urgent work that the Biden-Harris administration has undertaken is moving us closer to making environmental justice a reality."
She also stated that "one of the things that is sorely missing is opportunities for Black and brown folks in communities with environmental justice concerns to actually be part of the decision-making process. We need to be engaged at every level – federal, state, and local – because we have the solutions to ensure environmental justice and combat climate change."
New York passes tough new law to clean up polluted neighborhoods
As of the last week of April, new legislation passed in New York means the fossil fuel industry will no longer be able to treat already-polluted communities like garbage dumps. The state legislature passed bill S1031C, which would require New York's Department of Environmental Conservation to examine the risk for cumulative pollution in a neighborhood before permitting the construction of industrial facilities there. This means that power plants, warehouses, and other sources of dirty energy would be required to overcome a rigorous screening before being allowed to establish themselves; this could serve as an important lynchpin in the protection and cleaning up of communities already beset with environmental health issues.
In taking this action, New York follows New Jersey, which passed similar legislation in 2020. It was lauded by environmental groups as the "holy grail" of environmental justice bills. According to Grist.org, the New York bill prohibits any actions or permit issuances that might cause or play a part in a "disproportionate or inequitable" pollution burden on communities, especially those with a large percentage of people of color, low-income residents, pre-existing economic hardship, or currently high rates of pollution.
The legislation was actually first introduced to the state legislature in another form as early as the 1990s, and it's taken that long to overcome staunch industry opposition. Its prior inability to get approved was a result of racist zoning laws and the power and influence of fossil fuel corporations, something with which environmental activists are well acquainted.
"This problem of inequitable citing is one of the main issues that started the environmental justice movement in the first place," said Sonal Jessel, director of policy for We Act for Environmental Justice. "What we're doing here is saying, 'Enough.' It's time to make sure that the communities that have been dealing with this vulnerability for so long have some protection embedded in the law."
Wildfire consumes 2,710 acres of Northern Michigan
When U.S. wildfires make headlines, there's usually an assumption that it's happening in the South – particularly the Southwest, where New Mexico is currently being ravaged and burned by its second-largest blaze on record. Way up north, however, Michigan is currently serving as a stark reminder that the perils of climate change affect everyone. Firefighters are currently warring against the 2,710-acre Blue Lakes Fire wending its way across Montmorency and Cheboygan county. Though as of May 15 it was 60 percent contained, it has caused evacuations, road closures, and vehicle damage, as well as threatened the integrity of a dozen structures near the Black River Ranch.
Authorities believe it was triggered by lightning, and strengthened by tinderbox-like conditions in the forested area. "The fire is fueled by a mix of jack pine, mixed pine, and grasses, with a very large smoke plume visible from miles away," said Kerry Heckman, spokesperson for the Michigan Department of Natural Resources.
For the state's resident elk, the fire hit a little too close to home; one thousand of the animals roam Pigeon River Country State Forest, and the Blue Lakes Fire occurred just northwest of it. The elk population is already embattled there, with over 49,000 hunters applying to hunt them in 2021 alone – part of a decade-long rise, according to state wildlife officials.
Brazil's Amazon breaks new deforestation record
Elsewhere, the Amazon rainforest continues to be decimated. Brazil's National Institute for Space Research reported it endured record deforestation during the first three months of 2022. Then it got worse. April's deforestation rate broke the record for that month, with 250,317 acres of rainforest forever wiped away – it's a 74.6 percent increase over the record set during April 2021, according to Reuters.
"The cause of this record has a first and last name: Jair Bolsonaro," declared Marcio Astrini, leader of the country's environmental group Climate Observatory. The destruction of the Amazon has run rampant since the election of right-wing president Bolsonaro in 2019, whereupon he wreaked havoc on environmental protection. Astrini said analysts were floored to find such a high deforestation reading, particularly during the month of April, when the rainy season renders the area extremely muddy, and therefore more difficult for loggers to access.
"This figure is extremely high for this period of the year," agreed Mariana Napolitano, science director of World Wildlife Fund Brazil. "It's an alert of the immense pressure the forest is under."
Though this devastation is certainly and purposefully human-caused, it will also prove to be a deadly weapon in global warming's arsenal, with the rainforest now pumping out more CO2 than it absorbs. According to the World Wildlife Fund, "Over time, global climate change and more deforestation will likely lead to increased temperatures and changing rain patterns in the Amazon, which will undoubtedly affect the region's forests, water availability, biodiversity, agriculture, and human health."
"In the southeast, the Amazon is no longer growing faster than it's dying," said Professor Scott Denning of Colorado State University. "This is bad. Having the most productive carbon absorber on the planet switch from a sink to a source means we have to eliminate fossil fuels faster than we thought."