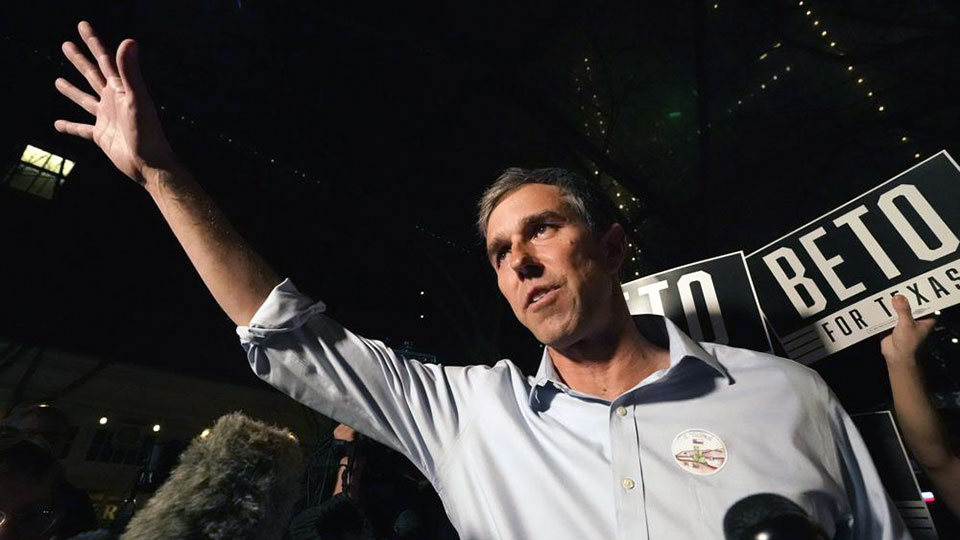 SAN ANTONIO, Texas—Amid voting problems across the state—due to both repressive Republican-engineered restrictions and mechanical glitches—progressive hopefuls picked up gains in the March 1 Texas primary elections.
But they didn't get all they hoped for. In one marquee race, pro-worker immigration lawyer Jessica Cisneros narrowly trailed incumbent Rep. Henry Cuellar in South Texas's new 28th congressional district, but neither won a majority. Both advance to a May 24 runoff, as a third candidate in the contest—also progressive–denied both outright victory.
Cuellar, often called "Donald Trump's favorite Democrat," and the only House Democrat to vote against the Protect The Right To Organize Act—twice–led Cisneros by 767 votes out of 48,626 tabulated, or 48.4%-46.9%. Two years ago, in her first challenge to Cuellar, Cisneros lost by 2,700 votes in the party primary or just over 2%. There were no other candidates then, and party honchos backed Cuellar. This time, they shut up.
Cisneros campaigned on a progressive platform including the PRO Act, Medicare For ALL, comprehensive immigration reform, switching to alternative energy sources, and alternative energy jobs. She says South Texan voters, especially Hispanic-named and Black voters agree with that stand in the oil-dominated state because they suffer the pollution from the refineries.
But not all the votes have been tabulated yet, and for that, voters can mostly blame the state GOP's voter repression law. It resulted in tens of thousands of mailed-in ballots being rejected, including an estimated 30% in Harris County (Houston).
The anti-voter GOP laws restricted who could mail-in ballots to people 65 and older, people who will be out of their home county, and voters who are disabled, ill, or heavily pregnant women. And voters, even the elderly, had to apply for permission to vote by mail.
The voter repression laws also banned Sunday voting, thus eliminating a key voter mobilization tool in Black churches: "Souls to the polls" after Sunday morning sermons.
Those who didn't ask to vote by mail, CNN reported, either were shut out or found out late. If they could, trekked to the polls. Mail-in voting, Houston resident Delores Jones told CNN, was now "unreliable." Those who voted by mail often had their ballots bounced because their signatures didn't exactly match those on voter registration forms.
And voters who appeared in person, regardless of age, could be challenged by partisan—read "right-wing"—"poll watchers." Election officials' hands were tied in such cases. The voter repression law said if the officials did so, they faced fines and jail terms.
The rejected voters have six days to appeal the turndowns, and what happens to their ballots could change the results in the few close races, such as Cisneros vs. Cuellar.
Amid all this, the primaries produced some progressive wins
The top one was in the Austin-to-San Antonio 35th congressional district, a newly open seat. The race was supposed to be neck and neck between political veteran State Rep. Eddie Rodriguez, D-Austin, the establishment candidate, and former Austin City Council member Paul Casar, best known for proposing to cut the city police budget by $150 million.
Casar won in a rout: 61.7% to 15.7% for Rodriguez. Other hopefuls trailed. The seat is rated as pro-Democratic.
He also won the police budget cut, but voters overturned it later, and right-wing Trumpite GOP Gov. Greg Abbott, who easily won his own primary on March 1, not only lambasted Casar in campaign ads but used the Austin ordinance as an excuse to push a law through banning any city or county from cutting police cash without state permission.
A former director of the Workers Defense Project, Casar said Texans deserved a lawmaker who will fight for good jobs and Medicare For All, among other causes.
In the Houston-based 30th District, Jasmine Crockett, again the most-progressive candidate, easily led with 48.5% in a majority-Black constituency first represented by fabled Texas lawmaker Barbara Jordan (D). Incumbent Rep. Eddie Bernice Johnson (D), who, like Crockett and Jordan, is Black, is retiring and Republicans didn't even field a candidate. Runner-up Jane Hamilton won just over 16%.
Crockett was among the leaders of the state Democratic representatives' walkout last year that stalled the voter repression law, SB1, for months by depriving the state House of a quorum. The group fled to D.C., where they lobbied national lawmakers to pass HR1, the wide-ranging measure that would have—among other things—overridden all the state-level voter repression laws nationwide.
The U.S. House OKed it. The 50-50 Senate, hamstrung by GOP filibuster threats, which in turn cater to the corporate class and white nationalist voters, refused to even debate the legislation.
Statewide, incumbent right-wing GOP Gov. Abbott won his primary race with two-thirds of the vote, garnering 1.042 million ballots. Former Democratic Rep. Beto O'Rourke, backed by the state AFL-CIO but not exactly a progressive favorite due to his past ties to the oil industry, won with a landslide 91.5%, gaining 846,966 tallies.
The general election may also give the Poor People's Campaign, which has been quite vocal in the state capital of Austin, a chance to show its electoral clout, too. 2020 census figures show 19.9% of Texas's 27.43 million people live below the federal poverty line, and 38.4% are Spanish-speaking.