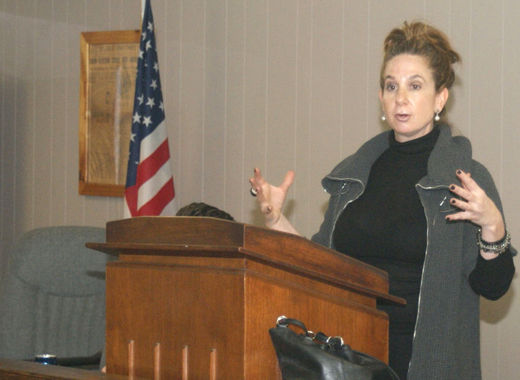 ST. LOUIS – To re-build the American labor movement we "can't use the same tired old strategies and tactics," Amy B. Dean told union members and community activists here at the Friends of the People's World 7th Annual 'Working Class Media & Democracy' forum.
"We have to do things fundamentally different," she continued. "We have to build a fundamentally different capacity and deal with what it takes to challenge power in fundamental ways."
Dean is the co-author of 'A New New Deal: How Regional Activism Will Reshape the American Labor Movement.' She has appeared on CNN, NPR and Good Morning America, and her articles have been printed in dozens of publications across the country.
The forum, held at the Operating Engineers' Local 148 Union Hall, raised over $4,000 for the Friends of the People's World, and was attended by members of the state workers' union (Communication Workers of America local 6355), CWA 6300, Operating Engineers' Local 148, the Steelworkers union, the Service Employees International Union, the Coalition of Black Trade Unionists, and the United Auto Workers.
According to Dean, "the only way that we build power is by building the trade union movement." Additionally, though organized labor has seen a steep decline in union membership over the past 30 years, unions still remain the most powerful peoples' organization in the country.
Reflecting on the recent mid-term elections, Dean said, "this is a sobering, not somber moment."
"We should use this moment as a teachable moment," she continued. Referring to President Obama, she said the first lesson we should learn is: "There are limits to charismatic leadership. It is not a substitute for building the movement."
She said, "We have to build the political organizations that are year-round and long-term. We need to keep an electoral-political apparatus active year-round."
"The building blocks for progressive change is local organizing that impacts organizing on a federal level. However, if local communities aren't organized on the ground change doesn't happen," Dean concluded.
While the recent mid-term elections were sobering, Dean emphasized the positive accomplishments of organized labor. She said, "the labor movement of today has a better coordinated electoral machine than ever before. No one can put the troops on the ground like the labor movement can."
Additionally, she said, "at a local level progressive are finding their voice. However, we need to learn from each other and share best practices."
Dean suggested that labor and community organizations partner to do research and development, build deep, long-term coalitions, and organize around aggressive political action.
Ultimately, she concluded, "We have to build the political space for people to come together that translates into public policy. We have to build formal mechanisms for relationship building, and we need to be more serious about leadership development."
Photo by Mark Esters, CWA 6355 / PW