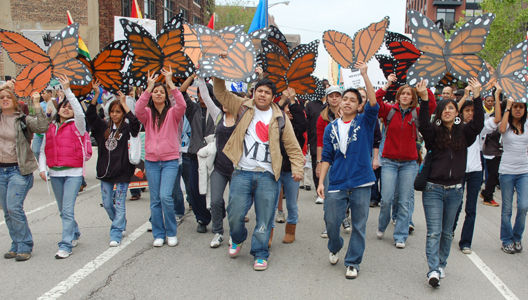 Like most challenges immigration reform is and always has been an uphill battle. Today many agree it's a human and civil rights issue.
It's been said over and over again immigrants who came here in search of work and freedom founded the history of the United States.
Unfortunately the ultra-right along with its supporters continue to use the issue to divide working people.
Immigrant rights are connected to the rights of all working people – the right to organize unions and a voice on the job, better working conditions, livable wages with benefits and a path toward legalization – to name a few.
Historically poor immigrants who came to the U.S. were persecuted and even criminalized for their language and traditions.
Chinese immigrants suffered much of the same abuse.
Those same problems exist today.
However in recent history the immigrant rights movement here has propelled a massive campaign that swept the nation after millions took to the streets for reform on May 1.
May Day is a worldwide working-class holiday that was re-ignited after the immigrant rights movement made the correct connection between the fight for comprehensive immigration reform and worker's rights.
For the first time in decades the nation's largest labor group, the AFL-CIO, which represents about 11 million workers, recently endorsed May Day. The holiday was originally born out of the international worker's movement in Chicago.
In 2008 we elected our very first African American president. Even during economic recovery the Obama administration continues to be one of our most important allies.
Whether it's choosing a Supreme Court Justice, appointing women and minorities to high posts in Washington, passing reform on higher education, the landmark battle for health care, finance reform or an economic stimulus, the Obama administration has had its work cut out.
Yet immigration reform continues to be one of the most contentious debates nationwide.
Success in this fight will depend on our ability as activists to rally the broadest possible forces to see this struggle as a way to address our nation's ailing economy as a whole.
Obama says he favors reform and has encouraged his colleagues to work in a bipartisan effort to make it happen.
But they cannot do it alone.
U.S. trade policies such as NAFTA and CAFTA and neoliberal regimes led by decades of anti-worker policies from Washington continue to destroy entire communities both rural and urban across the American continent.
Immigrants see the U.S. as their only option as a way out of extreme poverty and come here in search of work and opportunity.
The H2 Visa Guest Worker program allows U.S. companies to hire immigrant workers at extremely low wages. This abuse is a modern day form of indentured servitude and exploits immigrant workers whose lives depend on selling their labor power to live and work here.
But the right wing, including the Tea Party, the Minutemen and talk-radio hosts, continue to invoke racist and nativist anti-immigrant rhetoric.
As do renegade Republican lawmakers like those in Arizona that pass draconian measures criminalizing immigrant communities and invite racial profiling.
It's the children of immigrant parents who also suffer the brunt of a broken immigration system. Most immigrants come here because it's precisely their children they have in mind. They want what any parent wants, a good paying job that will allow them to send their children to school with the hopes of enriching their families future.
That is why young people, many who are undocumented and unafraid, have taken a stand to speak out and fight for the Dream Act, which would grant immigrant students access to higher education and eventually a pathway to legalization.
We must be involved in this legislative fight.
As activists our work is demonstrated in our strength to see the bigger picture and find ways to humanize issues that ultimately brings mass unity to the forefront.
Every major issue – ending wars, fighting for a massive jobs program, extending unemployment benefits, holding Wall Street accountable, the health care overhaul, the fight for public education, and the fight for immigration reform – share common threads of tactical approaches from one stage to the next.
We need to continue stepping up the pressure on the Obama administration and on all lawmakers, but also on the movement from the ground up at the grassroots.
History has proven that we, worker advocates, multi-racial and social justice unity builders are the best soldiers on the ground when it comes to organizing progressive and independent movements for change.
And we should seek ways to advance the broadest possible coalition forward with an eagle's eye approach that champions immigration reform and the rights of all workers.
Photo: Pepe Lozano/PW