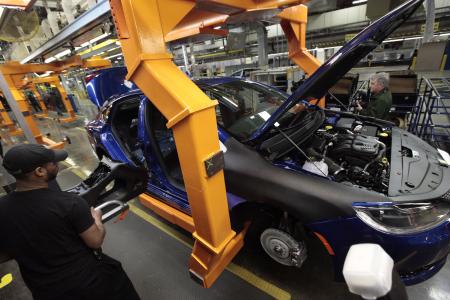 Many UAW workers are unhappy with the proposed deal between the UAW and Fiat Chrysler. Auto workers at three plants have rejected the proposed agreement. They are Jefferson North in Detroit, the Sterling Stamping Plant in Sterling Heights Michigan and the Kokomo Indiana plant. Workers at Toledo Assembly, Sterling Heights Assembly, the Warren Stamping and Truck plants and Belvedere Assembly in Illinois are voting Wednesday.
Some Toledo workers have rallied against the deal. The UAW International is withholding comments until the workers have all voted. Workers want to abolish two-tier pay scale. At the UAW convention in March, Kathy Smith of Local 2015 spoke for many rank and file workers on two-tier pay and the degradation of once good UAW jobs at Chrysler.
"Not only do I have Chrysler workers making half of what the normal workers make," said Smith, "but I have people inspecting our parts at $8.50 an hour. We have people doing our janitor work at $10 an hour. There's non-union people in there, they're making sub-standard wages. These were all great Chrysler bargained jobs that have gone by the wayside."
The above article is reprinted from Workers Independent News.
Photo: An assembly line worker builds a Chrysler automobile. | Paul Sancya/AP