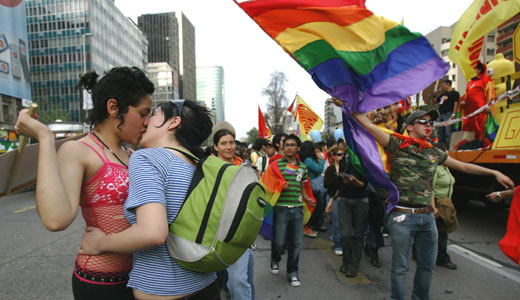 In Chile last week, after a seven-year legislative battle, the country's first all-inclusive anti-discrimination bill became law.
On Mar. 3, Daniel Zamudio was tortured and murdered in San Borja Park, in Santiago, the nation's capital and largest city. At only 24 years of age, Zamudio was killed in an act of homophobia-induced violence.
Zamudio had reportedly been harassed due to his sexuality after leaving gay-themed discotheques in the past, and according to his family, neo-nazis had verbally threatened him the night before his murder.
After observing the scene of the crime, authorities concluded it was homophobic in nature. According to Central Hospital in Santiago, Zamudio was left with a fractured skull, brain injuries, cigarette burns, a broken leg, and with cuts upon his stomach, legs, and arms in the shape of swastikas.
The four young men who committed the crime denied all charges despite their histories of having been arrested in the past for xenophobic-related charges. They are each facing life imprisonment, while the prosecution seeks murder charges. Due to heinousness of the crime it has sparked debate concerning the rights and safety of the LGBT community in Chile.
The murder facilitated increased awareness and pressure on Chilean lawmakers to examine a bill preventing discrimination towards anuyone based on race, ethnicity, religion, sexual orientation, gender, appearance or handicap.
Originally proposed seven years ago, the anti-discrimination bill has been the topic of heated discussion. The conservative right, the Catholic Church, and other anti-gay marriage groups have strongly voiced their opposition to the bill. However, the Gay Integration and Liberation Movement (Movilh) have been supportive since the beginning.
Movihl, headed by its president, Rolando Jiménez, is a LGBT rights and advocacy group that, in 1999, spearheaded a movement for repeal of legislation banning sodomy as a punishable act.
In response to the passing of the new anti-discrimination Law, Jiménez said in a statement to La Tercera, "Today marks the end of a seven-year process that has given Chileans a way of protecting themselves from and fighting against arbitrary discrimination."
The anti-discrimination law is colloquially known as the Zamudio law, in honor of Daniel Zamudio's death. However, it cannot go without mentioning that countless atrocities towards the LGBT community have occurred in Chile's past.
The Zamudio law itself identifies discrimination as "distinction, exclusion or restriction that lacks reasonable justification" and protects those whom are targeted on the basis of "race, ethnicity, nationality, socioeconomic status, ideology, political opinion, religious beliefs, participation in organizations or lack thereof, sex, gender, sexual orientation, appearance, health and disabilities." The law not only defines these groups but also offers them protection if a crime occurs. The law empowers courts to fine offenders a minimum of $4,000USD (two million CLP).
The Zamudio law is the first piece of legislation in Chilean history to comprehensively protect the LGBT community. The nation's LGBT rights groups continue the struggle but now are slightly more hopeful. This legislation sets a precedent in the continued fight for equality and will perhaps lead to same-sex marriage and other LGBT rights in the country of Chile.
Photo: A Chilean lesbian couple kiss during a Gay Pride parade in downtown Santiago. Roberto Candia/AP