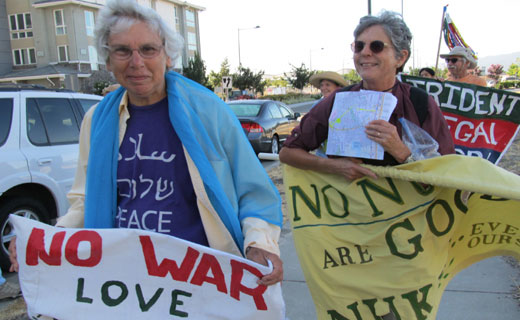 DUBLIN, Calif. – With prayer and song, dozens of supporters saw anti-nuclear weapons campaigner Susan Crane back to prison Aug. 22, as she prepared to serve an additional 60-day sentence at the federal women's prison here. The new sentence came on top of 15 months she had already served after participating in a 2009 Disarm Now Plowshares nonviolent direct action at a Washington state naval facility where nuclear-armed Trident submarines are based.
Crane, a 68-year-old retired teacher and member of the Catholic Worker movement, was joined by supporters in a four-day, 40-mile peace walk to the prison gates from a Lockheed-Martin facility that makes the nuclear warhead-carrying Trident II D-5 missile the Trident submarines carry.
Before the "Walk for Nuclear Disarmament: From Lockheed to Lock-Up" began, Crane reminded supporters that the eight Trident submarines deployed from the Washington state naval base "constantly threaten to unleash nuclear holocaust … It's unlawful and against the law of naval operations to prepare, threaten or use such weapons because they indiscriminately kill civilians, cause radiation burns, poison the environment, and create sickness and genetic damage for generations to come."
At walk's end, as he stood just blocks away from the prison gates, Father Louis Vitale, a San Francisco priest and longtime anti-nuclear activist, called Crane "a totally committed person" and said the protests in which she and others have engaged are "a way of calling attention to the urgency with which we need to disarm."
With today's vast system to produce, maintain, and deliver nuclear weapons, Vitale said, "doom is just a mouse click away."
As Crane disappeared through the prison gates, her fellow walkers clustered outside, calling out messages of support.
Susan Crane was among five Disarm Plowshares activists who entered Naval Base Kitsap-Bangor, near Seattle, Wash., early on the morning of Nov. 2, 2009.
Carrying banners reading "Disarm Now Plowshares: Trident, Illegal and Immoral," the protesters cut their way through chain link and barbed wire fences to reach the grounds of the bunker area they say holds the U.S.'s largest stockpile of operational nuclear weapons.
There they hung the banners, scattered sunflower seeds, and prayed until they were arrested at dawn.
The five were sentenced to terms ranging from three to 15 months in prison, followed by a year of supervised release. Crane, who served her original sentence at the Dublin Federal Correctional Institution, did not comply with some terms of the supervised release, and was sentenced to 60 more days as a result.
Disarm Now Plowshares, rooted in the Catholic Worker movement, is part of a broad network of Christian pacifists that grew out of 1980s anti-war actions led by former priests Daniel and Philip Berrigan. The movement says about 100 Plowshares Nuclear Resistance Actions have taken place worldwide in the last 30 years, based on the Old Testament scripture, "And they shall beat their swords into plowshares and their spears into pruning hooks. And nations will not take up swords against nations, nor will they train for war anymore."
In another recent action, three Transform Plowshares activists – 82 year old Sister Megan Rice, Greg Boertje-Obed, and Michael Walli – slipped past four perimeter fences July 28 at the Y-12 nuclear facility at Oak Ridge, Tenn.
After hanging banners and red crime tape on the highly-enriched uranium manufacturing facility deep within the complex, the three were arrested. Their trial is set for Oct. 10, in Knoxville, Tenn.
The three extended a warm message of support to Susan Crane as she began to serve her new sentence.
Photo: Marilyn Bechtel/PW