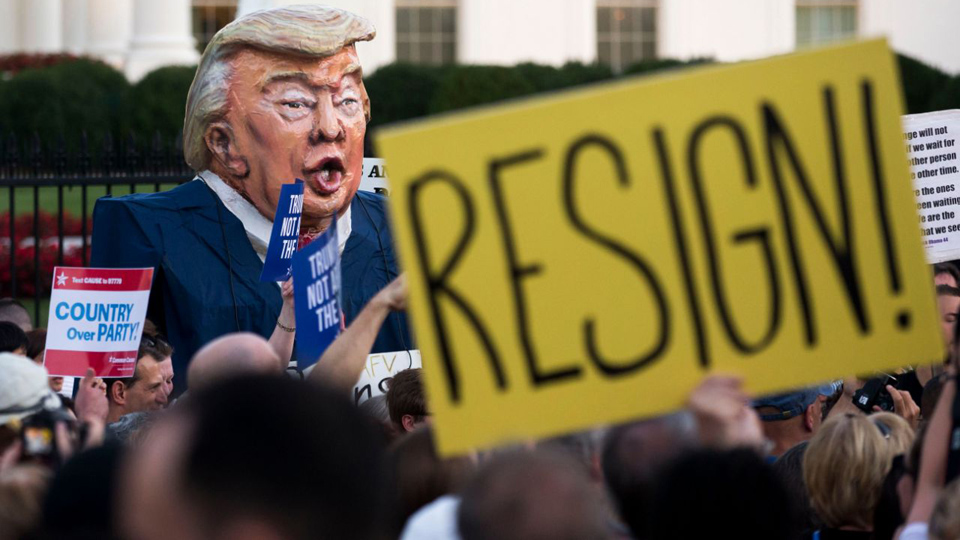 CHICAGO—Stephen Meyer's 6-year-old daughter was carrying a battery-operated lit electric candle, accompanying her mother and father at a demonstration on Chicago's Michigan Avenue just south of Tribune Tower. The reason: Donald Trump.
And her father was carrying a sign declaring, in flashing lights, "Trump Lies." That sentiment and more was shared by hundreds of other demonstrators in the Windy City—and by tens of thousands of people in at least 175 other cities nationwide in the twilight and sunset of July 18.
All denounced the Republican president's fiasco in Finland in particular and his dictatorial bent in general. And the demonstrators made one big point: It is time for him to go.
"Impeach 45. Now!" was a frequent chant in Chicago, interspersed with the labor-created declaration: "Show us what democracy looks like. This is what democracy looks like!"
Trump's kowtowing to Russian President Vladimir Putin in their meeting and follow-up press conference in Helsinki, Finland on July 16 sent the Meyers family and the others into the streets, carrying signs accusing Trump of everything up to and including treason.
The candlelight vigils followed three straight nights of demonstrations in front of the White House, and a nationwide uproar over Trump's trashing of his own country and lock-step agreement with whatever Putin said.
"From attacks on the rule of law to conflicts of interest, ethics violations and flagrant abuse of government offices for personal gain, the corruption of the American government by the president, his associates, and many in his party has reached a new, profound low," said the hastily formed Confront Corruption and Demand Democracy coalition, which organized the vigils.
"It's not partisan to be against the forces that want to deny us our liberties," said Steve Schwartz, who identified himself as a pastor to the Chicago crowd.
The signs and chants there expressed the group's, and America's, dim view of the president and his government. Indeed, the Chicagoans used one of Trump's own slogans against him, changing just one word.
"Lock him up! Lock him up!" the Chicago crowd chanted, drawing hordes of sympathetic honks from cars on Michigan Avenue. It was a new take on the chant Trump uses to get his crowds to roused: "Lock her up!" in reference to his 2016 Democratic presidential foe, Hillary Clinton.
The crowd's signs and speakers linked Trump and Putin. One read: "Totalitarian Regime Undermines Mankind by Putin's puppet." The capitalization was intentional.
"Follow the rubles," another added. Others referred to Russian spy Maria Butina, arrested in Virginia on July 15 for setting up a back channel to Trump and the Republicans through the U.S. gun lobby.
"The Helsinki thing is probably the impetus," Meyer told People's World as his daughter and spouse listened. But the Lincoln Park resident, who moved from Florida just under a year ago, said he's been concerned about Trump for a long time.
"The first moment that really concerned me was during the campaign, in November 2015, when he tweeted out that black people were responsible for 81 percent of white murders. The other was after the election when he said there were three million bogus voters" for Clinton.
His lawmakers have a split reaction, Meyer said, adding that Rep. Mike Quigley, D-Ill., acknowledges constituents' concerns and often includes them in tweets. But his former Florida senators, Republican Marco Rubio and Democrat Bill Nelson, are another matter. "In years past, they'd engage. Now their staff just takes comments down," Meyer said.
Other speakers declared a mass movement must coalesce to evict the current Oval Office occupant.
"We have to unite," Sharon Sanders, a Public Citizen member and one of the two most detailed speakers in Chicago, said in a later interview. "If we don't come together, we won't solve anything."
"Too many people don't pay attention to what's going on," Chicago Jewish Day School counselor Rachel Sollinger said. The way to overcome that is constant education and getting out information, she added.
In her speech, Sanders reminded the crowd that "in any autocracy or dictatorship, the media is taken over first and lying becomes the norm." Trump is known for his attacks on the mass media—and his lies. Furthermore, Trump and his allies "are intentionally killing the public schools, and pushing private and charter schools" which rightists can then use to indoctrinate students, she warned.
Some speakers pushed other causes as well, notably economic justice. "Our mission is to mobilize, exercise our sovereignty, and throw the bums out," Schwartz said. It's also to "ensure domestic tranquility," he said, quoting the preamble to the U.S. Constitution.
"It took the organization of trade unions to make that real for workers," he told the Chicago crowd. "And it'll take the power of the American people to overcome the power of the 1 percent." He then went on to urge restoration of 1950s-era tax rates on the rich: 91 percent in the highest income bracket.
As for what's being ignored, another attendee, a South Side resident who declined to give her name, said it includes "the normalization of the abnormal, the demonization of minority populations" and living in a country "where, now, the corporations are benefiting the most—and eventually we'll have ten oligarchs benefiting and everybody else isn't."
"Don't let traitors trample our democracy!" read one Chicago sign. "The Russian Manchurian Candidate," referring to the novel, said another. "Traitor in chief," read a third.
"I'm getting going because I'm really upset at what's going on," not just with Trump and the Russians but with Trump's domestic policies, said retiree Betsy Kuck. "The unions are really in a crisis," the long-ago self-described "Goldwater Girl" added, referring to the recent anti-union Janus Supreme Court ruling. Trump-nominated GOP Justice Neil Gorsuch was the key fifth vote in that case.
Sentiments were similar elsewhere.
"We're LIVE at the White House #ConfrontCorruption vigil with @SenWhitehouse @SenJeffMerkley and hundreds of others in defense of our democracy following the outrageous Helsinki summit," Public Citizen tweeted. "We're facing profound corruption through gerrymandering, voter suppression, and dirty money; through Citizens United, which like a sound system drowns out the voice of the people," Merkley, an Oregon Democrat, tweeted in reply.
That vigil drew more than 500 people bearing candles, including elected officials like Merkley and Rep. John Sarbanes, D-Md. Neither focused on ousting Trump immediately, but both declared everyone can repudiate Trump at the polls in November by taking control of Congress out of Republican hands.
"I see the gavel on the hill, and we can get the gavel," Sarbanes said. "Together we're marching to get the gavel. We can do this. It's your vote, it's your voice, and in November, it will be your victory."
The D.C. crowd responded with "Vote them out! Lock him up!"
"Donald Trump has shown he values wealth and power over the welfare of Americans. His administration and the GOP who enable him are endlessly corrupt. Enough. We must demand democracy," said the organizers of the Portland, Ore., vigil.
Besides Public Citizen, other groups in the quickly formed coalition included the Leadership Conference for Civil and Human Rights, MoveOn.org, the American Constitution Society, Common Cause, Democracy 21, Democracy for America, the Hip Hop Caucus, People for the American Way, the National LBGTQ Task Force, the National Center for Lesbian Rights, the progressive Jewish organization Tikkun, and the Unitarian Universalists.
Like free stuff? So do we. Here at People's World, we believe strongly in the mission of keeping the labor and democratic movements informed so they are prepared for the struggle. But we need your help. While our content is free for readers (something we are proud of) it takes money — a lot of it — to produce and cover the stories you see in our pages. Only you, our readers and supporters, can keep us going. Only you can make sure we keep the news that matters free of paywalls and advertisements. If you enjoy reading People's World and the stories we bring you, support our work by becoming a $5 monthly sustainer today.