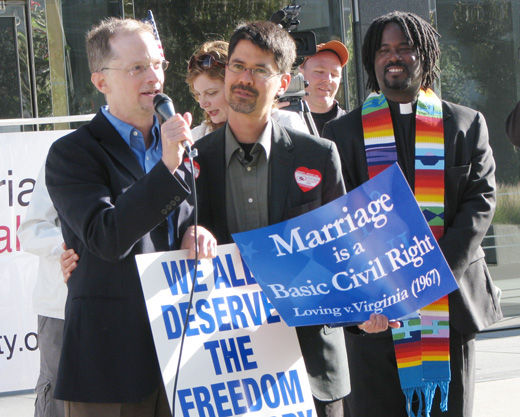 SAN FRANCISCO – The effort to overturn Prop. 8, California's ballot initiative barring same-sex marriage, reached a new milestone Dec. 6 on its way to the U.S. Supreme Court, as a three-judge panel of the Ninth Circuit Court of Appeals heard arguments on the measure.
The hearing followed Chief U.S. District Judge Vaughan Walker's August ruling striking down the 2008 ballot measure. Judge Walker said it "prevents California from fulfilling its constitutional obligation to provide marriage on an equal basis," and said supporters failed to make a rational case for singling out same-sex couples to deny them a marriage license.
In supporting the measure before the Appeals Court panel, attorney Charles Cooper returned to his earlier argument before Judge Walker, that marriage must be limited to a man and a woman so "procreative sexual relationships" will result in stable families.
And as in the earlier hearing, that contention met with skepticism, with one justice saying it sounded like a good argument for banning divorce. Another justice questioned if Prop. 8 had any function to protect marriage, since in California same-sex couples have all the rights of married opposite-sex couples except for the fact of marriage itself.
Questions were also raised about the right of Prop. 8 supporters to challenge Judge Walker's ruling, since neither outgoing Governor Arnold Schwarzenegger nor Attorney General (and incoming governor) Jerry Brown, as representatives of the state, had been willing to appeal it. The California Supreme Court may be asked for an opinion on that aspect of the case.
Prop. 8 was approved by voters, 52 to 48 percent, in November 2008, ending a five-month period when same-sex couples could wed in California after the state Supreme Court struck down an earlier ban. During that period some 18,000 couples wed, and their marriages remain valid.
In January two same-sex couples – Kristin Perry and Sandy Stier of Berkeley and Paul Katami and Jeff Zarrillo of Burbank – declared in a non-jury trial before Judge Walker that Prop. 8 is unconstitutional because it discriminates based on sexual orientation. That hearing led to the judge's August ruling.
As marriage equality supporters gathered outside the courthouse before the latest hearing, the Rev. Jesse Jackson told them by phone, "I believe in human rights for all human beings. We must measure human rights by one yardstick."
Jackson called for Prop. 8 to be declared unconstitutional, and added, "Marriage is based on love and commitment – not on sexual orientation. I support the right of any person to marry the person of their choice."
The Appeals Court panel's ruling is expected soon. The case is expected to end up before the U.S. Supreme Court.
Now, same sex couples can marry legally in Massachusetts, Iowa, Connecticut, Vermont, New Hampshire and Washington DC.
Photo: At a demonstration which preceded closing arguments before Judge Walker in June. Marilyn Bechtel/People's World