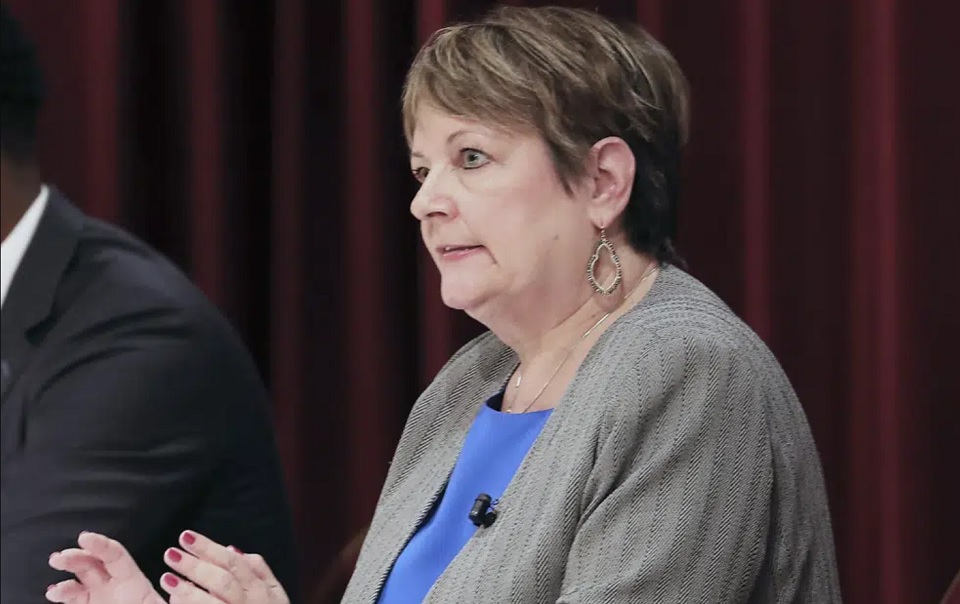 MADISON, Wis.—If the election for a judgeship in Wisconsin on April 4 goes the wrong way right wing tinkering with the election procedures in that state could well tip the entire national election in favor of either Trump or whatever MAGA fascist runs for the presidency under the Republican banner.
Trump carried Wisconsin by a hair in 2016 and lost it by a hair in 2020 because of GOP laws like the removal of drop boxes available to voters. That right-wing tinkering with democracy could cause a right-wing state judiciary to uphold procedures then that endanger not just Wisconsin but the voters of the entire country.
More Perfect Union, the pro-worker group known for grass-roots support for organizing drives and for aiding exploited workers, has jumped into what it calls "the most important race" in the 2003 election cycle—and one it admits most voters and donors have never heard of.
It's the upcoming April 4 runoff, which is technically non-partisan but really isn't, between Milwaukee County Circuit Judge Janet Protasiewicz, a Democrat, and right-wing extremist Republican Dan Kelly for the swing seat on the Supreme Court of a key swing state, Wisconsin.
Who wins this election is nationally important. The court, now split 3-3 between progressives and right-wingers—one conservative justice is retiring, opening this seat–will be the referee in fights between Democratic Gov. Tony Evers and the heavily Republican and gerrymandered state legislature.
It was in 2020 when the Republicans tried to use the court to overturn Republican Donald Trump's 20,608-vote loss to Joe Biden.
And its conservative majority's rulings four years before, upholding Republican-enacted voting restrictions, cut turnout by voters of color in the heavily Democratic city of Milwaukee, giving Trump an equally narrow win over Democrat Hillary Clinton.
Since then, the lawmakers have enacted even more restrictions, such as curbing the use of drop boxes, though they failed to abolish the independent non-partisan board which runs Wisconsin's elections.
This time around, the swing voter on the court in the swing state could also decide if Wisconsin will send Republican electors to cast the state's votes after the 2024 presidential balloting, regardless of what the Badger State's voters decide, says Faiz Shakir, A More Perfect Union's co-founder.
Elections won't be the sole key issue where the court will cast the ultimate vote. Others will include battles over what's left of worker rights in the Badger State and whether Wisconsin's draconian anti-abortion law, enacted in 1849, but in limbo until the U.S. Supreme Court abolished the federal constitutional right to abortion, remains in force.
Supports right to abortion
Protasiewicz strongly supports a constitutional right to abortion. Kelly strongly opposes it.
Protasiewicz led a four-candidate field—two progressives and two right-wingers—in the Feb. 21 primary, garnering 414,673 votes (46.3%) to Kelly's 217,965 (24.3%). Overall, the two progressives won 53.8% to 46.2% for the right-wingers.
As of late February, the state AFL-CIO has yet to make an endorsement, but state affiliates of the Communications Workers, AFSCME, the Teachers (AFT), the Laborers, the Bricklayers, the Auto Workers, the Electrical Workers, and the Carpenters endorsed Protasiewicz before the primary, her website shows. Kelly picked up a string of sheriffs and three anti-abortion groups.
Now Republicans, and particularly outside "dark money" groups, who don't have to disclose who gives, want to install Kelly on the court to make sure Trump or a Trump clone wins in 2024.
Shakir's right about that dark money. Ballotpedia reports that from last November through Feb. 14, outside "dark money" committees spent $2.64 million on pro-Kelly ads and $770,000 more on anti-Protasiewicz spots. Kelly has just over $200,000 in the bank after a bruising and expensive primary, while Protasiewicz has $267,000. No dark money weighed in for her.
The dark money groups "are working to hide the truth about the candidates," says Shakir. "So we've taken the time to get you the facts on each candidate," including a video of Kelly's extremist positions, posted on A More Perfect Union's website.
"Kelly famously said pro-choice advocates are 'knowingly favoring a policy that has as its primary purpose harming children,'" Shakir continued. "He lamented" Democratic President Barack Obama's election "as a win for socialism and tax hikes. And he ruled in the past to allow concealed weapons on city buses. That's just highlighting a few of his positions. The list goes on and on."
Shakir called Protasiewicz "a fighter for working families who understands the power of unions and collective bargaining," which former right-wing GOP Gov. Scott Walker and the gerrymandered legislature trashed in 2011.
Walker also appointed Kelly to the court in 2016, but Kelly lost his election bid for a full term in 2020. He cites his experience in his ads. On his website, Kelly poses in his robes and calls himself "an experienced and trustworthy judicial conservative." He calls Democrats, including Protasiewicz, "judicial activists who seek to impose their own political agenda on our state."
Protasiewicz "supports reproductive rights, believing in the constitutional right to bodily autonomy. She sees the uneven and unequal representation caused by partisan gerrymandering," Shakir retorts in his email. A More Perfect Union also seeks support, including money, for her.
On her own campaign website, Protasiewicz elaborates on the clean politics theme, after strongly upholding reproductive rights. "I see our criminal and civil justice system–and our democracy–under attack by radical partisanship," she says. "It's time for our state Supreme Court to stop acting like a political body and uphold the constitution and the law."
"The winner of this election could also decide to overturn the vote for president in 2024–handing the election to Trump or another wanna-be dictator," Shakir warns.