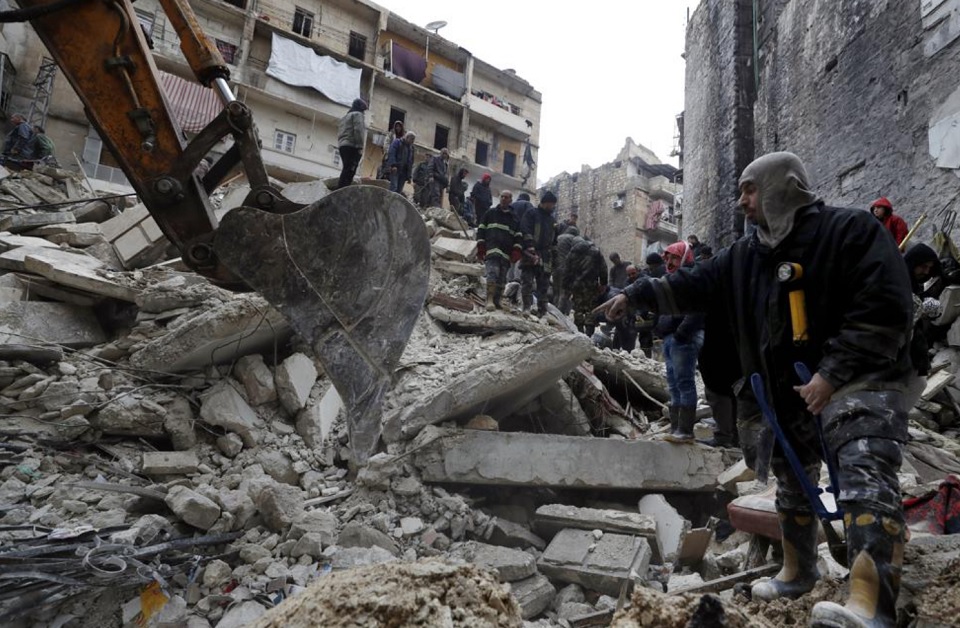 Since February 6, 2023, catastrophic earthquakes have been hitting Turkey and Syria. This disaster has caused widespread destruction and loss. Many governments, non-governmental groups, and communities worldwide have been responding to the crisis. The Arab-American community in Chicago's southwest suburbs has been generously donating to the affected people.
On February 10, 2023, the Palestinian American Club in Bridgeview launched a campaign to collect donations for the earthquake survivors. For three days in a row, donations flowed to the club that received hundreds of bags and boxes full of donations including winter clothes, gloves, scarves, blankets, baby formula, medical supplies, and a variety of other items.
The Palestinian American Club's volunteer team worked hard to get that stuff ready for shipping. A group sorted, classified, folded, and packed the received donations according to type. Another group carried and loaded the packs into trucks that were donated by one of the club's activists to transport donations.
The club's executive director, Mazen Dola, said, "We are really proud of the work we have done so far. We work hard to send these donations as quickly as possible."
Also, the Humanitarian Relief Foundation (HRF) at Palos Heights, in cooperation with the Palestinian American Council in Chicago, launched two campaigns to help the earthquake survivors. As soon as the first campaign was launched, a huge number of donated items poured in. A volunteer team worked hard to receive, make lists, and prepare donations for shipping. The first batch was ready for shipping on February 16, 2023.
The ongoing HRF and Palestinian American Council's second campaign aims to collect and secure financial support for families affected by the earthquakes, especially during the upcoming holy month of Ramadan.
HRF'S chairman and Executive Director Dr. Ghassan Barakat said, "We do our best to help people in need no matter who they are."
In addition, on February 17, 2023, the Al-Nahda Center at Worth, in cooperation with Al-Rahma Worldwide Foundation, collected financial donations of $25,000 to help the earthquake survivors.
Mr. Ghassan Ballut, the director of Al-Nahda Center, said, "We have been doing our best to help people in need locally and worldwide."
Moreover, The Mosque Foundation Community Center (MFCC) in Bridgeview also generously responded to the disaster. According to the Council on American Islamic Relations (CAIR) in Chicago, MFCC called for urgent relief and held a fundraising campaign that gathered $510,000 by February 14, 2023. Funds collected are being spent through reputable vetted relief organizations working on the ground and providing direct services to the affected people.
More donations are still ongoing and are highly needed due to the continuity of earthquakes and aftershocks, increasing the number of victims, and the necessity to enhance capacities to deal with the disaster's consequences.