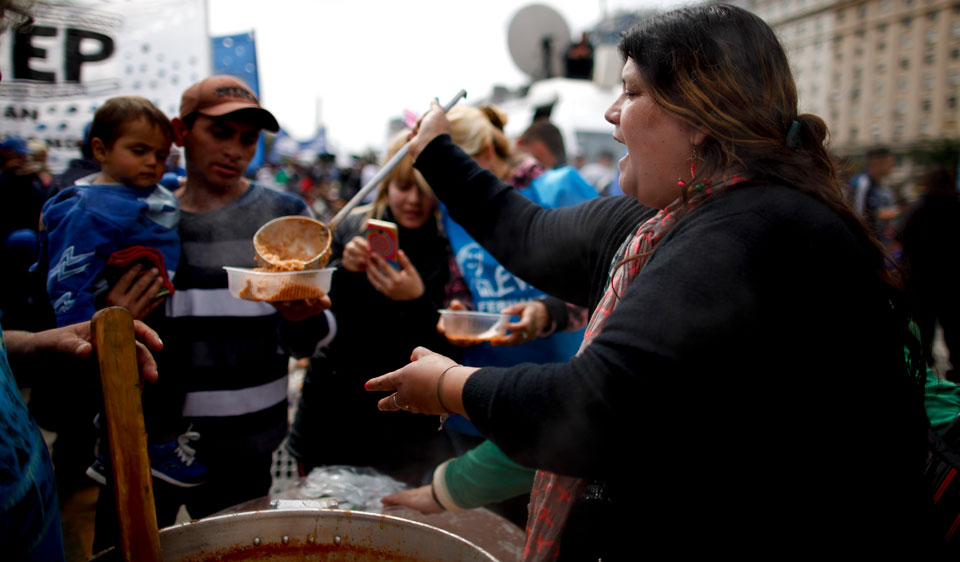 The city of Buenos Aires is completely locked down heading into the weekend as Argentina hosts a meeting of the G20 leaders at the Costa Salguero conference venue on the banks of the River Plate.
Minister of Security Patricia Bullrich is putting over 22,000 heavily armed, uniformed personnel onto the streets in an operation without precedent in the nation's capital. To beef up the military presence, the government has bought 17 new combat aircraft, four rocket launchers, five armored cars, plus $17.5 million USD worth of armaments.
The G20 was extended from a G8 group of countries in 1999. It represents 85 percent of global GDP, 80 percent of global investment, 75 percent of trade, and 66 percent of the world's population. As is tradition, the host country chooses the themes for the summit and Argentina has plumped for global connectivity, employment, and food security.
Nonetheless, the real issues are the escalating trade war between the U.S. and China and the latter's push to supersede the U.S. as the dominant player in robotics, biotechnology, and artificial intelligence. Moreover, in a global economy characterized by financial speculation on an epic scale and the increasing domination of powerful transnational corporations, the G20 leaders lack either the ability or the political will to address the subsequent weakness in systems of representation for their peoples.
During the summit, on November 30 and December 1, there will be a no-fly zone over Buenos Aires, monitored by three mobile radar installations and supported by three U.S. Air Force AWAC surveillance aircraft. Six Argentinian combat aircraft will be on constant standby, backed up by the presence of U.S. aircraft carriers anchored in the Plate and also across the river in the neighboring port of Montevideo, Uruguay.
And if that were not enough, the world's leaders are providing their own security in the shape of over 1,500 bodyguards, while Donald Trump will be protected by armored limousines and helicopters. All road transit in and around the center of Buenos Aires will be suspended. The main railway termini of Retiro, Once, and Constitución will be closed. There will be no underground trains or buses and both the port and Jorge Newbery airport will also be shut down.
According to Bullrich, these draconian measures are necessary to protect the G20 summit from terrorist attack and, in a crude attempt to generate a climate of fear, two entirely innocent members of Argentina's tiny Muslim community were arrested and accused of belonging to Hezbollah while a historic anarchist bookshop was raided in dramatic fashion.
In a bizarre intervention, she recommended that port residents should all leave town for a weekend break during the summit. However, the Minister was at pains to emphasize that peaceful protesters had no reason to be afraid of the security forces, a claim that will do little to reassure the organizers of an anti-G20/IMF march, scheduled for November 30.
Since Mauricio Macri became president in December 2015, hardly a week has gone by without a demonstration of some sort against his administration's ultra-neoliberal policies, many of which have been the subject of vicious attacks by various branches of the state police. Far from condemning police brutality, Minister Bullrich has publicly endorsed their actions and praised them for maintaining law and order.
A recent video of a police officer shooting an unarmed petty criminal in the back and then killing him went viral in Argentina, but, not for the first time, Minister Bullrich did not censor the aggressor but instead commended her for her actions. Only last week, Rodolfo Orellana, a community activist taking part in a peaceful occupation of uninhabited land, was shot dead by law enforcement officers and, some days prior to that, Martin Licata, a left-wing journalist, was found hanged in suspicious circumstances after previously receiving death threats.
The criminalization of protest comes against a backdrop of Argentina's worst economic crisis since the turn of the century. Roaring inflation has seen a basket of basic goods increase by over 54 percent year on year. Triggered by a 173 percent rise in the cost of flour, bread has gone up by 84 percent, rice by 66 percent, and sunflower oil by 79 percent. The minimum bus fare is 113 percent higher than last year, Buenos Aires metro tickets are 100 percent more, and scheduled for further increases, while the cost of household gas is up by 218 percent.
Faced with a run on the currency that sent the U.S. dollar over the 40 peso mark for the first time, Central Bank intervention lifted interest rates to 60 percent, thus providing an absolute bonanza for speculators and a nightmare for small businesses. President Macri, who vowed to "return Argentina to the first world," had to go cap in hand to the IMF for a record-breaking credit line of $50 billion USD to head off the balance of payments crisis and in the process ensured that the biggest single item in the 2019 budget will be payment of interest to the IMF.
Before Macri took office, Argentina owed the IMF precisely nothing.
As always, IMF assistance comes with strings attached, and by 2019 the fiscal deficit must be no more than 1.3 percent of GDP, hence the soaring increases in the cost of utilities, the loss of tens of thousands of public sector jobs, and cuts in pensions and benefits for those members of society who can least afford it. The inevitable consequences of this austerity program include business failures, rising unemployment, and, according to official figures, 27 percent of the population (11 million people) living in poverty.
Macri, who promised "zero poverty" during his mandate, has launched an attack on the trade unions, blaming them for much of the country's problems. With no sense of irony from a man who is the direct descendant of an Italian criminal family, he accuses them of being a "mafia" and has used every means possible to prevent them negotiating wage increases for their members to keep abreast of inflation.
There have already been four general strikes during his presidency, and he breathed a sigh of relief when the CGT, to much of the left's disgust, decided against calling another one to coincide with the G20.
Nevertheless, pressure on Macri is building as he approaches his last year in office and, despite the veiled threats, it is likely that there will be hundreds of thousands of people on the streets of Buenos Aires on November 30 to show the watching world just what they think of his disastrous government.
Morning Star