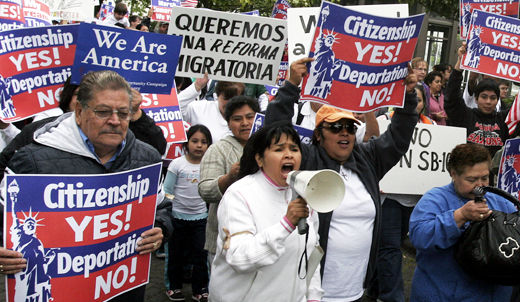 A coalition of medical organizations has condemned Arizona's draconian anti-immigrant law, SB 1070, calling it a "step backwards for the health and well being of the nation."
"As health care providers committed to human rights and health justice, we strongly condemn Arizona SB 1070," the groups say in a statement.
"This law will promote racial profiling, discrimination, and intimidation by law enforcement officials, who are routinely present in emergency rooms and other health care settings," the statement says. "The law will create new obstacles to obtaining needed health care."
Signers include the Asian Health Services Community Health Center (Oakland, Calif.); Association of Clinicians for the Underserved; National Physicians Alliance; Committee of Interns and Residents/SEIU Healthcare; Doctors for Global Health, Board of Directors; Physicians for Human Rights; and the United States Chapter of the International Society for the Psychological Treatments of the Schizophrenias and other Psychoses.
Dr. Valerie Arkoosh, president of the National Physicians Alliance, said, "This law sets an abhorrent precedent of government-endorsed racial profiling, discrimination and intimidation."
She added, "It has no place in America, an ethically diverse country founded on principles of freedom, religious tolerance, and equality for all."
"Why would undocumented immigrants, or legal immigrants without their papers handy, go to the emergency room or healthcare center that can be policed," she asked. "Would undocumented parents of children born in the United States feel safe bringing their children to the doctor, or enrolling them in the health insurance coverage to which they are entitled as citizens? There's a very direct and proven link between fear of being asked for papers and avoiding health care."
Studies show that providing health care to immigrants costs significantly less than health care for native-born residents. In fact, non-citizens, most of whom are recent immigrants, use fewer health care resources than even naturalized citizens, experts say.
Although non-citizens have a significantly greater proportion of uncompensated and charity care than naturalized citizens, these findings likely reflect non-citizens' poor access to care and low socioeconomic status, the studies conclude.
In general denying health care access to any population with or without legal documents in the U.S. is bad public policy and could result in an unnecessary health crisis, experts add.
However immigrant rights activists and supporters, including elected officials on both sides of the aisle, say what's really needed is federal legislation that enacts comprehensive immigration reform and a pathway toward legalization for the country's estimated 12 million undocumented immigrants.
The Arizona law, scheduled to take effect this summer, criminalizes people who fail to carry proper legal documents and grants local law enforcement officials authority to detain anyone they suspect of being in the country illegally.
Civil rights groups, labor, religious and immigrant advocacy organizations say it will open the floodgates to racial profiling and intimidation tactics, especially hitting the Latino communities throughout Arizona.
Arizona's Republican Gov. Jan Brewer signed the bill into law on April 23.
Since then nationwide protests and massive demonstrations have occurred almost on a daily basis against the measure, and it has drawn condemnation from leaders of other countries.
Photo: A rally and march in Salem, Ore., May 29, protest's Arizona's SB 1070. (AP/Kobbi R. Blair/ Statesman Journal)