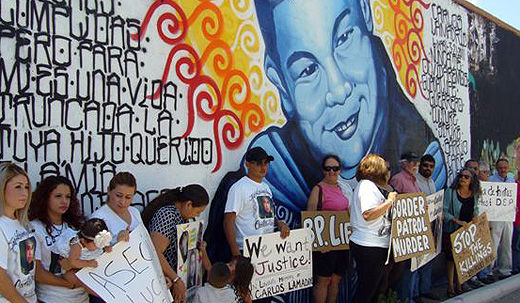 TUCSON, Ariz. — "Border Patrol Impunity Must End!" and "Mother Demands Justice" were the themes of a press conference and protest at the unveiling of a large public mural in downtown Tucson commemorating the murder of a Mexican teen.
Guadalupe Guerrero, mother of Carlos LaMadrid, was informed Friday, Aug. 9, that the murderer of her son, border patrol agent Lucas Tidwell, will not face any criminal charges for the broad daylight shooting death of 19-year-old Carlos on March 21, 2011.
Despite the fact that Carlos had his back to the agent and was halfway up a ladder at the time, Tidwell opened fire, hitting Carlos four times in the back. After being shot, Carlos, still alive, was handcuffed and dragged by Border Patrol agents. Even though this occurred in downtown Douglas, Arizona, it took more than 45 minutes for any medical aid to arrive, and Carlos LaMadrid died as a result.
In a call for community support Tucson's immigrant rights Coalición de Derechos Humanos protested the killing and demanded justice for LaMadrid. "We must also raise the call for an end to the impunity for border patrol agents who murder people they encounter. Like Trayvon Martin, Ramarley Graham, Oscar Grant, and all the other victims of police and vigilante murder, Carlos LaMadrid was another young person of color who had his life needlessly taken."
Guerrero told the gathering "instead of bringing criminal charges for the unlawful taking of my son's life, the government presents a defense for what their agent did. These issues should have been brought to a public trial so that we could have a full airing of what happened that day. This impunity must end."
Derechos Humanos leader, Isabel Garcia, and Guerrero said they were shocked that the Department of Justice found no evidence to justify a criminal trial. They pointed out that the U.S. agents shot the teen four times in the back while he was up on a ladder and claimed it was because he was in the line of fire. They also claimed that after falling to the ground he was kicked and then dragged on the ground.
Tucson lawyer Bill Risner announced that the family would now pursue a civil suit against the government. Risner ridiculed the government's claim that Carlos was in the line of fire – pointing out that nobody was firing at the agents. There was only an alleged rock thrower, and that there is no excuse for trained marksmen to have fired four shots into a man on a ladder with his back to them. The lawyers will also ask for a change of the policy that allows agents to fire live bullets at border rock throwers, and furthermore, to stop using the particularly deadly expansive bullets currently in use.
Also exonerated in Friday's announcement by the federal government is the agent who shot and killed Ramses Barron, who was murdered just a few months before LaMadrid. In all, nineteen people have been killed by agents along the U.S. – Mexico border in the past two years, including Jose Antonio Elena, the 16- year-old killed in Nogales, Sonora in October of last year.
Photo by Susan Thorpe.