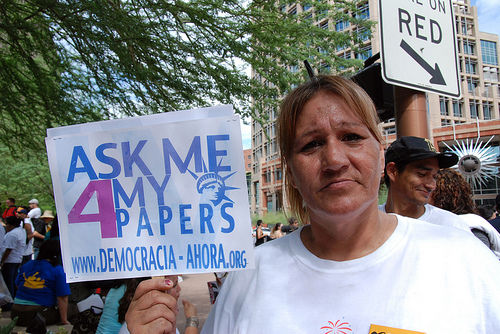 TUCSON, Ariz. — Thousands turned out in Phoenix and around the state of Arizona to both celebrate the recent court decision on SB 1070 ,and to protest those remaining sections not included in the injunction.
Major protests took place in several venues, including here in Tucson.
Civil disobedience was a major pat of the actions.
In Phoenix, arrestees at the Federal Courthouse included Alfredo Gutierrez, a former state senator, who was a Democratic candidate for governor, narrowly defeated by Janet Napolitano in the 2002 Democratic primary, and Dan O'Neal, an Arizona Progressive Democrats of America leader.
Dozens were arrested for blocking the streets in front of Maricopa County Sheriff Joe Arpaio's Phoenix offices.
Peter Morales, national president of the Unitarian Universalist Association, and local United Food and Commercial Workers organizer Martin Hernandez were among those arrested protesting the anti-immigrant Arpaio.
At a press conference following his release, Hernandez said, "These laws create fear in the community, and they also create worker rights violations."
Arpaio had announced plans for major raids in Latino communities to coincide with the first day SB 1070 was to go into effect. But protesters managed to postpone his racist raids by blocking buildings for most of the day.
Besides the civil disobedience, thousands more rallied at the state Capitol.
In Tucson there were protests, CD and prayer vigils.
Protester stood vigil for 26 hours at the State Office Building downtown Tucson, scene of weekly demonstrations throughout the month of July, culminating at rush hour on July 29 when, with hundreds of protesters watching from all four corners, young protesters moved to block the intersection with 20 foot signs.
After an hour's standoff, the police moved in and made about a dozen arrests.
An SB 1070 supporter was also arrested for attempted intimidation during the downtown Tucson protests, after harassing peaceful demonstrators for about a half an hour, reports bans ethnic studies, producer of cable TV show "The Latino Doctrine."
"The crowd began cheering and singing in unison as the gentleman was taken away in the police cruiser," Maldonado said.
Earlier in the day, protesters dumped tar and tires to block Interstate 19 in a symbolic gesture. I-19 is the route taken when deporting immigrants from Phoenix or Tucson.
Tucson protesters welcomed the court decision as a major victory, but are still protesting the sections of the law left intact, and the continued racist attacks on immigrants and the Chicano communities, like the current law that bans ethnic studies.
Photo: From the Phoenix protest, July 29 (anitasarkeesian/CC)