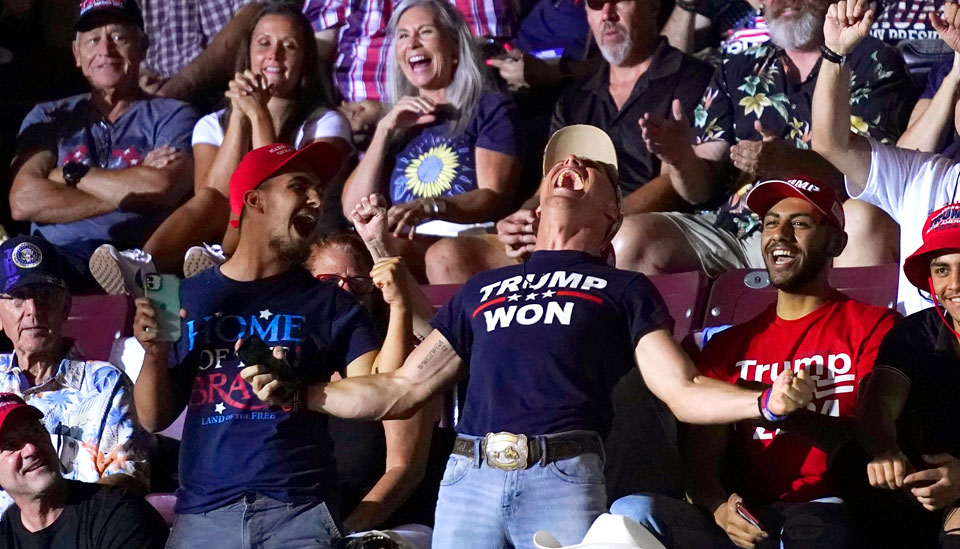 TUCSON—Primary Day left Arizona Republicans in some disarray. The elections demonstrated that there are still some old-style corporate Republicans left, but the majority are divided between fascists and "fascists lite." And I'm not using the word fascist loosely.
On Tuesday, most Republicans in the state voted for candidates who support Trump and his attempts to overturn the 2020 elections. Almost every Republican candidate for major office spewed the same vile and fought for Trump's endorsement. Judging by what was just seen in the primary, an endless parade of hateful and racist commercials denouncing immigrants appears destined for television screens here for the next three months until Election Day. The Republicans have nothing else to offer the people of Arizona.
State Rep. Mark Finchem, who was at the U.S. Capitol during Trump's Jan. 6, 2021, coup attempt, has won the nomination for Secretary of State. It's the office which oversees elections, and interestingly, he will be opposed in November by Adrian Fontes, who was Maricopa County Recorder in charge of supervising the 2020 election—the election Finchem claims was rigged and which the "Cyber Ninjas" circus targeted. Maricopa County is home to two-thirds of Arizonans.
Apparent Republican nominee for Governor, Kari Lake, and for Attorney General, Abe Hamadeh, are Trump creatures, and then there's Tom Horne, who won the nomination for Superintendent of Public Instruction. The last time he held state office, a decade ago, he initiated an all-out attack on the teaching of Mexican American Studies. And the nomination to challenge Democratic Sen. Mark Kelly has been won by Blake Masters, a protégé of far-right billionaire Peter Theil. Masters, who had Trump's endorsement, defeated three other far-right candidates.
However, things are not as bleak as they may sound. The lurch from far right to further right will not necessarily appeal to Arizona voters, who have been moving in the other direction lately. The Democratic Party has nominated a solid slate of experienced candidates for the statewide offices, and some progressive candidates for Congress.
Congressional Progressive Caucus members Raul Grijalva and Ruben Gallego will face only token opposition in November. In the race for CD-6, for the open seat being vacated by retiring Ann Kilpatrick, progressive state legislator Kirsten Engel defeated State Rep. Daniel Hernandez. The latter was targeted by progressive forces for his coziness with special interests and organizations like AIPAC. The district includes half of Tucson and southeastern Arizona.
In CD-1, which takes in parts of Phoenix and the East Valley suburbs, a young African American community activist named Jevin Hodge won the Democratic nomination to oppose incumbent Congressman David Schweikert. Redistricting has tilted the district towards the Democrats, and Hodge seems to be mounting a well-organized campaign with heavy support from Arizona's labor movement.
The campaign for the legislature is especially crucial here, where the Republicans hold a one seat advantage in each house. Once again the Republicans have nominated 15 men and seven women, all of them white, in a state where almost half the population is people of color. The Democratic candidates for Senate are only half white, and a majority are women.
The Republicans have six candidates of color for the House of Representatives out of 53 nominated, but none are Native Americans, and only two are Mexican American, both of whom are incumbents appointed for openings during this last term. The Democratic House candidates reflect the state's demographics.
Another interesting race is for mayor of the wealthy Phoenix suburb of Fountain Hills, where 90-year-old former Maricopa County Sheriff Joe Arpaio is trailing Democrat Ginny Dickey, whom he had outspent by 6 to 1.
Clearly, it's time for the people of Arizona to clean house. We must stop the hate. We must elect officials who want to fight for school funding. We are tired of being last in education funding. We want to be in the top ten. We want to protect the Dreamers, work for comprehensive immigration reform, confront global warming, a national health care system, and more.