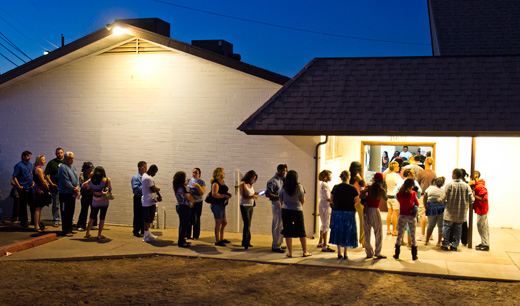 Arizona Republican voters may have a history of voting for some notoriously right-wing candidates, but some are so far out of the mainstream that they just don't seem to be able to hold onto their positions once they display for the public where they really stand on the issues. The majority of Arizonans were delighted, therefore, to see the state's incumbent attorney general, Tom Horne, and Superintendent of Public Instruction, John Huppenthal, defeated in the August 26 Republican primary election.
It was Horne who launched the attack on Tucson's Mexican American Studies program while he was the Superintendent of Public instruction, an attack Huppenthal continued with relish when he succeeded Horne. Huppenthal was caught making starkly racist comments on a blog using a false name, and exposed for opposing public education. Horne has been involved in a string of scandals.
Democratic primary voters nominated Mexican-American educator, David Garcia, for Superintendent. In 2012 voters in Tucson elected a new school board that reinstated Mexican American Studies.
Moderate Democrat Fred DuVal ran unopposed for governor and will be opposed by ultra-right State Treasurer Doug Ducey, who beat five other right-wingers for the nomination. Arizona law prevented Governor Jan Brewer from seeking a third term. Public workers unions and many progressive Arizonans will be supporting DuVal in the hope that his veto power will keep the notoriously far-right legislature in check. The legislature is expected to remain in the control of the right. Duval and Ducey are running neck and neck in the most recent public opinion polls.
Progressive forces are also working for former Democratic Attorney General Terry Goddard for Secretary of State who will oppose GOP primary winner Michele Reagan, an ultra-right legislator. If elected, Goddard promises to correct many of the voter suppression election rules instituted by Brewer when she held that office.
More Arizonans are registered independents than either Republican or Democratic.
Unfortunately, too many democratic candidates – with encouragement from party officers — are either afraid to raise any important issues in their campaigns or think they will do better by moving to the right. This has contributed to eleven statewide offices and both U.S. Senate seats falling to or remaining under Republican control. Many of the Republican candidates come out of the right-wing legislature.
Arizona voters, however, have proven they will support progressive causes by passing propositions like a minimum wage higher than the federal wage, public financing of elections, and more funding for public schools.
Candidates who speak to the aspirations of working people by running on increases such as the minimum wage, raising taxes on the wealthy and curbing corporate power – do much better in Arizona against right-wing Republicans than do Democrats who limit their campaigning to simply being against crime and for education.
Photo: Waiting in line to vote at polling place in Phoenix in this Nov. 6, 2012, file photo. Tom Tingle/The Arizona Republic/AP