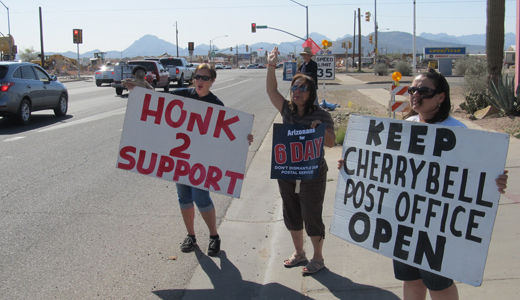 TUCSON, Ariz. – Hundreds of passing drivers honked in solidarity with 200 postal workers and community supporters' who rallied here Sunday afternoon to "save the Postal Service."
The National Association of Letter Carriers had declared March 24 as a national day of action to preserve six-day mail delivery.
Tucson, one of the poorest cities in the country. is particularly concerned about the loss of good union jobs, and is already threatened with the loss of it's large mail processing plant. The postal service wants to close dozens of plants. This will really hurt Tucson, a rapidly growing but poorer-than-average city of more than a million.
For over a year, the American Postal Workers Union, with Jobs with Justice in solidarity, has been rallying the community against this threat.
(story continues after video)
On Sunday the two unions were joined by the Mail Handlers, rural delivery unions, Jobs with Justice, Occupy Tucson and crowds of people simply wanting to preserve the popular American institution of mail delivery to their front doors.
Arizona Congressman Raul Grijalva, meanwhile, told rallying postal workers in Phoenix, "A strong and vital postal service is enormously important to the economy" by supporting a 1.1 trillion mailing industry that employs over eight million Americans. "As we continue to recover from the worst recession since the 1930's, it makes no sense to eliminate the jobs of more than 200,000 workers – many of whom are veterans."
Photo: Richard Boren/PW