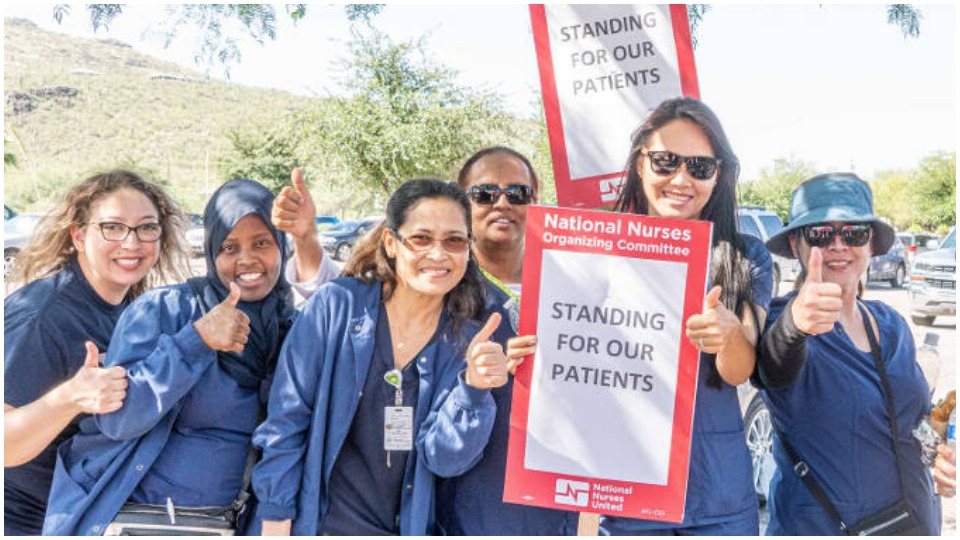 TUCSON—Registered nurses at St. Mary's and St. Joseph's Hospitals in Tucson voted overwhelmingly to approve their first contract with the National Nurses Organizing Committee / National Nurses United last week.
The vote was the culmination of a long struggle by the nurses for a voice at the workplace and safe working conditions for themselves and their patients. The three-year contract that they approved covers about 1,000 nurses at the two hospitals.
It took 18 months of negotiations after voting for union representation in October 2018, including a one-day strike a year later, before an agreement was finally reached with the employers. The COVID-19 pandemic strengthened the unity and resolve of the nurses to fight for a voice in their workplace.
The first contract provides the nurses with a voice in patient care and working conditions, a minimum of eight hours rest between shifts, an agreement to provide PPE and patient lift equipment, a modest pay raise, and staffing protections. The contract also ensures that nurses will only be assigned to work in units of their clinical competence rather than be forced to carry out tasks for which they have not been professionally trained. Not bad for a first contract.
After a relatively speedy organizing drive, Tucson's labor movement joined in solidarity to help the struggle for a fair contract. Local unions, Tucson's Job with Justice Coalition, and many community members and elected officials joined the nurses on the picket line during the October 2019 one-day strike.
Arizona's labor movement is hoping this victory is the first of many more successful organizing drives in both Tucson and Phoenix.