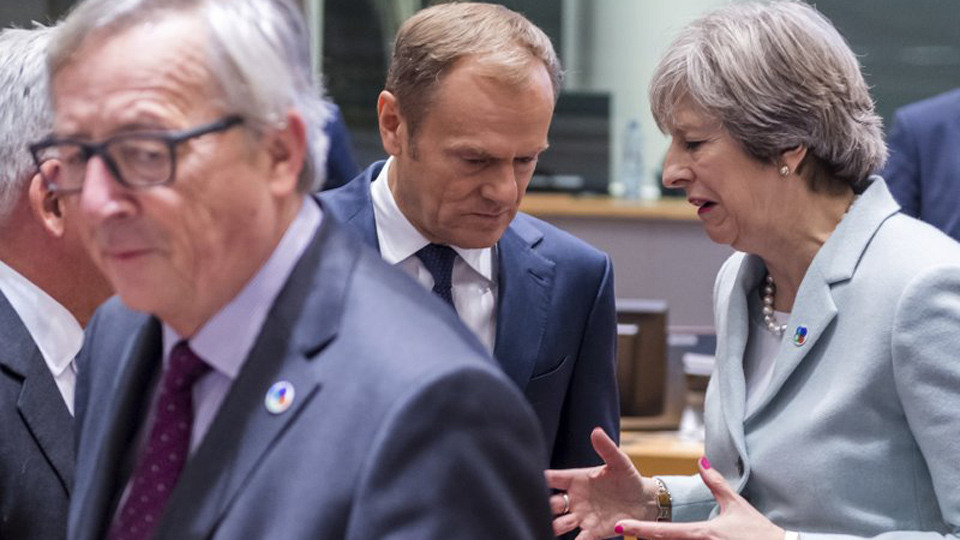 The clock keeps ticking down to Feb. 13. With each movement of the little hand, British Prime Minister (PM) Theresa May's self-imposed deadline to deliver a renegotiated Brexit deal before Parliament seems less likely—the UK government doesn't even expect any EU concessions by the deadline. And the palpable fear of a no-deal withdrawal grows with each passing day.
In the coastal town of Sunderland, meanwhile, autoworkers' jobs—the primary source of employment for residents—are on the chopping block. Nissan executives announced Sunday, Feb. 3 it was canceling its plan to make the X-Trail SUV in the UK.
The auto plant, founded in 1984, is Britain's largest, and saved the town's historic industrial roots after the coal, mining, and shipbuilding industries collapsed.
Employing over 7,000 people, and 28,000 supplier jobs, workers built and shipped out 442,000 vehicles from there in 2018.
"While we have taken this decision for business reasons, the continued uncertainty around the UK's future relationship with the EU is not helping companies like ours to plan for the future," Nissan Europe Chairman Gianluca de Ficchy said in a statement.
A political setback for May and the Conservative Party of course, but more important than politics, is the continued realization that beyond rhetoric and talking points, boisterously presented and upheld in the House of Commons, it's working people who will be on the receiving end of an economic blow due to political mishandling and hardline stances.
Like many American workers who were swept up in the Trumpesque "political shakeup" of the status quo, Sunderland—spurred on by fear of budget cuts, immigration concerns, and hate-mongering politicians—voted overwhelmingly to leave the European Union.
Today, workers at the plant are split down the middle regarding Brexit's next steps. And while their elected MPs voted down May's original agreement, a local news poll found residents wanted to move forward with the EU divorce, regardless of impact.
In response to the disturbing update, representatives from Britain and Ireland's largest union, Unite, met with Nissan managers pushing for long-term guarantees for their members.
"We pressed for guarantees on jobs and future production levels at Sunderland and received firm assurances that the future production of the Juke and Qashqai is unaffected, and this is solely an X-Trail decision," read a statement released shortly after the Monday, Feb. 4 meeting, referring to specific Nissan vehicle models. "What this whole sorry saga shows is that the sector-wide uncertainty caused by Brexit urgently needs to be addressed by ministers because it is draining the industry of skills, investment, and new jobs."
From the North Sea, where Sunderland sits, Belfast, Northern Ireland is only 238 miles to the west.
Belfast is where the Prime Minister was, the day after union leaders met with Nissan, busy affirming her "commitment to delivering a Brexit that ensures no return to a hard border between Northern Ireland and the Irish Republic."
As expected, her efforts to ease tension and fear did not win over more support for a new divorce agreement—support she desperately needs from her Northern Irish allies.
"It is welcome that the prime minister is travelling to Brussels to seek changes, but she must stand strong by the commitments she made to the House of Commons," Democratic Unionist Party (DUP) leader Arlene Foster said on Tuesday, Feb. 5. "That is her mandate, and that is what I expect. The backstop would undermine the economic and constitutional integrity of the United Kingdom… it is the main problem."
The Ulster Unionist Party (UUP) called on the PM to introduce direct rule government for Northern Ireland if a deal isn't reached, and Sinn Fein, which supports the backstop provision, said May lacked credibility and was "hostage to the DUP support" at Westminster. The party called for a referendum on Irish unity.
"We have told her that the British strategy of running down the clock and playing a game of chicken with Ireland and Irish interests is profoundly unacceptable and wrong…. The days of Britain dictating to Ireland or Irish people…those days are over and will not return," said Sinn Fein leader Mary Lou MacDonald.
The harshest criticism of UK politicians though, came from former Polish PM, now EU president, Donald Tusk: "I've been wondering what that special place in hell looks like, for those who promoted Brexit, without even a sketch of a plan how to carry it out safely."
His comments came a day before May was due in Brussels to meet with EU leaders. On Thursday, they held strained talks over the Irish border issue. As expected, EU leaders again rebuked May's proposed border compromise, but agreed to set a new deadline to try and break the gridlock that threatens to push the UK crashing out of the union with no deal.
Back in London, the same day, Labour Party leader Jeremy Corbyn penned a letter to May offering a possible path to get a Brexit deal through Parliament.
Corbyn offered Labour's support if May moved closer towards their position on several issues, including a UK-wide customs union, close alignment with the EU's single market and social rights/standards, and "unambiguous agreements on the detail of future security arrangements."
Much to May's displeasure, Tusk made the suggestion that Corbyn's plan could indeed help bring about an acceptable resolution.
When asked for comment, a senior No. 10 (Prime Minister's Office) official said: "considerable points of difference" remain between May and Corbyn, with the prime minister still determined that the UK will not be in a customs union with the EU and will pursue an 'independent trade policy.'"
Corbyn's plan carries some political risk, and pro-EU Labour MPs were quick to highlight their concerns with his letter, including fears it would prevent a second referendum from taking place.
Streatham Labour MP Chuka Umunna tweeted in response: "This is not opposition, it is the facilitation of a deal which will make this country poorer."
Labour shadow Brexit secretary Keir Starmer quickly responded to those concerns Thursday and assured Labour MPs the letter "does not rule out the option of a second referendum—a public vote."
As Friday morning rolls around, May will be meeting with Taoiseach (Prime Minister) Leo Varadkar of Ireland in Dublin to discuss the backstop.
Ireland is skeptical of her visit and didn't bother to hide it.
"She's very welcome, of course," said one high-ranking official. "But you'd wonder what she could possibly be coming with?"
Now all we can do is wait and see what the rest of February has planned for Brexit, and wonder if these trips even matter.