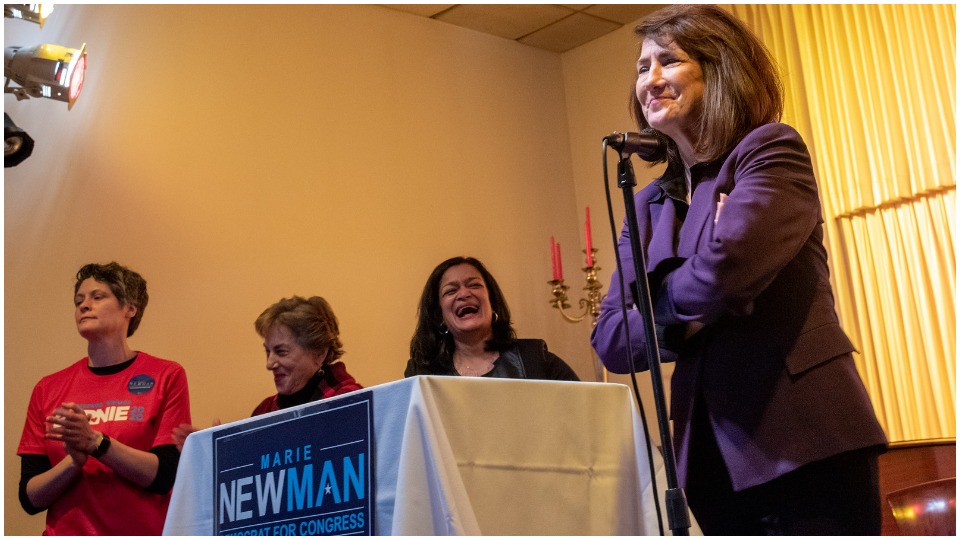 CHICAGO—"Coronavirus is a serious public health crisis in this country," declared Jan Rudolph, an organizer for National Nurses United. "It's exposing all the weaknesses of the lack of a public health system. Instead, we have a health care industry" that puts profits over patients.
As of this writing, the coronavirus has infected over 150 people in the U.S. and 11 have died here. The confirmed global case number is nearly 97,000, with over 3,300 deaths.
Public health officials, experts, and health care workers like Rudolph are alarmed by the Trump administration's lack of preparation. No plans exist for emergency mass quarantine, and only ten isolation facilities exist—leftovers from the Ebola crisis. The nation is woefully short of protective gear, testing kits, masks, and training for health care professionals to combat an outbreak.
Appointing Vice President Mike Pence as coronavirus czar has done nothing to alleviate fears. While governor of Indiana, Pence oversaw an HIV outbreak in his state after he refused to order the dispensing of free syringes.
Attempts by Trump and the GOP to repeal the Affordable Care Act (ACA, or Obamacare), defund the Centers for Disease Control and other preventative measures, and the possibility that the Supreme Court could strike down the ACA, denying health insurance to millions, are creating the potential for a public health disaster.
The coronavirus could make health care an even bigger issue in the 2020 elections. Rudolph was speaking to a Medicare for All rally March 1 in support of Marie Newman, a candidate running to unseat Rep. Dan Lipinski, D-Ill., in the Democratic Primary on March 17.
Also turning out to support Newman were Rep. Pramila Jayapal, D-Wash., co-chair of the Progressive Caucus and sponsor of HR 1384, Medicare for All legislation, Rep. Jan Schakowsky, D-Ill., and Paul Ehrlich of the Physicians for a National Health Progam. They all lauded Newman as a champion of universal health care and blasted Lipinski, who voted twice to repeal Obamacare.
Newman grew up in a union family, became a leader of the gun control advocacy group Moms Demand Action, and founded a national anti-bullying campaign. She first ran against Lipinski in 2018, barely losing. He has held the seat, handed to him by his father, Bill Lipinski, for 16 years. He is a Democrat in name only who supports the privatization of Social Security, the repeal of Roe v. Wade, and Trump's immigration policy.
This time around, a broad coalition of progressive, labor, community, women's, immigration, environmental, anti-gun violence, and health advocacy organizations supports Newman. Her campaign boasts a potent ground operation in every part of the 3rd Congressional District covering the southwest side of Chicago and surrounding suburbs.
Medicare is very personal for Newman, who believes health care is a right. It's a lifesaver for her parents who are in palliative care. Newman often says Medicare is a foundation that can easily be improved and built upon to provide universal health care.
"Dan Lipinski has no plan for health care," said Schakowsky. "He voted against and then doubled down on the Affordable Care Act. He voted to cut Medicare. He is the most anti-LGBTQ Democrat in the Congress. That is a health care issue, too."
Commenting on the emerging coronavirus case in Washington state, Jayapal said, "We have over 50 people in a senior nursing home that are exhibiting the symptoms, 105 people who are residents of the nursing home, 179 health care workers there, and all the families involved. This is a huge issue." Since she made those remarks, the situation at the Life Care Center nursing facility in Kirkland, Wash., has only deteriorated.
Without universal healthcare, 60 million Americans remain uninsured, and tens of millions more are paying thousands of dollars in out of pocket premiums, co-pays, and deductibles. The coronavirus pandemic could become an extraordinary public health crisis because of this enormous vulnerability.
"And they cannot think about going to the doctor if they are sick," said Jayapal, "because their first thought is: How am I going to pay for this? People have nowhere to go if they need care and can't stay at home," she said. "And they're not going to seek care because of our broken health care system."
The nation will spend approximately $55 trillion on health care over the next decade. Thirty percent goes to administrative costs, including profits for the health care industry, double what peer countries pay. Meanwhile, administrative costs for Medicare are just 3%.
And yet, outcomes in the U.S. are far worse. The U.S. leads peer countries in maternal and infant mortality and lags in life expectancy. Time and time again, people don't seek necessary treatment because they can't afford it.
"This is the richest country in the world at the richest moment in history and the GOP and Dan Lipinski would like to argue that we can afford huge tax cuts for the rich, but somehow, we can't afford to make sure every single American has the health care they need and can afford," said Schakowsky.
At a recent congressional hearing, Schakowsky questioned Health and Human Services Secretary Alex Azar about the government developing a taxpayer-funded coronavirus vaccine. She asked him if the vaccine would be made available inexpensively to the public. Azar, a former executive with pharmaceutical giant Eli Lilly, refused to commit, implying the drug companies needed to make a profit.
Schakowsky noted that Chicago has already spent over $1 million on addressing the coronavirus. These costs are just for implementing preparations and not even the training, kits, and actual testing. Municipalities across the country will quickly be overwhelmed by the costs.
The coronavirus also poses a workplace safety hazard. Schakowsky recounted a worker assigned to clean the fuselage of a plane after an international flight. The worker wasn't provided with gloves, masks, or training, so she refused to go into the aircraft. However, many workers go into unsafe conditions because they fear losing their jobs.
Protecting a health care system that puts profits over patients in the face of a crisis makes no sense. "This is not only about rights, but what we deserve—universal, comprehensive, affordable health care," said Jayapal. "That is what you are fighting for with Marie Newman."