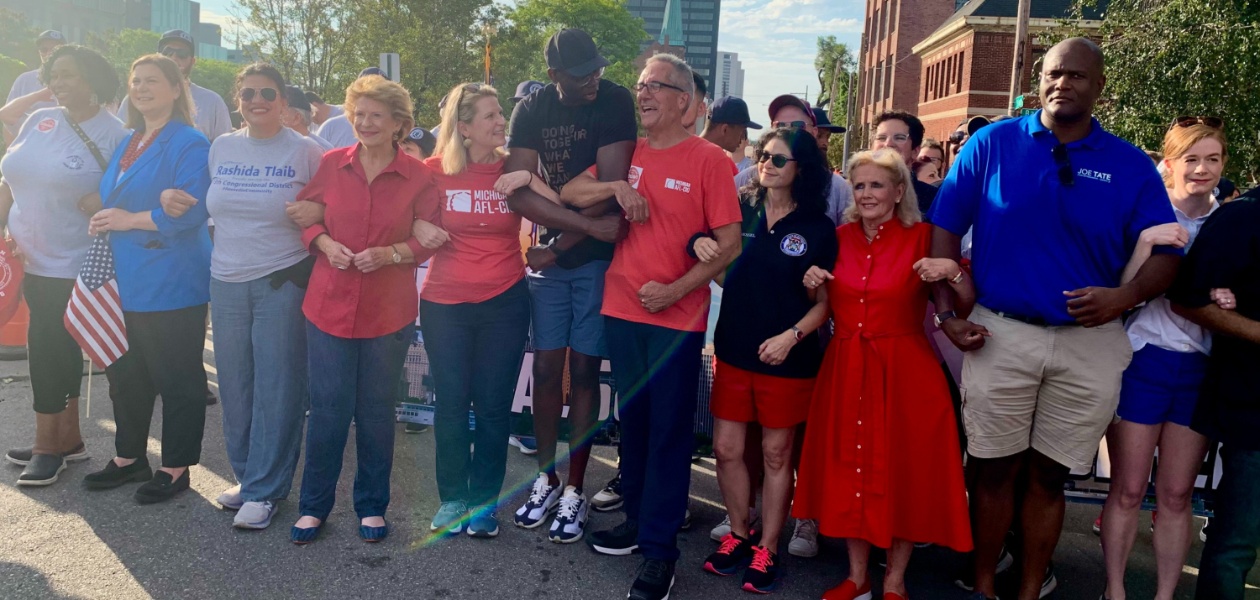 DETROIT—As Shawn Fain, Liz Shuler, top Michigan union leaders, and pro-worker Democrats marched side-by-side with thousands of workers in Detroit's annual Labor Day parade, the probability of a strike by the United Auto Workers against GM, Ford, and Stellantis (formerly Fiat-Chrysler) loomed ever larger.
About the only top leader professing optimism that a strike would not occur, with a Sept. 14 midnight contract deadline staring the firms in the face, was Democratic President Joe Biden, speaking in Philadelphia.
He was optimistic the two sides would settle before the firms force the 150,000 workers at the three car companies to walk. "No, I'm not worried about a strike," Biden told a White House pool report. "I don't think it's going to happen."
Fain, the new UAW president, was dubious. "He must know something we don't know," he told reporters at the Detroit parade. "Maybe the companies plan on walking in and giving us our demands the night before…. Our intent is not to strike. Our intent is to get a fair agreement."
The union is demanding a 40% raise over four years, restoration of cost-of-living increases, an end to the hated two-tier pay system, and restoring regular pensions for all workers and health insurance for new hires.
The Detroit parade and the Philadelphia events were two of many Labor Day observances nationwide, as the country honored U.S. workers, amidst hot dogs, cookouts, and oratory. Biden issued the annual presidential Labor Day proclamation just days before, while Republicans were either silent or gave the holiday lip service at best.
In his Truth Social media feed, Biden's predecessor, Republican Donald Trump, never even mentioned labor on Labor Day. Instead, raved about his legal troubles and pledged revenge if he regains power, saying "Biden and the Communists" will pay when he regains power.
"Republicans are already thinking about what we are going to do to Biden and the Communists when it's our turn," Trump said on Labor Day.
But it was the likelihood of the auto strike that loomed over everything else. On August 31, UAW filed labor law-breaking—formally called unfair labor practices—charges with the National Labor Relations Board against GM and Stellantis for failing to bargain in good faith. The union said they refused to even respond to UAW economic proposals at the bargaining table, much less propose their own terms.
There were no charges against Ford, because it presented its counterproposal of a 10% raise over four years. Ford also opposed abolishing the hated two-tier pay system and refused to restore regular pensions for all and health insurance for new hires.  Fain called their proposal unacceptable, but because Ford replied, it didn't get hit with a labor law-breaking charge.
"GM and Stellantis' willful refusal to bargain in good faith is not only insulting and counterproductive, it's also illegal," Fain told a Facebook live interview beamed to members. "That's why today, our union filed unfair labor practice charges, or ULPs, against both GM and Stellantis with the National Labor Relations Board."
In a tweet on the union's feed, Fain added: "To the Big Three, hear this: We're not just numbers on a spreadsheet or hands on an assembly line. We are the heart and soul of the auto industry. The UAW is back in the fight, the fight for economic and social justice."
In Philadelphia, Biden bashed Trump's economic record, without naming him. Trump is currently the leader for the GOP nomination and notoriously anti-worker; he stiffed union construction workers who built his Trump Taj Mahal casino in Atlantic City, N.J., decades ago. "You know, it wasn't that long ago we were losing jobs in this country," Biden told the crowd in Philly's Sheet Metal Workers hall.
"In fact, the guy who held this job before me was just one of two presidents in history…that left office with fewer jobs in America than when he got elected to office. By the way, do you know who the other one was? Herbert Hoover. Isn't that kind of coincidental?" Listeners laughed when Biden compared Trump to the Depression-era Republican.
>>> READ MORE PEOPLE'S WORLD COVERAGE OF THE UAW STRIKE.