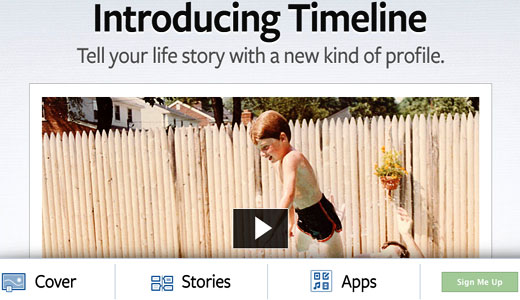 The war goes on: amidst the rise of Google+, Facebook is bringing changes set to revolutionize its site. In a bold move, Facebook's new Timelines will challenge Google's appealing design. The question is – which of the two networks will be the victor?
For months now, the two giants have been vying for the spotlight, with Facebook competitively adding features to ensure the loyalty of its users, while Google+ offered the benefit of integrating Google search and Gmail into its interface.
This drove home the point that Facebook has had – comparatively – a lack of interconnectivity, reported Mail & Guardian. However, it has made an unprecedented attempt to remedy this problem.
Vint Cerf, Google's Vice President, recently said that Facebook risked following the path of websites like AOL, the business model that became irrelevant in the eyes of the public. He suggested that in the wake of Google+'s popularity, Facebook would not last long.
But that prospect changed on Thursday, during the F8 developer's conference in San Francisco, MSN revealed. Facebook founder Mark Zuckerberg announced revisions of a considerable magnitude, which, as Yahoo News divulged, are:
Timelines:
A more minimalist, blog-like approach to a user's page, this will have the aesthetic appeal of a magazine cover, with a banner (of the user's choice) at the top, and areas like one's recent activity, current music, and personal info in neat, easy-on-the-eyes sections. It's called a timeline because stories on your wall would be organized by date and year. For example, a friend could see a user's status updates and activities from 2008 with a single click.
Apps:
Cerf, the report continued, theorized that Facebook's habit of allowing people to only connect with users and outlets on its own site would eventually drive them away. Zuckerberg must have been listening. Cooperating with sites like Netflix, Spotify, and Hulu, among many others, interconnectivity will now be fully realized on a Facebook profile, with users being allowed to share and stream any music, shows, books, and films they happen to be viewing with friends. This would be located right below the informational sections of one's profile.
A third change was one that arrived prior to the F8 conference – the News Ticker, which displays friends' status updates that are thought to be less important or urgent, at a glance, one scrolling by after the other. Meanwhile, the more significant updates will stay in the main News Feed, with users having the new option of "unsubscribing" from a person if they do not want to view his or her updates.
These changes are set to go live on September 29th, and users will gradually – over the course of a few weeks – see the changes implemented on their profiles. Whether or not the reaction will be positive remains to be seen – as it stands now, many users are already complaining about the drastic change to a site they felt comfortable with. Others look upon the idea with cautious optimism.
But as everything in daily life becomes more intertwined with the Internet (whether it's Facebook, Google+, or Twitter), what do these new features – as well as the advanced level of interconnectivity – mean for the progressive movement?
As a network meant to bring people together, many believe Facebook poses new and alternative methods of organizing positive collective political action. And during a time when the networking platform is being used by the Right Wing to draw in potential voters for Presidential candidates, progressives ought to utilize social media to fight back.
A shining example of the benefit of social networks came in July, when Twitter became a platform on which people could directly ask President Obama their questions – over 70,000 people tweeted questions and comments during that event.
Despite how the future may have looked for Facebook before Thursday, it seems that, with its new advancements, it is marching forward now.
Meanwhile, Google+ saw an uptick in usership once more, after it went public this week. Small upgrades to the site – including a search feature and an enhanced group chat (called a "Hangout") came two days ago.
However, while the general consensus seems to be that Google+ could pose a challenge to Zuckerberg's network giant, it is not yet known how it will fare after the results of Facebook's "enhancements" are fully realized.
Snapshot taken directly from Facebook's Timeline page