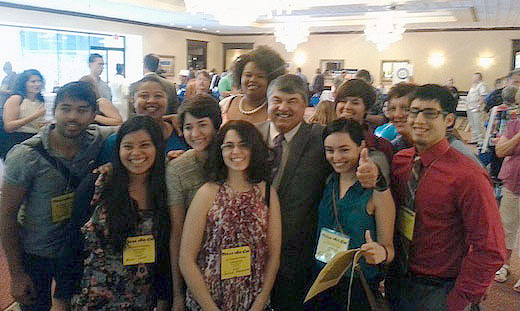 LOS ANGELES – More than 500 delegates from 50-plus unions here at the AFL-CIO's national convention overwhelmingly approved a strongly worded resolution Sept 8 calling for stepping up diversity in the labor movement at all levels. "A diverse and inclusive labor movement is essential to connecting with and representing the workforce of the future," the resolution read, "where women workers, workers of color, LGBT workers and young workers are the clear majority. With the workforce getting even more diverse, it is more important than ever that the labor movement redouble its efforts to build diversity within its ranks."
The resolution, in many ways, is an outgrowth of new and creative measures some unions have taken to address the changing nature of the working class in America.
Tefere Gebre, an Ethiopian immigrant expected to be confirmed this week as the AFL-CIO's new executive vice president, said in an interview that where he lives, Orange County, Calif., union halls have already been transformed into social service centers helping immigrants become citizens, and into schools teaching new arrivals to this country the ins and outs of American life – including the political system. "People are attending 26-week courses to help them achieve these goals," he said.
"In Orange County we have 220,000 people with green cards who are true Americans," Gebre said, "except that they can't really have a say, they can't vote. They get paid low wages. These people are the future of the labor movement. If we don't bring them in we don't survive," he said.
Terry O'Neill, president of the National Organization for Women, is here at the convention with her group. "We are thrilled to be here with the unions," she said, "because the war on women is nothing if it's not a full-fledged war on the economic security of women. We must keep in mind that the same people killing choice for women are the ones who are going after public workers, teachers, nurses and health care givers. All these groups, by the way, are primarily women. With Scott Walker in Wisconsin it was so blatant because he shielded firefighters and state police from his attacks, two groups where men predominate. But to their credit, our brothers up there stood with us in the fight for our jobs and our collective bargaining rights."
Right after the AFL-CIO convention passed its diversity resolution Sunday, it approved a resolution on women. "We stand with women and insist on equality in pay and opportunity for all," the resolution declared. "We insist on the right of women to control their own bodies and be free from violence; and the right of every woman to reach her fullest potential and the opportunity to serve and lead her community – nothing less."
The AFL-CIO also seems to be taking diversity seriously regarding youth and students. Delegates passed a resolution on youth engagement. "The continued strength and energy of the labor movement depends deeply on the ability of younger union members to develop into effective labor leaders," it said. The resolution recognized the AFL-CIO's Young Worker Organization as having the key mission to "empower the next generation of labor leaders."
Garrett Strain, a member of United Students Against Sweatshops, is at the convention. Strain said that colleges paying poverty wages causes a ripple effect problem for entire communities. "If they pay poverty wages it has a big impact on the communities in which they are located," he explained. "Students, as consumers of goods in the community and consumers of services sold by the colleges have a lot of leverage if they use it. When we get together with the broader working public we help each other. Diverse groups working together are a necessity for all of us."
"We cannot allow ourselves to be used in a corporate-led race to the bottom," said Julia Wang, another member of United Students Against Sweatshops who is attending the convention.
Guadalupe Celedon, on the floor of the convention, said she had participated in union-run leadership classes in her Orange County neighborhood, the ones described by Gebre.
"Those classes taught me the meaning of the word union," she said in Spanish, with a translator. "We see unions fighting for workers whether or not they are in unions."
She said she got turned on to the meetings at the union hall when her daughter took her to one about what different ballot initiatives would mean for the public. "It is so important to know what is going on," Celedon said.
Unions gathered here see the growth of both the African American and Latino workforces as critical to their own growth and survival. African Americans, Latinos and other minorities, because of their own experiences, are more likely to be union members and to have positive views towards unions. "While African Americans are 11.7 percent of the workforce, they constitute 14 percent of union members," the diversity resolution noted. "According to a new poll by the Pew Research Center for the People, African Americans hold very positive views towards unions – 69 percent positive, compared with 51 percent of the population as a whole. They are 19 percent more likely to join unions, according to recent research by Dr. Steven Pitts of the University of California at Berkeley."
The resolution affirmed: "With the workforce getting ever more diverse, it is more important than ever that the labor movement redouble its efforts to build diversity within its ranks."
Video editing by Eli Halbreich
Photo: AFL-CIO President Richard Trumka gives a "thumbs up" during Union Summer 2013, an initiative to reach out to a multi-racial, multi-generational cross section of working people. (via AFLCIO/Flickr)