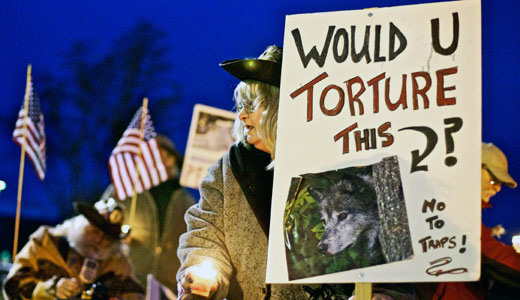 Gray wolves throughout Wyoming were essentially given a death sentence on August 31, when Interior Secretary Ken Salazar declared that the U.S. Fish and Wildlife Service had opted to remove them from the endangered species list. The animals will now be handled by a state plan that marks them a "trophy game animal." That designation will allow wolves to be shot on sight in 80 percent of Wyoming, with the goal of reducing their population to 100.
Environmental, conservation, and animal welfare advocates reacted with outrage toward the stripping of the wolves' protections. The Center for Biological Diversity responded to the decision by joining a coalition of environmental groups, who together filed a notice of intent to sue the federal government.
Concerned activists noted that the "delisting" of wolves leaves them vulnerable to the state government's hostile agenda, which involves drawing up plans for an autumn slaughter, according to a press release by Green Media Toolshed.
Activists argue that the decision – which will take effect on September 30 – makes neither economic nor ecological sense. They also note that the state has no real way to know when it has reached its goal of a wolf population of 100, because none of the animals are wearing radio collars to help observe their numbers.
"Wolves belong to all Americans, but powerful industry lobbyists and their political cronies don't agree," said Wendy Keefover of animal advocacy group WildEarth Guardians. "The anti-wolf minority wants to kill as many as possible before we can get to the courthouse, and the Fish and Wildlife Service is completely complicit in this terrible arrangement."
"Taking federal protection away from Wyoming's wolves will bring about the same kind of senseless slaughter that drove them to the brink of extinction in the lower 48 [states]," said Noah Greenwald, the Center of Biological Diversity's endangered species director, who has worked to protect wolves for decades. "Wyoming's 'wolf-management plan' is a body blow to wolf recovery in the West. It'll drastically reduce wolf numbers in the northern Rocky Mountains, and cut off further spread of these animals to excellent habitat in Colorado and Utah.
"Blatantly ignoring science and sanctioning the extermination of these beautiful and intelligent animals is a travesty. We're going to sue to protect these wolves."
Many believe the wolf plan was drawn up to appease both the cattle and sheep industry, and sportsmen who claim that wolves kill too many elk. Both of those assessments, however, are incorrect, as studies demonstrate. In fact, data shows that wolves kill less than one percent of cattle and sheep in Wyoming. It also reveals that the elk population exceeds the state management objective of 85,000 animals by 24 percent – in other words, by some interpretations, the state is actually overpopulated with elk.
David Hornoff of the National Wolfwatcher Coalition also pointed out the economic threat that mass wolf killing could present. "The future plans of millions of tourists who visit Wyoming for wolf watching will be affected, and this threatens ecotourism, one of the fastest growing industries in the region."
A piece on this issue, written for Care2, also pointed out the hypocrisy of hunters' supposed concern over elk killings, noting, "Hobby hunters are irritated that wolves follow their natural instinct to eat elk and other animals, which they'd rather shoot and mount on their wall."
"This plan allows Wyoming to manage wolves at the razor's edge of an already low number of wolves," said Sylvia Fallon, senior scientist at the Natural Resources Defense Council. "It fails to adequately regulate the kill-on-sight practices that drove wolves to endangerment in the first place."
"As with the rest of the northern Rockies, today's decision to remove protections for Wyoming's wolves flies in the face of all the best research that's been done in recent years," Greenwald advised. "Just in the short time we've allowed wolves to return – in limited numbers – and reclaim their ecological role, they've quickly demonstrated that they're an irreplaceable keystone species.
"By limiting the amount of time elk spend along rivers, their presence has led to major improvements in streamside vegetation and water quality, benefiting fish, insects, birds, beavers, and a broad range of other species. They're fascinating to people, and a significant tourist draw to states, including Wyoming."
Photo: Organizers with the Northern Idaho Wolf Alliance protest the senseless trapping and killing of wolves. Jerome A. Polios/ Coeur d'Alene Press/AP