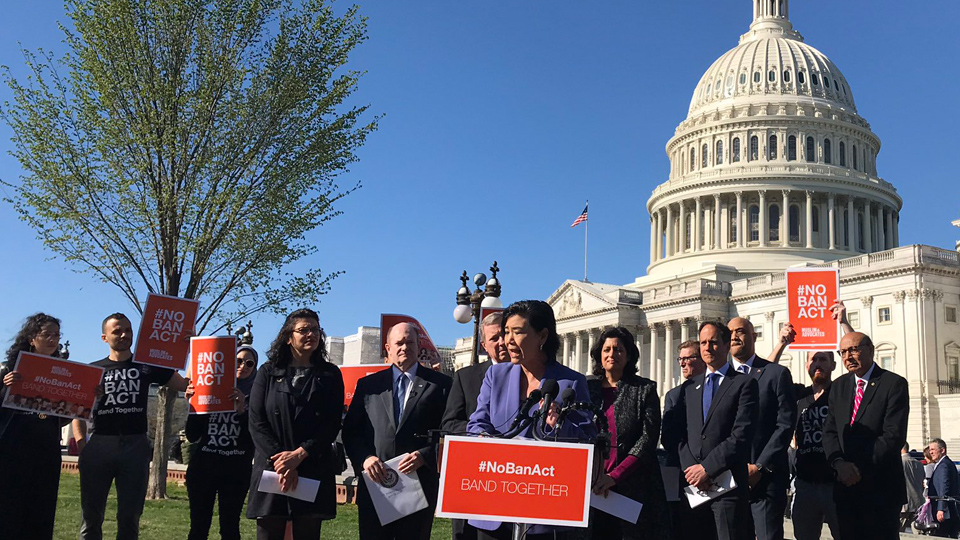 WASHINGTON – Today, April 10, Sen. Chris Coons D.,De. and Rep. Judy Chu, D., Calif. introduced the NO BAN Act that would repeal the Trump administration's cruel Muslim, asylum, and refugees bans and further limit this or any future administrations to do something similar ever again. The Asian Pacific American Labor Alliance (APALA), AFL-CIO urges Congress to pass this act immediately, and demands they reject hate and discrimination against Muslim, asylum seeking, and refugee communities.
Hundreds of organizations have signed a letter in support of the NO BAN Act. The groups recognize that the Immigration and Naturalization Act (INA)—as currently formulated—gives the president nearly unfettered statutory authority to suspend or restrict the entry of non-citizens. Importantly, the letter calls on Congress to take a clear stance against the Muslim ban and religious discrimination stating that "how someone prays should not dictate whether the government can ban them from coming to the United States."
The NO BAN Act includes important features to ensure the president's authority is exercised responsibly, including:
Strengthened Antidiscrimination Protections: The NO BAN Act expands the Immigration & Nationality Act's antidiscrimination provision by making clear that it applies to the issuance of a broad range of immigration benefits, including both temporary and permanent visas. The bill also adds religion to the INA's existing protections against discrimination on the basis of race, sex, nationality, place of birth, and place of residence.
Limitations on Executive Power:  The bill limits the president's authority to institute blanket entry restrictions. These changes bring the text of the INA into better alignment with how presidents of both parties have traditionally exercised that authority.
Transparency and Accountability Provisions: The bill enhances the responsible use of presidential authority under the INA by requiring interagency consultation prior to taking actions that block the entry of foreign nationals into the U.S., incorporating congressional notification and reporting requirements, and equipping judges with clear standards that they can use to evaluate whether a given action is appropriately limited.
APALA National President Monica Thammarath of the National Education Association stated: "The blatant and deliberate bans against Muslim, asylum, and refugee communities must be undone immediately. These bans will have disastrous consequences on our nation's values and moral fabric. In a time where communities of color, immigrants, and refugees are constantly under attack, we must redefine the narrative of security in this country. To be non-white is to live in an unsafe world simply because of the color of one's skin. As an Asian American and Pacific Islander community, we understand the pain of xenophobia – from heightened surveillance of Muslim- or perceived-to-be-Muslim communities after 9/11 to the incarceration of Japanese Americans during World War II."
APALA National Executive Board Vice President and CFA/SEIU 1983 (CSU Faculty) member Kim Geron added: "Our communities are hurting. The recent acts of violence across this country and around the world against Muslim communities are without a doubt rooted in hate and white supremacy — something that the Trump administration has unabashedly emboldened through his rhetoric and policy. From the racist border wall to the Muslim Ban to separating families, it's clearer than ever that his vision for this country is to exclude people of color he deems as unworthy to enter the U.S. and to create a climate of fear to stifle our communities from rallying and fighting back. Congress must pass the NO BAN Act and stand against the Trump administration's practice of fear-mongering and white nationalism. It is long past time for real, concrete action. Our country deserves better; our communities deserve better."
Ways to take action and support the NO BAN Act:
Sign the petition or call your member of congress to demand they co-sponsor this piece of legislation.
Amplify on social media. Click here for a digital toolkit with sample posts and graphics.
For more information about the NO BAN Act, please visit: repealtheban.org.
Founded in 1992, APALA is the first and only national organization of AAPI union members and allies, building power for AAPI workers and communities.
Barbara Russum of People's World contributed to this article.