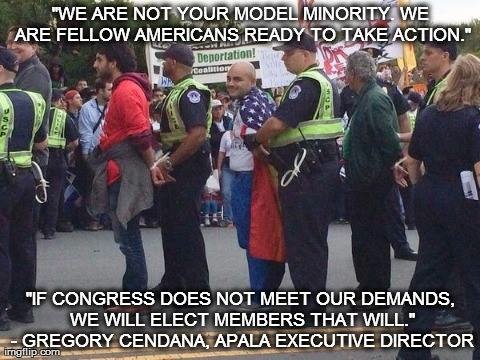 Gregory Cendana, as the song goes, wakes up each morning with his mind set on freedom. Such is the life of an organizer for the Asian Pacific American Labor Alliance, with its mission to "defend and advocate for the civil and human rights," including labor rights. Cendana is the executive director of APALA and was recently elected the chair of the National Council of Asian Pacific Americans, a coalition of 31 national organizations that represent our country's diverse Asian Pacific American communities.
Cendana's election to the council post signified two important firsts. He is the first Filipino to head the organization, and he is also the first openly gay man to do so.
Cendana, like many of his generation, is active on the social network Twitter, promoting links between economic and racial justice under hashtags like #EconomicViolence and #NotYourAsianSidekick. He comes from an immigrant and union family and credits them with instilling social justice values. His father, a member of the public workers union, AFSCME, worked at the University of California-Davis as a mechanic in the fleet services. For those who might like activism with a beat, Cendana organized a dance group called SOULJustice, which has been known to stage a flash mob or two.
In a recent phone interview, Cendana elaborated on the goals of the two organizations and what it means for the wider APA population. Major issues, he said, are "unemployment insurance benefits, immigration reform, increasing the minimum wage and passage of the Employment Nondiscrimination Act. The biggest priority is comprehensive immigration reform." Cendana said both the council and APALA are "working to educate and raising immigration reform as a key APA issue."
Despite Republican obstructionism on the issue, organizations and coalitions like the ones Cendana heads plan to press on because families and lives depend on it.
Each community has a stake in immigration reform, he said, from family reunification to visa programs. "We as a coalition have been finding ways to raise our voices," he said.
Cendana spoke about the "deep history of racist and restrictive immigration laws" that targeted Asian immigrants. That experience runs deep, unifying newer with older immigrants, first, second, third generations of citizens with noncitizens.
"Nearly two-thirds of Asian Americans are foreign born," Cendana said. "Immigration is a very unifying issue for our community, which includes those who have been here for generations to those newer to the United States." He pointed to Native Hawaiians and an organization called First Americans for New Americans as examples. Out of the estimated 11 million undocumented immigrants in America, 1 million are of Asian origin, according to Cendana. The backlogs for visas, he said, are symptomatic of the "broken immigration system."
Cendana tied immigration reform to worker rights, saying employers who violate labor laws are also likely to use and abuse immigrants. And APA communities have a stake in labor and economic justice fights like increasing the federal minimum wage, getting unemployment insurance reinstated and passing ENDA, a bill that would outlaw discrimination based on sexual orientation or gender identity. For the APA community, a large percentage of the workforce are in health care, restaurant, and bar and service industries. Many of these jobs are low wage. Cendana advocated for inclusion of tipped workers in minimum wage laws. They are currently not included.
As the first openly gay president of the National Council of Asian Pacific Americans, Cendana sees a growing acceptance and openness among Asian Americans toward equality issues, reflecting the same trend among the U.S. population at large. He stressed the importance of "intersectionality" – the fact that people make connections to different issues – as critical to building movements and coalitions. It is a growing trend, Cendana said, for which he credited the far right. "Attacks have become so increased from the right that it has allowed people to make those connections." The more we help people make more of those connections, it means the "more we can do," he said.
Doing more and connecting issues includes voter education and mobilization in the 2014 midterm elections for Congress and statehouses this November. "The elections are going to be crucial," he said. According to the Census, places like Florida, Georgia, North Carolina and Nevada have shown "huge growth" in their Asian Pacific American population, and Cendana expects that growth will translate to political influence in areas beyond established centers in states like California and Washington. In 2012, the Asian Pacific vote went to Obama by a large majority, which analysts attribute to the alienation of these voters from the Republican Party because of its anti-immigrant stances.
Optimistic that 2014 can be a year of breakthroughs on justice issues, Cendana says he is "excited" in his role with APALA and NCAPA, and while he believes there is "a lot of work ahead of us," progress can be made.
Photo: Police arrest Gregory Cendana, center, during a civil disobedience protest for immigration reform (via APALA).