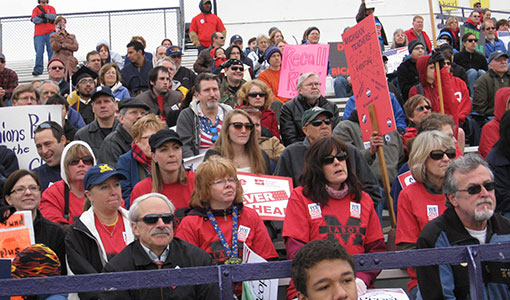 ANN ARBOR, Mich. – Up in the sky, a plane floated a banner reading "Some cuts never heal" as Republican Gov. Rick Snyder gave the University of Michigan commencement address at the campus football stadium on Saturday.
On the ground outside the stadium, union workers at the university along with students, nurses, teachers, a cross section of concerned citizens and unions both public and private, formed a huge picket line. It was sparked by outrage that a governor who calls for a 15 percent cut for higher education and huge cuts to K-12 education would be invited to give a commencement address at the flagship state university campus.
Before marching to the "Big House," as the football stadium is dubbed here, protesters rallied at nearby Pioneer High School and a number of U of M graduating seniors addressed the crowd.
Adonia Arteaga, from Flint, Mich., graduating with highest honors, said that as a future teacher she was protesting her own commencement because "I find the cuts unconscionable."
Another graduating senior, Zack Goldsmith from nearby Ypsilanti, told the crowd American democracy is being strangled under the grip of the rich. "It wasn't the CEO or hedge fund banker who built this country," he said. "Instead it was the teachers, firefighters, public workers."
Ann Arbor Democratic state Sen. Rebekah Warren condemned the passage by the Michigan House of the governor's tax overhaul, which gives an 86 percent tax cut to corporations while raising taxes on seniors and the working poor. "It's been a tough week in Lansing," she said. "These are not our values, we need to take back our state."
The president of Firefighters Local 693 in Ann Arbor, Matt Schroeder, asked why firefighters and other public workers were being bullied, vilified and expected to shoulder the burden of the state's economic woes. He got a loud cheer from the crowd when he declared, "People who work for a living deserve a good living."
And how often does a fifth grader steal the show at a rally? Showing future political moxie far beyond her age, Haslett Elementary School student Lexie Salazar said she was "pretty typical." She said she wears red every Tuesday to show support for her teachers. Salazar wants to become a zoologist, she said, but she worries cuts to education will make her dream more difficult. Getting a huge roar from the audience she finished her remarks holding up a sign echoing the airplane banner: "Some cuts never heal."
United Auto Workers President Bob King decried Gov. Rick Snyder and the Republican-controlled legislature for eliminating the state Earned Income Tax Credit, saying it will place a heavy burden on the working poor. King blasted the new dictatorial powers the governor has given to "emergency financial managers." For municipalities in financial distress, these Snyder-appointed "managers" will replace local elected officials. Referring to the governor's first name, Rick, protesters chanted "No to the Ricktator."
Making an impromptu appearance at the rally were the far-right billionaire Koch brothers, or at least two men dressed in top hats and coattails using the name. To loud guffaws they said cuts in education were good because, "The less you know the better. Ignorance is bliss and we want you to be really happy."
The mood of rally participants was upbeat.
One explanation for that could be found in the remarks of William Copeland, a school janitor and vice president of American Federation of State, County and Municipal Employees Local 1182. He said, "We are standing up to Goliath because we still have a rock in our slingshot."
Photo: A section of the crowd that filled the Pioneer High School stadium in Ann Arbor, Saturday, April 30. PW/April Smith