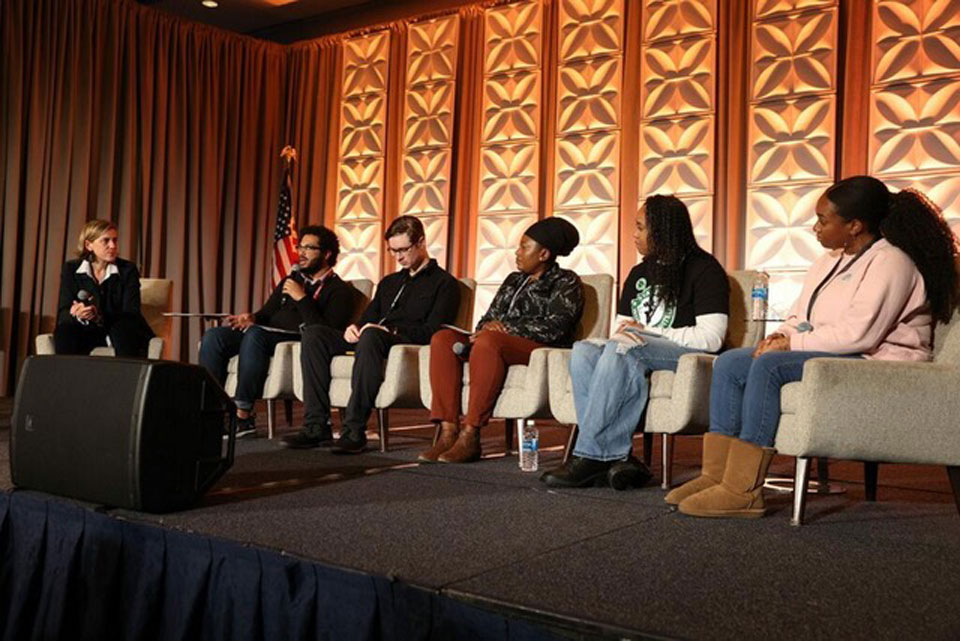 WASHINGTON—Young organizers face both obstacles and opportunities when trying to convince workplace colleagues to go union, a panel of them said at the AFL-CIO's Martin Luther King Jr. commemorative conference.
And often it's bosses' mismanagement, exploitation and repression that presents both.
Consider, for example, what happened when the coronavirus pandemic broke out, in this case at the giant Amazon warehouse in Bessemer, Ala. There, a group of workers had approached the Retail, Wholesale and Department Store Union to help organize their colleagues.
There were two big issues, both management-imposed, that drove that campaign, said Sadatu Mamah-Trawill and Adam Obernauer, two of the organizers of RWDSU's bid.
The biggest, even beyond Amazon's low wages, was working conditions.
That's because "it's blazing hot" inside the un-airconditioned, poorly ventilated plant, said Mamah-Trawill. "It led to seven deaths in Bessemer."
One worker was found unconscious on a bathroom floor and a colleague did everything possible to revive him, Mamah-Trawill added. Medical help never came. "It's a facility with 6,000 workers and no nurse," he explained.
And the worker who tried to revive his colleague was docked by Amazon for TOT, or "time off task," the minutes  workers spend away from their stations on its monster package lines or driving its forklifts—all tracked by computers reading microchips embedded in the workers' badges.
"They even clock you for bathroom breaks," said Mamah-Trawill. Never mind the sole bathroom is so far away that workers need almost their entire allotted break time just to get there. And don't exceed your allotted TOT.
The penalty for that is rough: Amazon rented off-duty police officers to arrest workers and escort them off the premises for the most-minor infractions of its rules—including one worker whose badge's chip conked out, so bosses couldn't measure his TOT.
No wonder the workers turned to unionizing. But that's when Amazon, owned by one of the richest men in the U.S., Jeff Bezos,  retaliated with a vicious, and illegal, anti-union campaign. It descended even below the notorious hours of "captive audience" meetings.
One tactic: Calling in the police and sheriff's deputies, a threatening move to the overwhelmingly Black workforce, given police-community relations in Alabama. One worker was even arrested for refusing to go to the plant's Human Relations office to listen to a one-on-one anti-union harangue, Obernauer said.
"You watch them arrest people and drag people out" for breaking Amazon's rules, not local laws, "and it creates a deterrent effect" on others, he added.
Another was Amazon easily convincing Bessemer officials to adjust the timing of the traffic lights outside the plant's parking lot so union activists would not have enough time to talk with workers waiting for a change from red to green.
The combination of intimidation, labor law-breaking, surveillance and other tactics led to a landslide loss for RWDSU in the first campaign in 2021. But the firm's law-breaking was so flagrant, the National Labor Relations Board tossed that vote out as impossibly skewed, and ordered a rerun last year.
That election hasn't been decided yet, because the hundreds of challenged ballots is greater than Amazon's narrow margin over the union—and after further company law-breaking, too.
It's obstacles like that—and opportunities like that—which confront young organizers anywhere, said the two RWDSU organizers, along with Nate Mesekele, an AFSCME member whose union won a landslide victory (412-13) at Baltimore's Enoch Pratt Free Library and Starbucks Workers United organizers Aleah Bacetti and Samantha Shields.
Health and safety was a big deal at Pratt Library, Mesekele said. The difference there was, as a public facility, bosses couldn't be as flagrant in union-busting as they are in the private sector.
Still, when the pandemic began, Pratt officials, who had previously enforced "years of inequity" between the Black majority of workers and everyone else, "weren't very clear about masking or basic protections for custodians exposed to an hostile working environment," he added. Most custodians are Black.
"We came to the conclusion that organizing" with AFSCME "is the only way to let the bosses know we are serious" about such issues, including ending the years of discrimination at the city's library system between whites and Blacks in a city that's now majority-Black. "Black and brown workers are particularly vulnerable" to bosses' unfair labor practices, discipline and firing, Mesekele said.
AFSCME overcame such conditions with a two-pronged approach to winning the Pratt election. One was a decision by the workers themselves to make sure that while management discriminated by class—pitting higher-level workers against custodians and their colleagues—the union wouldn't. The other was union lobbying in the state capital of Annapolis to eliminate "the Swiss cheese" in collective bargaining rights for public workers. That's where elections come into play: Maryland's legislature is veto-proof Democratic and then-Gov. Larry Hogan (R), went along with changes, reluctantly.
Racial discrimination raises its head at Starbucks, too, said Aleah Bacetti and Samantha Shields, worker-barrista-organizers in Harford County, Md., outside Baltimore, and in downtown D.C., respectively.
In Maryland, where most of the staff and most of the customers are people of color, the discrimination took several forms—cuts in hours falling disproportionately on workers of color, and discrimination in promotions and training.
It still lingers, too, among some customers educated in racism, Bacetti adds. In the nearby community of Bel Air, schools didn't integrate until 1963, nine years after the Supreme Court's famous Brown ruling against school segregation in particular and Jim Crow in general. But attitudes don't change, said Bacetti.
"I've had customers tell me that I've brought down the 'culture' of the store and the neighborhood," she said.
In D.C., the problem is rampant gentrification, changing the color and class of Starbucks' customers at 1429 P Street, N.W., from Black working class to mostly white professionals, who need to be educated about what the majority people of color barristas face on the job.
Shields and her colleagues there succeeded, partly by gaining great community support, and the P Street Starbucks is the first unionized store in D.C. Reasons they succeeded included "to have a fair and unbiased workplace, better hours and not having to deal with micro-aggressions by supervisors." All were key themes of their drive.