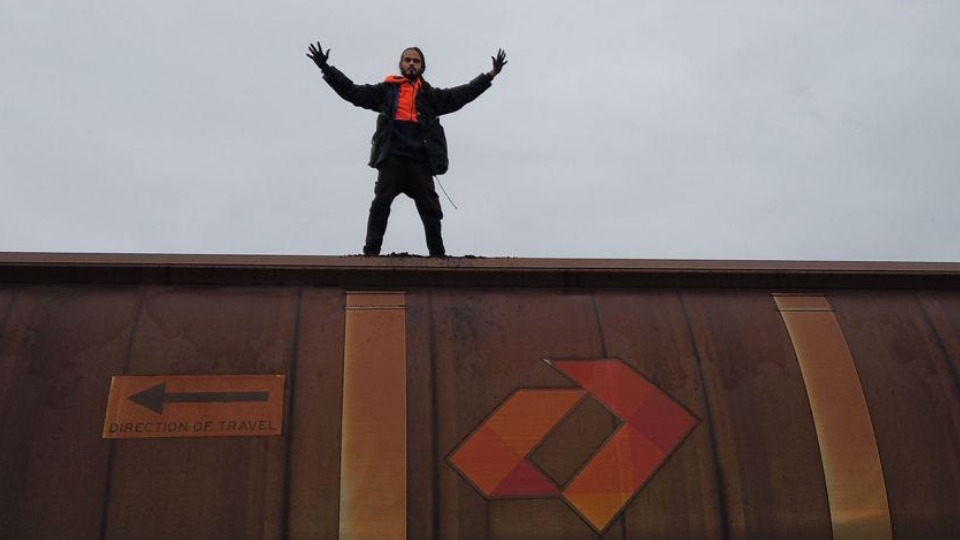 SYDNEY—A climate activist who climbed on top of a coal train, which led to a five-hour delay of 15 coal trains between Newcastle and Maitland, will serve up to a year behind bars—the harshest sentence ever delivered in Australia in relation to direct climate action.
Eric (Sergio) Herbert participated in a larger campaign by Blockade Australia to target the coal export chain through to the Port of Newcastle in response to Australia's poor commitment to cut greenhouse gas emissions by 2030 at COP26. In contrast, violent anti-vaccine protesters have put citizens in danger and also delayed production without such severe sentencing.
Meanwhile, the gigantic Adani Carmichael coal mine in the Galilee Basin is set to begin exports by the end of the year. It carries a plethora of concerns, not only from campaigners but also from First Nations groups protecting heritage sites.
In the wake of the upcoming election, the center-left Australian Labor Party (ALP) has set its climate change targets lower than in 2019 but still offers a vast improvement over the embarrassing standards used by the current right-wing Liberal-National coalition government under Prime Minister Scott Morrison.
Herbert has a six-month non-parole period but has been released on bail, pending appeal. Under his bail conditions, he is unable to enter some government areas except to attend court. He cannot enter a rail corridor unless he is a passenger of a train, and he is under house arrest between 6 p.m. and 6 a.m. every day.
He was arrested while walking in a national park and charged with "obstruction of a locomotive or rolling stock" and "hindering mining equipment." He was threatened by New South Wales state police commissioner Mick Fuller with a 25-year charge of "intention to injure or kill rail passengers"—an outrageous response to non-violent direct action.
This kind of punishment is reminiscent of the repression that characterized the rule of Premier Joh Bjelke-Petersen period in Queensland in the 1970s, where all protests were made illegal and carried severe charges. Interestingly, Herbert's sentence was carried out by none other than Janine Lacy, partner of Mark Latham, leader of the ultra-nationalist One Nation Party in New South Wales.
Herbert's action was just one part of a larger campaign by Blockade Australia, a grassroots climate action group that organizes direct action to disrupt practices that further drive the climate crisis. The work and courage from the group's activists have achieved some wins in slowing the deadlines for coal exports and increasing publicity in climate action.
However, the disconnection to unions has created a deeper divide between the broad left and workers in the mining industries. Walking the line between climate action and protecting the livelihoods of workers is essential in creating critical support, however, it remains increasingly important to put pressure on governments around the world to improve their policies to reach lower emissions by 2030.
Construction, Forestry, Maritime, Mining, and Energy Union (CFMEU) ex-national president Tony Maher made suggestions at a Just Transition Conference to look to Germany for ways in which their government phased down their black coal industry while prioritizing social impacts.
Germany rotated younger workers among remaining coal mines, while older workers took early retirement, and gradually they gave younger workers opportunities to find work in other industries. This created a commitment from other industries to provide job openings for these workers.
Rather than viewing the climate crisis as a responsibility purely of miners and mining companies, it was the responsibility of the whole society. In comparison, Australians are fed a story that it is impossible to find skilled mine workers jobs in other industries, and they must suffer to ensure the proper functioning of the market, or alternatively, that it costs too much to make the necessary adjustments.
It is telling that while hundreds of anti-vaccination protesters were arrested and charged after destroying private property, and assaulting citizens and police officers, they have not received sentences to the level of Herbert.
While the climate activists have only engaged in non-violent direct action, these right-wing rallies have put the health of citizens at risk, as well as death-threatening politicians, throwing bottles and hurling rocks at civilians, smashing car windows, injuring several police officers, and even kicking a dog with charges of animal cruelty.
Amongst these inconsistent punishments, the Adani Carmichael mine commenced operations this month. Climate activists locked themselves to rail and mining equipment and continue to be charged disproportionately, while ten million tons of thermal coal is set to be shipped annually for 30 years.
The 447 sq. km. (173 sq. mi.) Adani mine site, which uses 12 billion liters of water per year, is located in Wangan and Jagalingou country, in the Galilee Basin. One of the traditional owners, Coedie McAvoy, has been occupying this space with his family over concerns of clearing cultural heritage sites, which contain locations once used for stonework.
While the Australian wing of the Adani company, Bravus, has expressed that they have had a consultation with First Nations, many in the community said they were "strong-armed" into signing an agreement to excavate the land. This space contains stone artifacts that could be found up to 1.5 meters deep, which would provide considerable archeological findings about historical activities in the area over thousands of years. It is also deeply inconsiderate to the importance of the land in the lives of the Wangan and Jagalingou peoples.
On an international level, it is clear that China is already finding alternatives to importing coal and is developing its renewable energy industry. However, it seems India and South East Asia will rely upon Australia's coal production while they stick to fossil fuels.
It is unfair to expect these countries to find their way towards renewable energy at the same pace as developed nations, while they are developing and remain under the influence of U.S. imperialism. Maher suggested that perhaps the focus on shutting down the export industry should not be campaigners' main interest, as external markets will not look to Australia for direction in their energy policy.
Nevertheless, if all activists from coal-rich countries put pressure on their governments to limit their coal exports, perhaps other governments would put more emphasis on finding alternative energy sources.
The ALP opposition has released new climate policies leading up to the election. They promise a 43% emission reduction target by 2030, and net-zero by 2050, while creating 604,000 new jobs. In comparison, the governing Liberal-National coalition's current approach is set to fall well short of this target. Labor has announced that it will significantly upgrade transmission infrastructure to hasten the transition to renewables, invest in solar banks, and install 400 new community batteries.
As Australia is a considerably sunny and windy country, there is major potential to grow renewable energies and become a more climate-conscious nation. It is also important to consider the livelihoods of those in the coal industry and find genuine ways to engage all workers in this important global crisis.
The Guardian – The Workers' Weekly