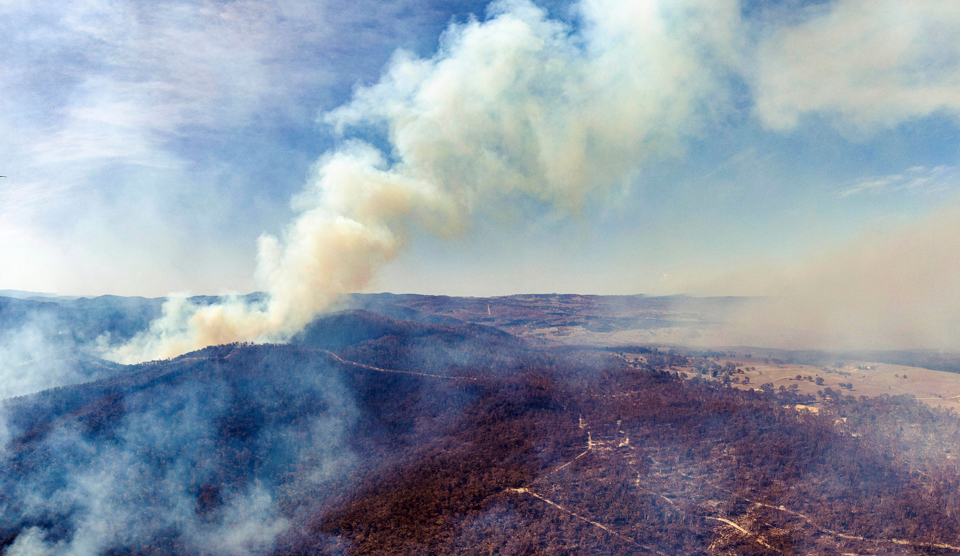 The catastrophic nature of the bush fires in Australia these past months in all likelihood could have been prevented or been less severe if governments had listened to scientists and acted on their advice. Instead, funding was cut to the very organizations that are critical to our understanding of bush fires and climate change, and the preventative action that could and should have been taken.
Successive Australian governments—both Coalition (conservative) and Labor—are guilty of taking little more than token steps. As far back as the 1980s, research from the Commonwealth Scientific and Industrial Research Organisation (CSIRO, Australia's national science agency) forecast the catastrophic fires that would occur due to climate change.
Even the unprecedented nature of the bush fires that Australia is experiencing has not resulted in the federal Coalition government stepping up to its responsibilities to protect the Australian people and our flora and fauna.
U.S. President Donald Trump took a side-swipe at climate change activists at the World Economic Forum in Davos, saying that the world "must reject the perennial prophets of doom and their predictions of the apocalypse."
Australia's Finance Minister Matthias Cormann addressed the forum and sang the praises of Trump's speech and emphasized that the Coalition would not compromise "the strength of the economy" to manage rising environmental concerns as international authorities urge governments to do more to tackle climate change. By "strength of the economy" he means reliance on, and expansion of, the fossil fuel sector.
Failure to heed warnings
In the 1980s, Dr. Tom Beer, a meteorologist at CSIRO, investigated what impact climate change might have on bush fires. He drew together the research of several scientists specializing in such fields as agriculture, ecology, hydrology, irrigation, farming, power generation, and the insurance industry.
The study, Australian bush fire danger under changing climatic regimes, was published in 1988. Beer and his boss at the time, Graeme Pearman, today question why the science did not lead to action. Pearman had presented their findings to countless politicians and organizations. These include former Australian Prime Ministers Bob Hawke, Paul Keating, and John Howard when they were in office.
"I would blame most of that on the lobbying," Pearman told Guardian Australia. "That lobbying has been extremely powerful in a country driven by the resource sector that includes uranium, coal, and gas."
"Those investing in the fossil fuel industry worked diligently to try to stop action on the reduction of emissions," Pearman said. "As a scientist, you think many years ahead and out to the turn of the century and beyond. But in a business with investment in a coal mine, their interest is in what happens in the next five years. Those industries have been very effective [in lobbying]."
Australian governments since then have wilfully refused to take the urgent and necessary measures to arrest climate change that are required.
Research funding cuts
The Abbott, Turnbull, and Morrison governments, in particular, have cut funding to key research institutions and fire fighting services. Research is integral to all aspects of tackling climate change and its consequences.
In 2016, CSIRO announced it would sack 120 climate scientists. CSIRO's work in this area is core to global research in climate modeling and monitoring and for future climate projections, including that of the United Nations Intergovernmental Panel on Climate Change which produces the world's most authoritative statements on the nature of climate change, its impacts, and how to adapt to mitigate it.
Scientists in Australia and around the world were shocked and horrified. The protests flooded in. Hundreds of scientists signed a petition. The New York Times ran a front-page story.
Eventually, CSIRO and the government were forced to back down: but not before they had lost some top scientists to overseas jobs. The attempted cuts were political. It came out in a Senate Committee inquiry into the cuts that Andreas Schiller, the deputy director of the oceans and atmosphere business unit at CSIRO, had written to the director of the unit explaining why they should aim to cut 120 staff.
He stated that it would "allow a clean cut in terms of eliminating all capability associated with 'public good/government-funded climate research.'" He also pointed out that if fewer cuts were made, they would inevitably face the "problem" of keeping some of the climate scientists!
This rejection of science for the public good is the result of profit-making business outcomes that are extremely short-sighted and regressive. It reflects the Coalition government's approach.
Pearman was also critical of CSIRO, his former employer, for becoming too focused on work to drive "economic benefit." In the long term, if the science is ignored then there will not be any economy to speak of.
Andy Pitman, the director of the Centre of Excellence for Climate System Science at the University of New South Wales, described the scale of the cuts as "jaw-droppingly shocking."
"It's a catastrophic reduction in our capacity to assess present and future climate change," Professor Pitman said. "It will leave us vulnerable to future climate change and unable to take advantage of any positives that result."
In 2017, the Coalition government decided to discontinue funding for the National Climate Change Adaptation Research Facility at Griffith University, an initiative of the Howard government. Its director Jean Palutikof pointed out the negative impact it would have on their research and the capacity to take action on climate change.
The cuts have already taken their toll with the facility's work on bush fires, but also on droughts, floods, and other natural disasters.
Diversion
Current Prime Minister Scott Morrison, having been forced to concede that the size and intensity of the bush fires are connected to something called climate change, is trying to shift the focus away from addressing climate change head-on to one of "adaptation and resilience." Prevention is not on his agenda.
In doing so, he is attempting to side-step the urgent need to phase out the use of fossil fuels, a major driver of climate change. As the impacts of climate change are increasingly being felt, divisions within the Coalition are once again emerging.
Australia has a prime minister who worships coal and opts for miracles instead of science and planning. We have a deputy PM who says that people who link catastrophic bush fires to climate change are "inner city raving lunatics" and that the start of the fire season in September was "a tad early."
It is the head-in-the-sand, short-sighted attitude of capitalism that has resulted in the present crisis and climate change with the bush fires, but the dry river systems, the dead fish, dust storms, rising oceans, and extreme weather events are a taste of things to come.
This article originally appeared in The Guardian (Australia).