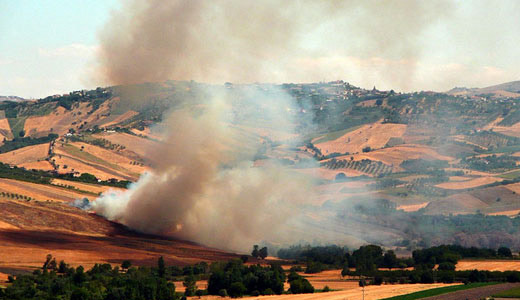 On January 14, 28 more homes were destroyed by the brushfire currently attacking large portions of Australia. The flames also licked at the country's primary space observatory in Canberra, threatening and damaging portions of the facility, but sparing many precious telescopes that have mapped far-off galaxies and discovered new planets. Meanwhile, a father and son nearby were arrested after deliberately spreading the wildfire to try and destroy illegal drug labs they had been operating, which had been hidden in dense bushland.
The fires were fueled by a record-breaking, scorching heat wave – caused and worsened by climate change – that resulted in emergency evacuations, 100 missing people in Tasmania, and various injuries to workers fighting the blaze, including the death of an elderly firefighter. The biggest blaze has so far blackened 100,000 acres of sensitive forestry around Warrambungle National Park.
The mountaintop Siding Springs Observatory, which houses 15 important telescopes, was caught in the path of the flames, which swept over it along with thick, black smoke. While the telescopes were spared – prompting a collective sigh of relief from the scientific community there – portions of the facility were damaged, nonetheless. Scientists have not yet been able to visit the site to assess the extent of the damage. Siding Springs' telescopes have contributed endless discoveries, including confirming the existence of dark energy and finding over 30 new planets over the past decade.
Australian Astronomical Observatory director Andrew Hopkins remarked, "The significance of the site is absolutely huge. The Siding Spring Observatory site is the premiere astronomical observatory facility in Australia for optical and infrared observing."
While scientists lamented the havoc the wildfires have wreaked, others revelled in the destruction: The father and son who ran several illegal, outdoor drug labs were arrested on January 13 after fueling part of the fire that swept through Blue Mountains National Park, hoping it would burn their labs to a crisp before the police could uncover them. Police, however, were previously aware of the drug sites, but had to postpone a planned raid due to the extreme danger of the fires in the area.
"The two sites were inaccessible by foot and required police to trek through tick-, leech-, and snake-infested shrubland to reach them," said the New South Wales state police in an official statement. They added that the father and son were charged with "the large commercial manufacture of a prohibited drug," as well as contaminating a water catchment area.
Fires continue to sweep across the country, showing no signs of slowing. Scientists say that in the face of global warming, measures must be taken in all countries to ensure the safety of people and houses, and that includes carefully choosing where structures are built. "We're losing homes in fires because homes are being put into hazardous conditions," said Jon Keeley, a fire ecologist with the U.S. Geological Survey. 'The important thing is to not blame it on the fire event, but instead to think about planning and reducing putting people at risk."
Photo: Michele Landi/Fotopedia (Creative Commons)