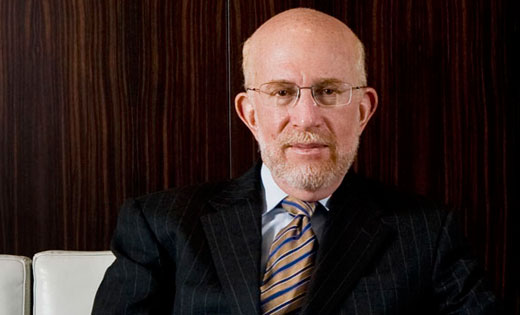 DULUTH, Minn. (PAI)-"Obstreperous" isn't a word often associated with a teacher, much less a college professor. It more often would be used to describe a teacher's nightmare – a noisy student who's difficult to control.
But it was a word Benjamin Ginsberg of John Hopkins University used a number of times at his Sept. 26 presentation to University of Minnesota-Duluth faculty, members of the University Education Association/Education Minnesota, the joint American Federation of Teachers-NEA affiliate in Minnesota.
Ginsberg urges all university faculty to become obstreperous in dealing with their administrations. Author of 24 books on a wide range of subjects, Ginsberg's book, The Fall of the Faculty: The Rise of the All-Administrative University and Why it Matters, led UEA to invite him to campus. His book explains a phenomenon they know too well.
"It's been with us for 40 years," said Steven Matthews, who leads the university's History Department and led the forum. "This is what we need to do – bring in speakers to talk about important issues. We need a free exchange of ideas or there is no university."
Ginsberg said universities were originally run by their faculties, who would take part-time or temporary jobs in administering their schools.
"Deans planned to go back to being faculty," he said. The joke was "don't do a good job or they'll promote you."
Today only a few universities are faculty driven, he said. Harvard and the University of Chicago are among them and are among the best institutions in America. So what happened?
A class of professional administrators started growing. Some were faculty who failed to gain tenure. Most had little faculty experience, Ginsberg said he found out in researching his book. "Now we have many administrators who never taught a student."
And the ratio of administration to faculty is exploding. Ginsberg found that nationally in 1965 there were 446,000 professors to 269,000 administrators and staff. By 2005 the number of professors had risen to 675,000, but administration numbers had leaped to 800,000. During that time the amount of money to pay professors had risen 128 percent, but administration costs rose 148 percent.
Tuition costs were forced to increase to fund administration, he said-and not to pay for the people who were actually teaching and doing the research that makes a university a university.
Ginsberg cited a 2012 research paper by Carter Hill and Robert Martin that found rising administration spending drove two-thirds of the increase in higher education costs in the past 20 years. Hill and Martin found that in terms of costs only there should be one administrator for every three faculty members, but in actuality it was two administrators to three faculty.
The recent recession produced some decline in administration numbers, Ginsberg said, but tight money has more often led to program and across-the-board cuts, harming the schools and their students.
Now faculty is seldom consulted on university matters, he adds.
"Senior administration is relatively autonomous," he said. "We find out (decisions) in the paper."
While numbers can point to the economic effects of administrative growth, the effect it has on the character and academic excellence of universities is even worse, Ginsberg stated.
Teaching and research is what a university should be about, he explained. All else, including buildings and extracurricular activities, is ancillary. But that is what administration uses to "bring customers to the store. They think they have to be customer-friendly and not scare prospective students and their families with such dreaded topics as calculus."
They don't know what to do
"Administration doesn't know what we do," Ginsberg said. "They think one visit to a class will inform them." He added the army of administrators sometimes does no harm "but they can be weapons of academic destruction."
Professional administrators learn from and mimic one another. That's why there is a concerted effort nationally to end the tenure system for university professors. As a result only 25 percent to 30 percent of faculty are tenure-tracked.
"Tenured faculty are the trouble makers, we don't do as we're told, we hold meetings like this one," Ginsberg deadpanned.
By contrast, non-tenured adjunct professors, who often must hold two or three such posts to earn enough income, need to work from administration's playbook in order to keep their jobs. Ginsberg drew applause when he asked, "If part-time is so good why don't we have part-time administration? Full-time faculty and adjunct administration…Without tenure there is no academic freedom…We're about not agreeing with everyone. We need to try ideas out."
Ginsberg said it is too late for the faculties at many universities that have been co-opted by administration, but not for the University of Minnesota-Duluth's UEA. He urged them to develop a consciousness about their importance to UMD and not buy into administration's appeals to their "moral sensibilities" – appeals often heard elsewhere.
Post-lecture questions implied that such skepticism may already be occurring at the Minnesota institution. The university's administration has suggested a faculty governance council, which sounds good, but nominees will be chosen by the deans without a real election. "The technical term is suck-ups," Ginsberg said.
Prioritization is another buzzword in administrators' echo chamber. Based on a book by Robert Dickeson, the university administration wants the faculty to buy into cutting their own throats, Ginsberg said. "I don't want to sound like a Fascist but you should hold a book burning party. Burn that damn book! It's turgid prose!"
"Be obstreperous," he told the faculty, "you'll prevail." That's because administrators have a short time horizon on a campus, and faculty unrest is a career killer for the corporate headhunters hired for administrative searches.
"If they can't keep the peace, they can't keep a job, so have faculty turmoil – be obstreperous," Ginsberg urged. "Oppose everything…be suspicious even if you agree."
He recommended the faculty establish their own committees to investigate and evaluate administration, to review budgets and conduct audits, and form their own personnel committees.
"Do your own opposition research," he said. "Dirt digging seems terrible…but it's important…one-third of administration tells fibs on their resumes."
In a lengthy q-&-a, Ginsberg said universities would be better run if the Sarbanes-Oxley Act, which is aimed at financial accountability, were applied to rules for university governing boards and regents to make sure there are no conflicts of interest. "There are two kinds of trustees," Ginsberg said. "Those concerned with the business of the university and those who want to do business with the university."
The last questioner said it sounds like faculty has to act like administration if they are to be "obstreperous." "Yes, it's terrible," Ginsberg replied. "But we have to do these things if we don't want to give up governance of our universities."
Photo: Ben Ginsberg. AP