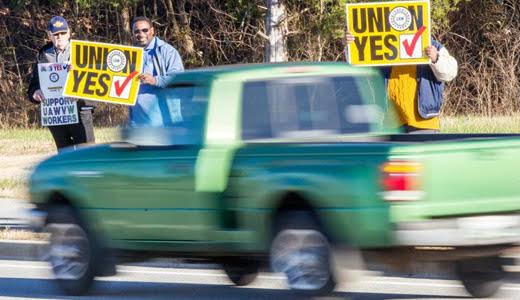 CHATTANOOGA, Tenn. (PAI) – The long-running saga revolving around the Auto Workers campaign to organize the Volkswagen plant in Chattanooga, Tenn., continues, with UAW releasing a 2014 document – written in German – that the union says shows the firm agreeing to recognize smaller bargaining units there in return for UAW's decision to drop labor law-breaking charges.
The catch, says UAW Secretary-Treasurer Gary Casteel, is that VW management signed the document and then when UAW carried out its side of the bargain, VW reneged.
Casteel unveiled the document in a telephone press conference with local Chattanooga media in mid-June. The pact, signed by then-VW chief financial officer Hans Dieter Poetsch, says the firm "agrees to recognize the UAW as the members' union," according to UAW's translation. VW says the language is more nebulous. Poetsch now is VW's CEO.
Casteel explained UAW signed the disputed agreement after it lost a plant-wide union recognition vote 712-626 on Valentine's Day, 2014. The union's recognition campaign at the 1,500-member VW plant was its lead effort in UAW's drive to organize "transplant" auto plants, established by foreign firms, in the anti-union South.
The union had intended to use Chattanooga as a lever to organize other transplants, such as a Nissan plant in Mississippi. But its original agreement for the vote in Chattanooga came with VW's agreement that the two would set up an agreement based on the German worker-relations model, of joint labor-management "works councils."
UAW lost in Chattanooga after outside interests, led by the Republican-run Tennessee legislature, right wing talk radio and a GOP U.S. senator, warned of dire consequences – including withdrawal of state subsidies for plant expansion – should the workers vote union.
The outside interference is in turn part of a region-wide anti-worker anti-union attitude fostered by the South's Republican politicians and strongly backed by corporate interests. That attitude has extended from the right wing's Chattanooga campaign to threats of violence against Machinists' organizers at a Boeing plant in South Carolina. IAM had to withdraw.
The Chattanooga loss led UAW to file labor law-breaking charges, formally called unfair labor practice charges, after the vote, saying the outside interference skewed the vote and made a free and fair election impossible. It agreed to drop the charges in exchange for the pact, Casteel said.
"We all talked extensively about what recognition means and what would occur if we withdrew our objections to the election," Casteel told local media. "The meaning was very clear to all in the room."
But when UAW won a subsequent election among skilled maintenance workers at Chattanooga last December, 108-44, VW refused to recognize and bargain with their UAW Local 42. That case is pending before the National Labor Relations Board.
Photo: UAW.org