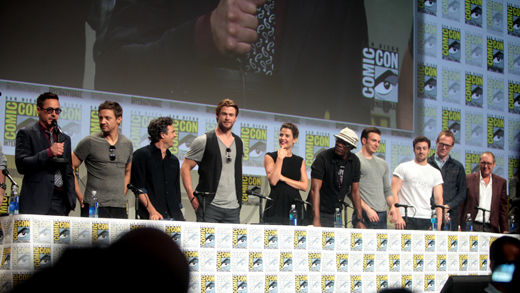 The latest Avengers movie is better than the Transformers series. There is sort of a plot and a little bit of human interaction. It has mega-star actors, several with Academy Awards, and is directed by Joss Whedon. It was Whedon who caused us to go. We feel that we will always owe him allegiance because of Firefly and Buffy the Vampire Slayer on TV.
Age of Ultron humbled this reviewer. I had liked to think that I, as a lifelong movie addict, in some way shared the tastes of other moviegoers and, in a very limited sense, could speak to and for them about movies. But no more. As I remember my opinion of the film, I am forced to confess that I have no taste.
To me, Age of Ultron had all the charm and insight of a fireworks display. Fireworks displays, while impressive, usually last only a few minutes. Age of Ultron is over two hours long. All computer-generated. All noisy. It was bo-o-o-ring. I had to remind my movie buddy that the esteemed Joss Whedon directed it just to get her to stay for the last 90 minutes.
Finally it ended and we trudged away with shoulders sagging and dazed expressions. Fortunately for us, we then went to another movie.
The next day, the newspaper revealed that the Marvel/Disney sequel earned a staggering $187.7 million in its debut weekend, making it the second-biggest U.S. opening of all time. The biggest was $207.4 million in the 2012 opening of The Avengers.
"Avengers: Age of Ultron"
Directed by Joss Whedon
Written by Joss Whedon and Stan Lee
Robert Downey Jr., Mark Ruffalo, Chris Evans, Chris Hemsworth, Scarlett Johansson, Elizabeth Olsen, Jeremy Renner, Don Cheadle, Samuel L. Jackson, Aaron Taylor-Johnson, Paul Bettany, Cobie Smulders, James Spader, with cameos by Anthony Mackie, Hayley Atwell, Idris Elba, Stellan Skarsgard, Andy Serkis, Josh Brolin
141 minutes
Photo: Cast of "Avengers: Age of Ultron" at the 2014 San Diego Comic-Con International. Wikipedia & Gage Skidmore/Flickr
Also see Blake Deppe's review here.