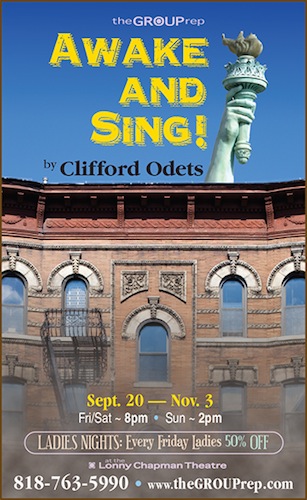 LOS ANGELES – Newcomers to the work of Clifford Odets, the Group Theatre's greatest dramatist, as well as longtime fans familiar with this avatar of proletarian theater, are in for a treat at North Hollywood's Lonny Chapman Theatre.
The American classic Awake and Sing! was first presented by the venerable Group Theatre in 1935 on Broadway, directed by Harold Clurman, co-starring Stella Adler and Sanford Meisner, those thespians who, like Clurman, became legendary acting teachers, along with other Group talents.
Awake and Sing! revolves around a hard-pressed Jewish family struggling during the Great Depression in a cramped Bronx apartment. Odets' drama is noteworthy for the realism of its plot and dialogue that naturalistically depict a slice of ethnic New York working class life. There are bills to be paid, dirty diapers to be changed and washed, and the characters' lines are sprinkled with Yiddish and slang words that 1930s theatergoers were unaccustomed to hearing in a legit theater.
Bessie (Michele Bernath) wears the pants in the Berger household, infusing her fatigue with compassionate insight, and holding her tribe together. Patrick Burke convincingly plays Bessie's browbeaten, nebbishy husband Myron, "heartbroken without being aware of it." Their children – tall, lanky Christine Joëlle as Hennie, and the smoldering Troy Whitaker as Ralph – dream of better, freer lives.
The family's most interesting character is the 70-ish Jacob, a barber who hasn't amounted to much in the capitalist sense. Instead of being the Bergers' patriarch, he is "a constant boarder" in the Berger home. Stan Mazin's portrayal embodies the Jewish socialist tradition, but Jacob seems doomed by the capitalist system he has, alas, been unable to overthrow. Jacob longs to transmit his idealism to long-suffering Ralphie, with whom he shares a coveted grandparent/grandchild bond.
In a country where money doesn't just talk, it screams, Uncle Morty is an American success story (translation: he's made a pile of dough by exploiting others). Robert Gallo cunningly captures the essence of this businessman, with hand gestures revealing that the family's rich uncle is a pretentious poseur, who's really nothing but an avaricious if avuncular peddler.
Moe Axelrod is a disabled World War I veteran full of yearning. Every vet should flock to see Daniel Kaemon's depiction of this wounded warrior, one of those tragically displaced males who went and fought their country's battles, then to be neglected, with nothing to show for their sacrifices. Kaemon's passionate outbursts make Moe, who realizes that he has simply been used as cannon fodder and speaks eloquently of the horror of war, this production's most compelling character.
What paths will the dramatis personae pursue? That of individual gratification or doing what's best for the collective? The different directions the characters take can be seen in Odets' own divided psyche. He joined the Communist Party, then attained immense success on Broadway and in Hollywood, where his stage hit Golden Boy was adapted for the screen. John Turturro mercilessly parodied the writer of pro-worker and anti-Nazi plays who turned L.A. screenwriter, in the Coen Brothers' 1991 satire Barton Fink.
And "Fink," alas, is right: In 1952, during his testimony before the House Un-American Activities Committee, the internally split Odets alternately sparred and collaborated with HUAC's grand inquisitors, his capitulation an indelible stain on his record.
Nevertheless, this dialectical division within Odets' soul propels the protagonists in Awake and Sing! How ironic that the impetus Jacob gives mousey Ralphie to assert himself comes not in the form of Marxist consciousness, but rather in that most bourgeois of things: money.
Group Rep's Artistic Director Larry Eisenberg skillfully directs each member of the ensemble on Chris Winfield's set, which has great verisimilitude. Viewers may feel as if they are peering through the fourth wall into a Bronx living room, instead of sitting in a North Hollywood playhouse.
Awake and Sing! is being presented by the Group Repertory Theatre at the Lonny Chapman Theatre, 10900 Burbank Blvd., North Hollywood, Calif., on Friday and Saturday at 8 p.m. and on Sunday at 2 p.m. through Nov. 3. For more info: (818)763-5990; www.theGrouprep.com.
Note: A new book co-authored by this reviewer, "The Hawaii Movie and Television Book," published by Honolulu's Mutual Publishing, drops Nov. 20.