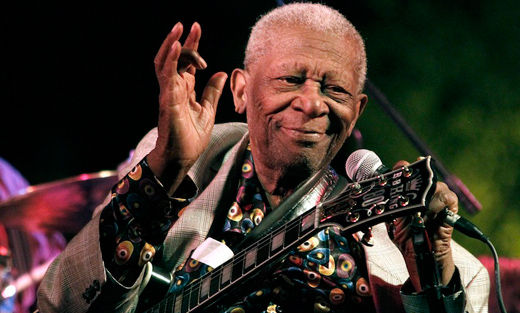 LAS VEGAS (AP) – B.B. King believed anyone could play the blues, and that "as long as people have problems, the blues can never die."
But no one could play the blues like B.B. King, who died Thursday night at age 89 in Las Vegas, where he had been in hospice care.
Although he kept performing well into his 80s, the 15-time Grammy winner suffered from diabetes and other problems. He collapsed during a concert in Chicago last October, later blaming dehydration and exhaustion.
For generations of blues musicians and rock 'n rollers, King's plaintive vocals and soaring guitar playing style set the standard for an art form born in the American South and honored and performed worldwide. After the deaths of Howlin' Wolf and Muddy Waters decades ago, King was the greatest upholder of a tradition that inspired everyone from Jimi Hendrix and Robert Cray to the Rolling Stones and Eric Clapton.
King played a Gibson guitar he affectionately called Lucille, with a style that included beautifully crafted single-string runs punctuated by loud chords, subtle vibratos and bent notes, building on the standard 12-bar blues and improvising like a jazz master.
The result could hypnotize an audience, no more so than when King used it to full effect on his signature song, "The Thrill is Gone." After seemingly make his guitar shout and cry in anguish as he told the tale of forsaken love, he ended the lyrics with a guttural shouting of the song's final two lines: "Now that it's all over, all I can do is wish you well."
His style was unusual. King didn't like to sing and play at the same time, so he developed a call-and-response, and let Lucille do some of the talking.
"Sometimes I just think that there are more things to be said, to make the audience understand what I'm trying to do more," King told The Associated Press in 2006. "When I'm singing, I don't want you to just hear the melody. I want you to relive the story, because most of the songs have pretty good storytelling."
The blues is a lifetime gig and King kept at it even as his health declined, playing more than 100 shows a year well into his 80s. He believed touring extended his lifespan. "I got a chance to ride today on a very nice bus and from my window I can see how beautiful this country is and how nice it is to be alive," he said once. "That to me is like extra vitamins."
From 1950 to 1970, he traveled about 300 days a year and spent the remaining days in the studio. In 1956, he and his band played 342 one-nighters. By 1967, he had made 30 albums and 225 singles. Even in 1989, he was away from his Las Vegas home about 300 days, but it was no longer mostly one-night stands.
Keith Richards would recall touring nonstop with the Rolling Stones during the mid-1960s, then adding "That's nothing. I mean, tell that to B.B. King and he'll say, 'I've been doing it for years.'"
King enjoyed acclaim and considerable commercial success, acting the gentleman onstage and off. The blues was born of despair, but King worked in many moods, and he encouraged black youngsters in particular to make positive choices.
"Most of the time when people say blues, it's pretty negative," King told a Houston audience in February 1992. "But I'm here to tell you, blues is a label that people put on a music that was started by black people, and you can choose between the negative and the positive."
King was named the third greatest guitarist of all time by Rolling Stone magazine (after Hendrix and Duane Allman, who died in their 20s, an age when King was just getting started). He won 15 Grammys and sold more than 40 million records worldwide, a remarkable number for blues. He was inducted into the Blues Foundation Hall of Fame and the Rock and Roll Hall of Fame. His album "Live at the Regal" was declared a historic sound and permanently preserved in the Library of Congress' National Recording Registry.
His playing style influenced performers from Otis Rush and Buddy Guy to Clapton, Hendrix, John Mayall and Mike Bloomfield.
Musicians even named a section of the guitar's neck after their blues idol, dubbing it the "B.B. box." Usually located from the 10th to 12th frets, depending on the key of the song, it's where King twisted and scorched many of his signature guitar licks.
"Mr. King's electric guitar can sing simply, embroider and drag out unresolved harmonic tensions to delicious extremes," The New York Times wrote in a review of a King appearance in June 1992. "It shrinks and swells with the precision of the human voice."
Among his Grammys: best traditional blues album: "A Christmas Celebration of Hope," and best pop instrumental performance for "Auld Lang Syne" in 2003; best male rhythm 'n' blues performance in 1971 for his "The Thrill Is Gone"; best ethnic or traditional recording in 1982 for the album "There Must Be a Better World Somewhere." A collaboration with Clapton, "Riding With the King," won a Grammy in 2001 for best traditional blues recording.
Riley B. King was born Sept. 16, 1925, on a tenant farm near Itta Bena in the Mississippi Delta. His parents separated when he was 4, and his mother took him to the even smaller town of Kilmichael. She died when he was 9, and when his grandmother died as well, he lived alone in her primitive cabin, raising cotton to work off debts.
"I was a regular hand when I was 7. I picked cotton. I drove tractors. Children grew up not thinking that this is what they must do. We thought this was the thing to do to help your family," King said.
His father eventually found him and took him back to Indianola. When the weather was bad and King couldn't work the fields, he walked 10 miles to a one-room school. He quit in the 10th grade.
A preacher uncle taught him the guitar, and King didn't play and sing blues in earnest until he was away from his religious household, in basic training with the Army during World War II. He listened to and was influenced by both blues and jazz players: T. Bone Walker, Blind Lemon Jefferson, Lonnie Johnson, Django Reinhardt and Charlie Christian.
His first break came with gospel – singing lead and playing guitar with the Famous St. John's Gospel Singers on Sunday afternoons from the studio of WGRM radio in Greenwood, Mississippi.
But he soon split for Memphis, Tennessee, where his career took off after Sonny Boy Williamson let him play a song on WKEM.
By 1948, King earned a daily spot on WDIA, the first radio station in America to program entirely by African-Americans for African-Americans, as "the Pepticon Boy," pitching the alcoholic tonic between his live blues songs.
Until then, he had been known as Riley King. He needed a better nickname. The station manager dubbed him the Beale Street Blues Boy, because he had played for tips in a Beale Street park. Soon, it was B.B., and it stuck.
Initial success came with his third recording, of "Three O'Clock Blues" in 1950. He hit the road, and rarely paused thereafter.
King made his first European tour in 1968, played in 14 cities with the Rolling Stones in 1969, and made TV appearances, from "Sesame Street" to "The Fresh Prince of Bel-Air." In 1989, he appeared in "Rattle and Hum," a film about U2, and toured with that band.
Music brought him from Mississippi's dirt roads to black-tie meetings with world leaders. He gave a guitar to Pope John Paul II, and had President Barack Obama singing to his "Sweet Home Chicago."
In 2005, the Mississippi House and Senate declared Feb. 15 to be B.B. King Day. The blues great said he had never set foot in the Mississippi Capitol until then. He wiped away tears, and described it as his most proud moment.
"I tell you I was in Heaven. I was so happy that I cried. I don't do that often in public, but the water just came. I couldn't help it," King said later.
King lived in Las Vegas, but Mississippi was his home.
In the early 1980s, King donated about 8,000 recordings – mostly 33, 45 and 78 rpm records, but also some Edison wax cylinders – to the University of Mississippi, launching a blues archive that researchers still use today. He also supported the B.B. King Museum and Delta Interpretive Center in Indianola, a $10 million, 18,000-square-foot structure, built around the cotton gin where King once worked.
"I want to be able to share with the world the blues as I know it – that kind of music – and talk about the Delta and Mississippi as a whole," he said at the center's groundbreaking in 2005.
The museum not only holds his personal papers, but hosts music camps and community events focused on health challenges including diabetes, which King suffered from for years. At his urging, Mississippi teenagers work as docents, not only at the center but also at the Holocaust Museum in Washington, D.C.
"He's the only man I know, of his talent level, whose talent is exceeded by his humility," said Allen Hammons, a museum board member.
In a June 2006 interview, King said there are plenty of great musicians now performing who will keep the blues alive.
"I could name so many that I think that you won't miss me at all when I'm not around. You'll maybe miss seeing my face, but the music will go on," he said.
Photo: AP